Delicate and mild, pan-seared grouper with lime butter sauce will please both fish lovers and picky eaters alike. The lime butter sauce adds a layer of flavor while letting the mild fish shine through. This recipe is also simple to make with only five ingredients and basic cooking skills. To round out the meal, and keep it simple, serve with our Instant Pot Garlic Mashed Potatoes and Oven Roasted Asparagus.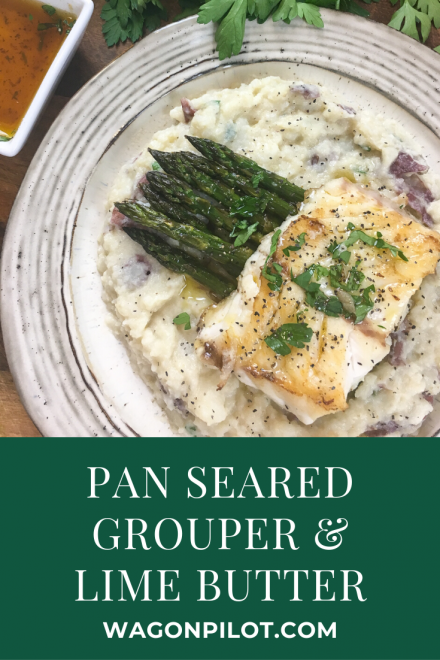 Tips for Choosing and Cooking Pan Seared Fish
Fresh white fish should have a somewhat translucent appearance. Solid white may indicate not-so-fresh fish.
Fish should be firm to the touch and wet, not dry or sticky.
Fish should be labeled, or the fishmonger can tell you, if it has been previously frozen (not a bad thing).
If fish was frozen after being caught, buy it frozen, then thaw slowly at home.
Grouper can be substituted in this recipe with any firm, white fish. Cod, haddock, flounder, tilapia, branzino, etc.
Use a fish spatula, such as this one, when flipping delicate fish to keep it in one piece.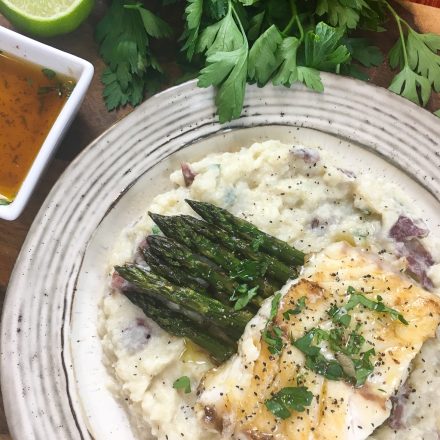 Pan Seared Grouper with Lime Butter Sauce
Pan Seared Grouper with Lime Butter Sauce
Ingredients
4

6 oz.

grouper fillets

2

TB

extra virgin olive oil

6

TB

unsalted butter, cut into chunks

2

TB

lime juice

2

TB

fresh parsley leaves, finely chopped
Instructions
Heat olive oil in a large skillet over medium heat. Generously sprinkle the grouper fillets with salt and black pepper on both sides and cook until opaque and flaky, approximately 3-4 minutes per side. Remove from heat and cover to keep warm.

Add the butter to a small skillet set over medium heat, whisking continually until the butter melts and darkens in color, approximately 3 minutes.

Remove from heat and whisk in the fresh lime juice. Stir in the fresh parsley leaves and season with salt and black pepper, to taste.