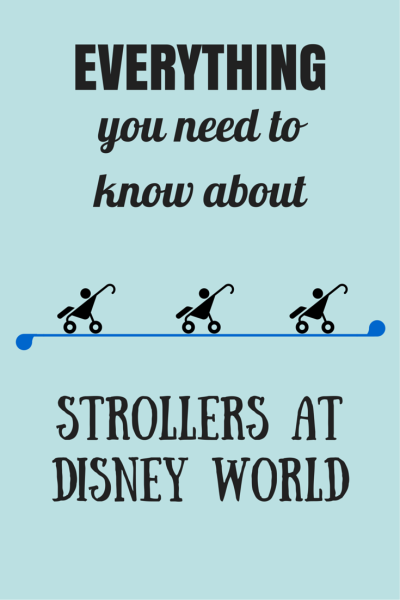 Everything You Need to know about Strollers at Disney World
No doubt about it, Disney World is huge and your toddler isn't going to make the one mile loop around Epcot's World Showcase under foot power alone. Even the walk from your hotel room to the bus stop at some resorts can be a hike for little legs, not to mention slowing progress down considerably. For many families with younger children a stroller is a necessity for touring Magic Kingdom, but all too often I have seen parents who are unprepared for what that journey really entails. Navigating Disney World is nothing like the casual stroll around the subdivision or a jog through the park. Today we'll talk about the best types of strollers, rental options vs. bringing your own, and deciding if your kids even need a stroller for the trip.
Do You Really Need a Stroller at Disney World?
Disney World is huge and little legs get tired quickly. It's also difficult for little ones to navigate in a sea of adults and cover long distances quickly. Comedian John Pinette aptly referred to the Epcot Death March and he was only half joking. You can easily cover a few miles of hot pavement there in one day. That being said, I often see elementary age kids dangling from strollers as parents struggle to push them around in the latter part of the day. At that point it has become a slightly portable chair for an overheated/overtired child and isn't a convenience for anybody. A good rule of thumb is to bring a stroller only if you would do so at home for a long walk. Once kids are old enough to run around they won't want to be confined to a stroller at Disney, but it will come in handy for the treks between hotel and park. If your kids are beyond stroller age, plan breaks into your day instead of thinking a stroller will be a good option. Everyone in your party will enjoy the day more without a stroller in tow.
What Type of Stroller is Best?
Maneuverability, especially at Magic Kingdom, is the key to getting around easily. At Disney World you need to be prepared not only for navigating crowds, but also scooting through food courts, and loading/unloading for boats and buses. You want an umbrella style stroller that is light, folds quickly and compactly, and is easily portable with a shoulder strap. Also make sure there is a sun shade. I got a few good years out of this Maclaren model. Jogging strollers have a wide footprint, which makes them difficult to handle in crowds and they are still very cumbersome when folded. The deluxe boulevard cruisers are also a bad option for the same issues. If you have two children of stroller age, you can find inline or side by side umbrella stroller that are still compact. Better yet, you can use specially designed clips to to attach two strollers when needed and quickly separate them since it's much easier to get around with two single strollers. If you do not have a light stroller, see the section below on retail and rental options for a good solution. The one exception I make in stroller choice is for infants since they need car seat type seating.
Keep in mind the phrase "packed like sardines" when thinking about bus or boat transportation to the Parks. At home it's great to store diapers bags, etc. under your stroller, but it's not a good idea for park touring. I regularly see parents frantically trying to figure out how to stow everything so they can get their kids on the bus and fold the stroller and that's not something you, or everyone else in line, wants to deal with after a long day. Instead, bring a comfortable backpack for all your gear and souvenirs, and only use the stroller for the kiddos.
Bonus Tip: If you're staying at a Disney resort, you can have items purchased in shops sent back to your hotel room. Delivery time varies by resort class and how busy they are that week.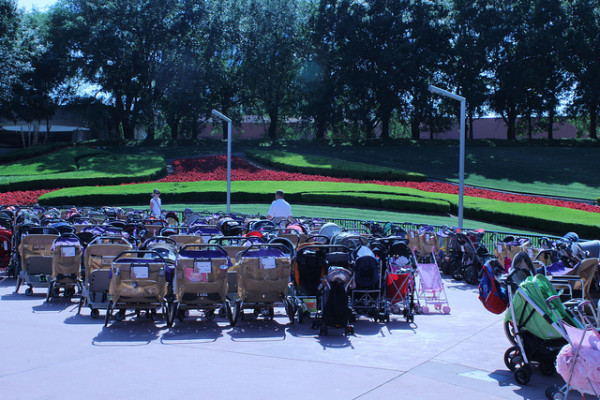 Stroller Tips for a Great Disney World Vacation
Which stroller is mine? Be sure to bring along some easily identifiable markings for your stroller. Brightly colored ribbons, stickers, or even the fun new patterned Duck Tape will make yours stand out. When bringing your own, let the kids help with the personalization project to get them excited about the vacation. Also include a luggage tag with some basic information that Disney Cast Members can use to identify the owner if you somehow become separated, such as your initials and hotel, but avoid putting personal details like your phone number for safety reasons.
Now where did my stroller wander off to? Cast members will often move strollers to parking areas to help traffic flow along paths and may also shuffle the parking area to keep things organized. If your stroller isn't exactly in the spot your left it before you grabbed that Dole Whip, just take a quick look around and it shouldn't have gone far. If you do actually lose your stroller, check in with a cast member or go to the lost and found at the park entrance.
Accessories, Accessories, Accessories There are a few essential accessories for your stroller at Disney World; and some that are just plain good to have in your backpack anytime. During the summer months (June through September) it is not only hot and humid, but there are also frequent short rain showers in Central Florida. Pack a suitable stroller rain cover or large poncho that can be pulled out quickly then folded up compactly afterwards. Heavy vinyl type covers do not work well. A small portable fan is also a great idea. Strollers do not have very good airflow when sitting, so make sure to choose a fan that can be clipped onto the stroller for napping infants, and also make sure it has a good blade guard to protect little fingers. A towel comes in handy for everything; seat cushion, drying off, cleaning up, etc. I freely admit to borrowing a washcloth or hand towel from the hotel to use at the Parks during the day.
Why are all these people in my way? Keep in mind that a stroller in a crowd is like driving a vehicle. Nobody likes having their ankles rammed with stroller wheels, so remember to practice a little patience and courtesy.
Theft While it is very rare to have items stolen at Disney World, still use some common sense when it comes to stroller security. Don't leave expensive items, such as purses, cameras, etc. in an unattended stroller. Also do not put personal information on ID tags, such as your full name, address, phone number than you wouldn't want somebody to have.
Parade Parking There are two ways to deal with parades and strollers. One is to arrive early and find a spot at the rope so your child can watch from the comfort of their seat. For daytime parades, pay attention to the angle of the sun so they have adequate shade while sitting for a long time. The second school of thought, and this worked better for us, was to park the stroller out of the way and sit on the curb with your child in your lap or next to you. This also makes it easier for other kids to get a close spot for the parade. If you arrive later, you can sometimes find something for your child to stand on or hoist them up for a view from the back of the crowd.
Boarding the Bus/Boat Strollers make a great place to sit for a worn out kid while waiting for the bus to show up, but be ready to spring into action when it does arrive. Don't wait until it's your turn to board to pull your kid out, fumble with all the bags stuffed under the seat, and figure out how to fold it. Know your stroller before you go or get used to the one you rented. It'll make for a much more pleasant experience for you and everyone else riding the bus. Monorails can handle strollers, but if it's busy you should think twice about taking up so much room and making a few people wait for the next monorail. Besides, a parent holding with a child is likely to be offered a seat on a crowded monorail.
Should I Rent or Bring My Own Stroller?
If you have a good umbrella stroller, I highly recommend bringing your own. Your child may find a little bit of extra comfort in the familiarity and you will not have to think twice about how it handles while wheeling around the Parks. Airlines will typically let you bring a compact stroller on board for free, which is a bonus when flying out of large airports and Orlando International (MCO) falls into that category. If your child is older to handle the airport walks but will need one at Disney, then you may opt for renting a stroller instead of lugging it along for the flight. Luggage bags are available, but keep in mind you will likely have to pay an extra baggage fees to the airline. If you're traveling to Florida by car and have limited room, renting one or even buying one when you arrive in Orlando are options.
Money Matters: Retail and Rental Options
Disney World Stroller Rentals
The first option we'll look at is renting a stroller from Disney itself. Surprisingly, this is not the best option for rentals. The strollers Disney provides are molded hard plastic, do not recline, and only have an adjustable belt to secure your child. They do have a good sunshade and can be tolerable for older kids with a towel for a cushion. Disney strollers cannot leave the Parks, which means the long distance to the transportation areas and around resorts you'll have to carry your child when their tired little feet give out. If you're park hopping, hold onto the receipt and pick up another stroller for no cost when you reach your destination. The same is true for the Magic Kingdom railroad since the train cannot handle the big strollers.
Disney World Stroller Rental Pricing (May 2015)
Single stroller (rated to 50lbs) $15/day or $13/day for prepaidmulti-day rentals
Double stroller (rated to 100lbs) $31/day or $27/day for prepaid multi-day rentals
*A $100 USD credit card deposit is required for strollers rented at the Downtown Disney area.
Non-Disney Stroller Rentals
A better rental alternative are the wonderful local services in Orlando. Not only does it make economic sense since you get to take them everywhere during your stay for a similar price, but the strollers are also much better quality. Don't underestimate the convenience of having that stroller handy at the hotel and getting to/from the parks. Disney has three preferred companies that it allows to deliver and pick up from bell services when you are not around. Kingdom Strollers, Magic Strollers, and Orlando Stroller Rentals. For all other companies you will need to be present for delivery and pickup. Stroller rental companies will also deliver to other Orlando area hotels and many deliver free of charge. Some providers also carry special needs stroller and ECVs.
Pricing for Preffered Non-Disney Rentals (includes delivery and pickup)

Basic Single Stroller is approx. $40 for 3 days and $60 for a week
Basic Double Stroller is approx. $50 for 3 days and $70 for a week
*Add around $5 to $10 per week for an upgraded model. Rain covers are typically available free of charge, though you will be charged if it is not returned.
Disney Preferred Stroller Rental Companies (May 2015)
Orlando Stroller Rentals 800-281-0884
Magic Strollers 866-866-6177
Kingdom Strollers 407-271-5301
Another alternative is buying a stroller for your vacation. If you're driving into Orlando you can simply stop at one of the many retail locations around town. If you're flying, then purchasing one online and having it sent to your hotel is more convenient. Plan your online purchase to make sure it arrives on time. If you're an Amazon Prime member, the two day shipping works out really well for this scenario. Of course, you now have a new stroller on your hands and need to decide what to do with it at the end of the vacation. I've seen advice on forums to buy a really cheap stroller then just leave it at the hotel. I don't like this for two reasons. For one you're wasting money, and secondly the cost difference to rent a quality stroller isn't much more.
Remember to choose a stroller that is light, folds quickly and compactly, steers easily, and provides some shade from the harsh Florida sunshine and you'll make a child very happy at the end of a long day exploring all the amazing possibilities at Disney World. Please share your Disney stroller suggestions and experiences in the comments section.