Guarding the southern shore of Michigan's Upper Peninsula stands Seul Choix Point lighthouse. Since 1895 it has been a beacon of hope for sailors plying the dark waters of Lake Michigan. Seul Choix, meaning 'only choice' in French, was exactly that for ships seeking protection from the dangers of Lake Michigan near the Straits of Mackinac. Today, it is open to the public for tours while its automated light still flashes as a navigational aid. Some also say one of the old lighthouse keepers still makes his presence known.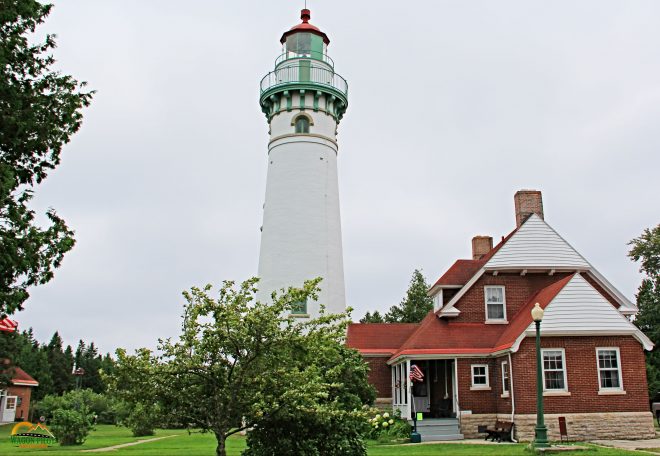 Cruising across the South shores of Michigan's Upper Peninsula on US2, we turned off on the crossroad at the tiny outpost of Gulliver and continued on through the pine forest scrub for eight miles. Seul Choix Point lighthouse sits at the tip of a small peninsula jutting out into Lake Michigan some eighty miles west of the Mackinac Bridge. Depending on who you ask, it's pronounced 'sell schwah' or 'sis schwah' and translates roughly to 'only choice;' indicating the small cove offering protection from harsh weather.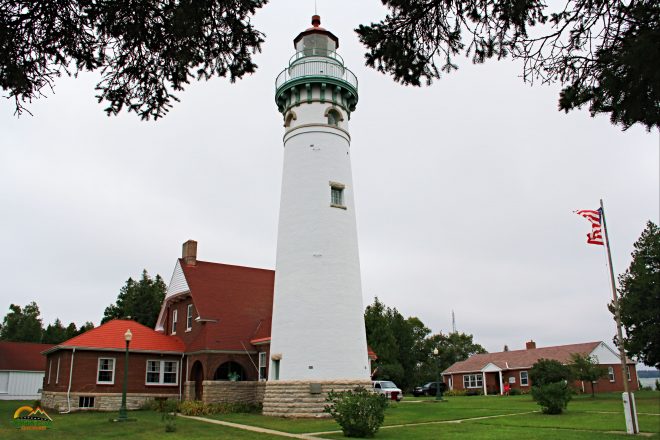 A classic white lighthouse tower is accompanied by a rather substantial keeper's house. The two story brick building features interesting bowed wood trim, reminiscent of an old ship. There are also a few other out buildings scattered around the grounds, as well as a DNR operated boat launch. We parked and headed in to chat with the knowledgeable museum staff before touring.
Seul Choix Lighthouse History
Seul Choix Point lighthouse was completed in 1895 and staffed until 1973 when it was fully automated. The tower stands 77 feet tall with its light 80 feet above lake level (focal plane). The original light was a 3rd order Fresnel lens, which was replaced by an airport type beacon in 1972. Unfortunately, the old light is no longer with the building.
Seul Choix's location is a small cove of land which has served to protect fishermen and also a limestone quarry port, which is still in operation today. Without much of a commercial fishing industry in Michigan today, the DNR launch is primarily for recreational boaters.
The lighthouse buildings are operated and maintained by the Gulliver Historical Society in partnership with the DNR. The 1895 fog signal building serves as the historical society's local museum.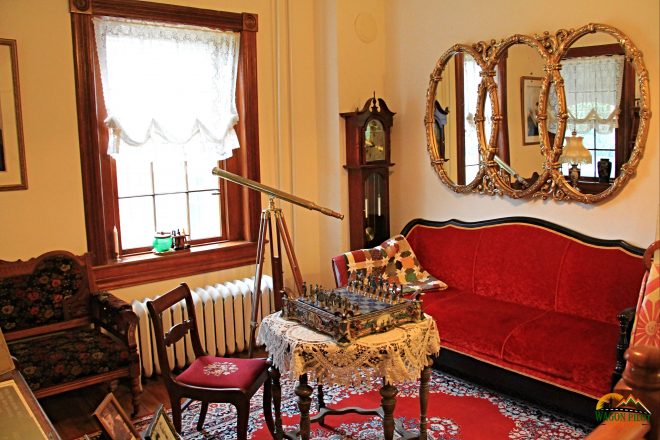 Touring the Seul Choix Point Lighthouse Museum
Some Michigan lighthouses operate on a string of volunteers and seasonal employees, but we were delighted to find a group of dedicated and knowledgeable staff here. Marilyn Fisher, president of the historical society, has even published a few books about the lighthouse. After talking for a bit, we started the semi-guided tour of the keeper's house and light tower. For such a remote location, the home is very comfortable with plenty of woodwork and natural light.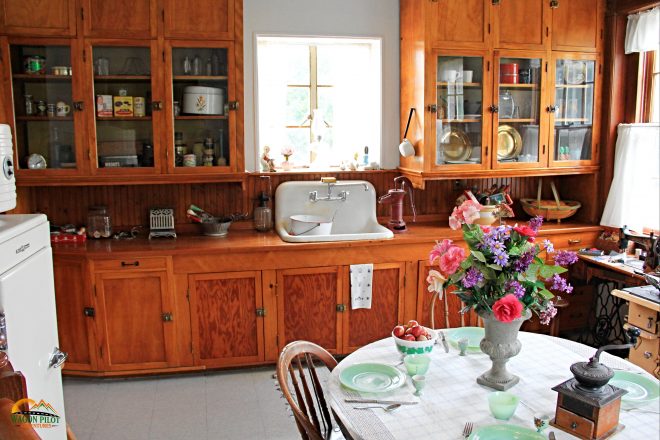 Marilyn gave us a great overview of the house and past keepers, then turned us loose to explore the upper floor. Some of the rooms are decorated as they would have been during the years of operations, while others have artifacts on display. An interesting feature is the copper cladding on a few of the door frames in the house.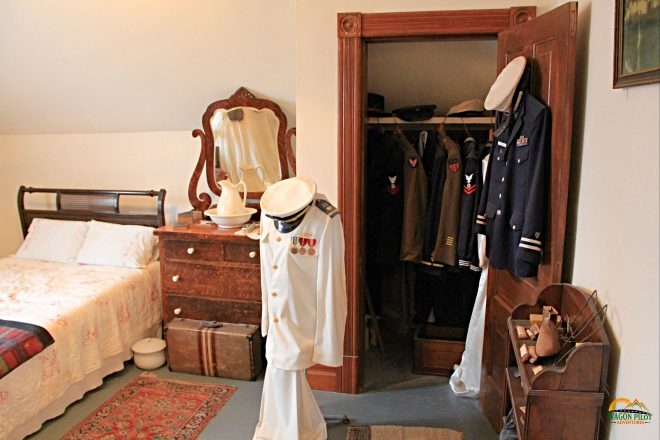 Is Seul Choix Lighthouse Haunted?
Back downstairs, we got to talking more about the lighthouse history and, as always, had to ask about any ghost stories. We were not let down as there are not only stories, but history and paranormal investigations to add credibility.
Said to be haunted by the ghost of lighthouse keeper William Townshed, who died in an upstairs bedroom in 1910. There have been numerous shipwrecks in the area over the past few centuries. Could those sailors have found their way to dry land? Apparitions have been seen in windows and reflections in the kitchen cabinet glass. Even more curious, a mysterious form emanated out of a bathroom mirror upstairs during a recent ghost hunter investigation. What other apparitions may be lurking on this remote property?
For more information on the history of the Seul Choix lighthouse and it's ghostly residents, pick up a copy of Marilyn Fischer's book Spirits at Seul Choix Pointe, available from Amazon or in the lighthouse gift shop.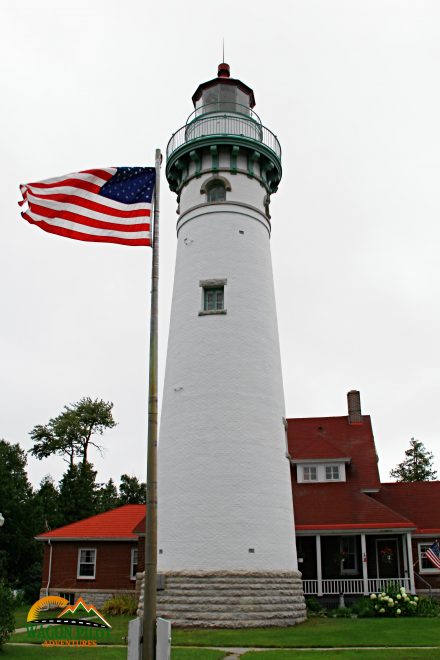 Climb Seul Choix Lighthouse Tower
Before heading out to climb the tower, we found out Josh Gates, explorer and host of Expedition Unknown, would be stopping by to film a segment for an upcoming show. I would cross paths with him in Sault Ste. Marie at the annual paranormal convention a few days later. You can see Seul Choix ten minutes into the episode on the search for French explorer LaSalle's 1679 Griffon shipwreck.
The lighthouse tower's base is filled with nautical charts and some old navigational equipment, which adds a bit of interest to an otherwise sparse building. The spiral iron staircase was an easier climb than others I've been up, except for the heavy metal door you need to squeeze through near the top. Despite being an overcast and cold day, the view of Lake Michigan was stunning. The winds that day also showed off the large waves and importance of the protected shelter on this otherwise unfriendly shore.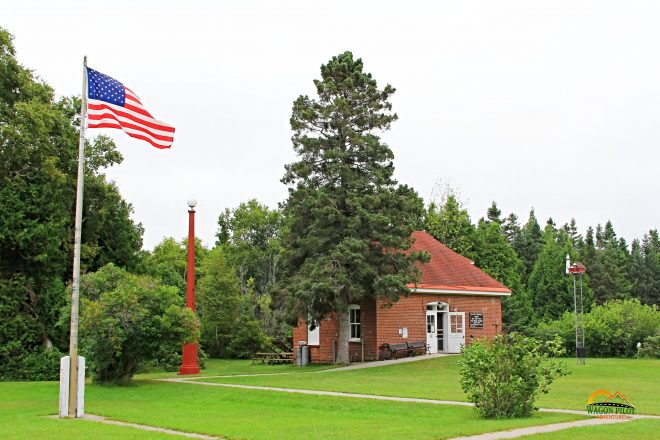 Back on firm ground, we headed to the old fog signal building. Built in 1895, it is a solid brick building, like the lighthouse, and has been restored to house the local museum. Various artifacts range from baseball memorabilia to a model of a lumber camp. There is also an old garage filled with nautical artifacts, one which surprised us. A very old Native American dugout canoe was unearthed from a nearby sand dune in the 1970s and is stored here. It was mind-boggling that such an important Great Lakes artifact wasn't housed in a more protected environment.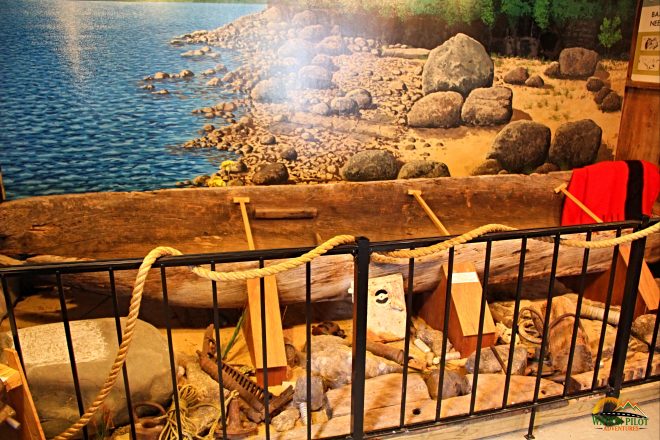 A stroll around the grounds is warranted, especially in nicer weather. You'll also find a separate assistant keeper's house, which was under renovation when we visited. A fun find is the birdhouse modeled after the lighthouse and originally built by a keeper's son. The DNR boat launch and parking lot are just behind the gift shop building and provide a view of Seul Choix bay.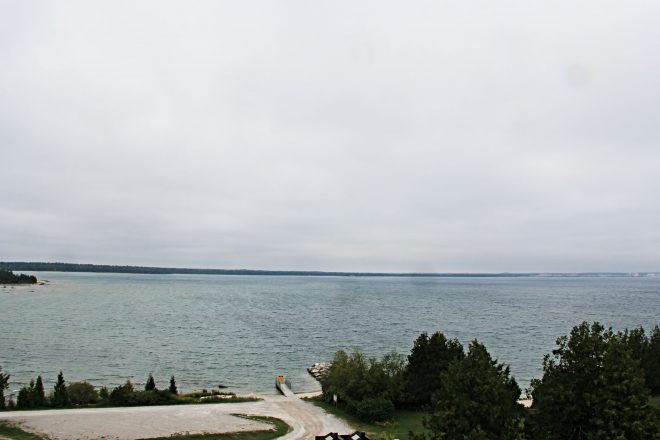 Lighthouse Hours and Gift Shop
The lighthouse is generally open for tours from Memorial Day through mid-October and the grounds are open year round. The staff is very knowledgeable and there is a video available for viewing. The store is stocked with plenty of souvenirs and books to bring home. Check out the lighthouse's website for the latest hours, admission information, and special events.