Winding roads through the Appalachian foothills in Southeastern Ohio will lead you to a relaxing stay at the Stockport Mill Inn. This is the kind of place that yanks you out of our hectic modern times to peaceful days overlooking the Muskingum river. A popular area for motorcycle cruising, fishing, and Fall leaf peeping, Stockport is just far enough away from everything so there will be no distractions from your vacation.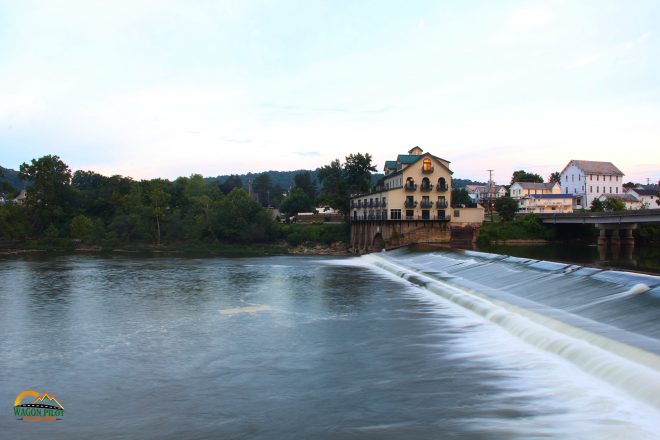 **Disclaimer: I was provided an night's stay and dinner at the mill as part of a press tour organized by the Morgan County CVB. As always, you'll only find my own honest opinions here.
Stockport Mill History
The last remaining mill on the Muskingum river, the current mill was built in 1906. The hydroelectric turbines underneath the building used to power the milling machinery and provide electricity to the town. Today, one of the turbines is still used to power the building. The mill is located at the end of one of several dams, which hold the river back enough to be navigable. The dam stretches across the river with one of the 10 boat locks at the opposite end along with a public boat launch. Grain milling operations ended in 1997 and the building reopened a few years later as a country inn and restaurant.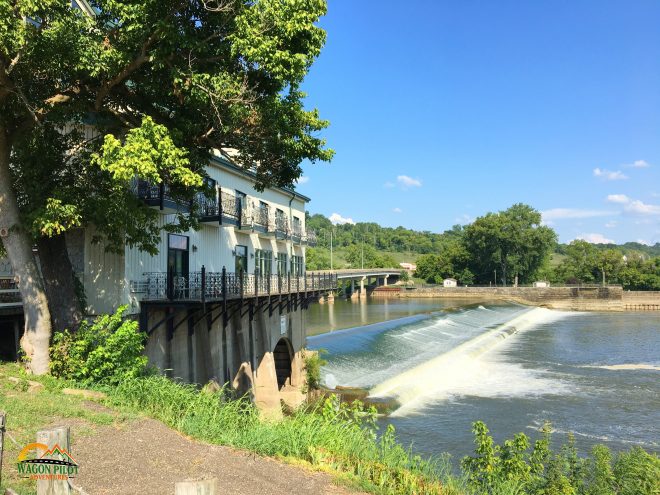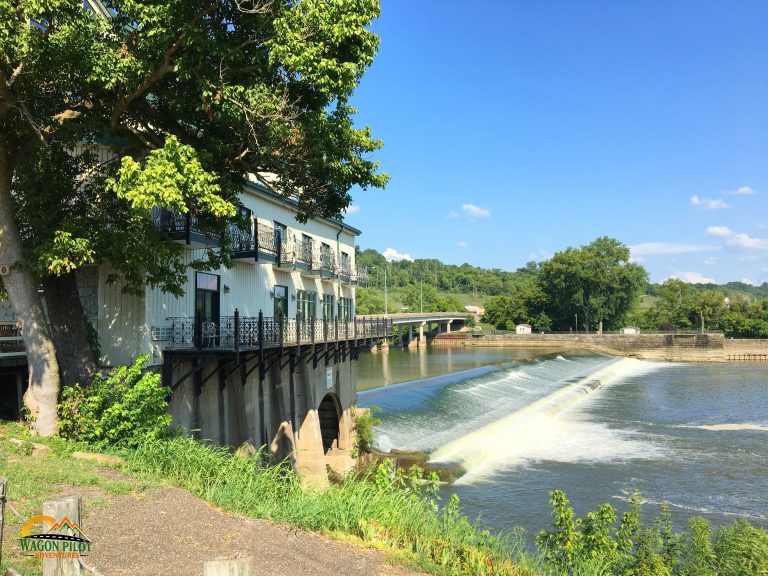 Stockport Mill Inn
The Stockport Mill Inn is a family run operation akin to a large scale bed and breakfast. There are fourteen guests rooms, each with its own balcony overlooking the river. Roughly half of the rooms are suites and the fourth floor is mostly taken up with the huge Captain Hook suite. Due to the lack of a passenger elevator, only the room on the first floor is wheelchair accessible. Each floor features a common area with couches and tables surrounding the old mill equipment. A bit cluttered, but nice touch if you want to chill with a good book or chat with friends. There is also a well-stock library on the second floor.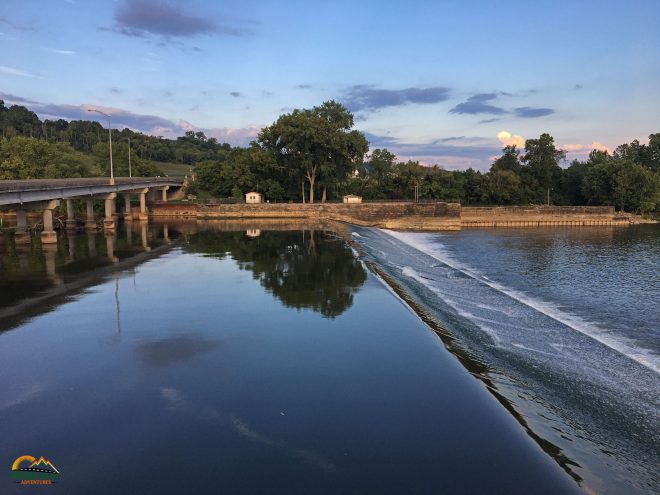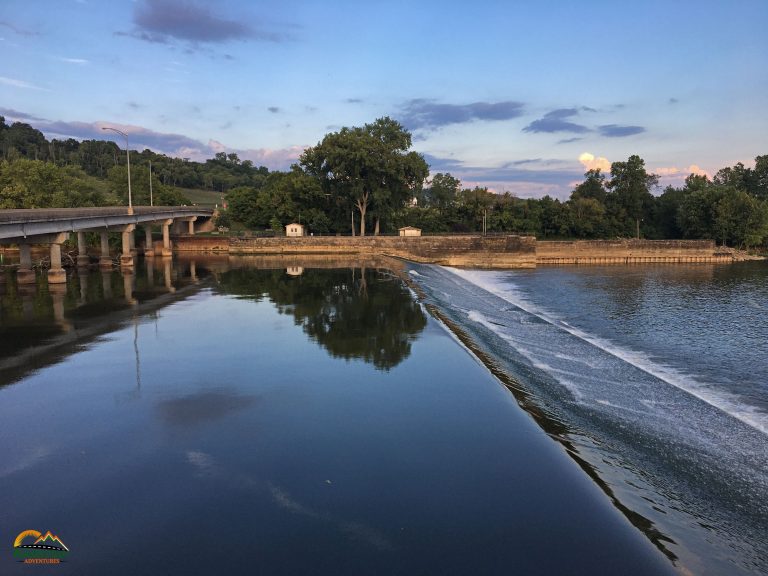 A restaurant is located on the main floor and is open for dinner Friday ad Saturday. A buffet is offered on Sundays. A continental breakfast is offered for guests in the mornings. Our group was really happy with the dinner. There was a salad bar for starters, then main courses of roasted beef brisket and chicken breast along with some fresh side dishes. For dessert, there was a berry crumble and chocolate chip cookies. What impressed me the most was that the meal was entirely from scratch. Often you see a heavy reliance on pre-made food service items at more remote locations. Even the desserts and pound cake at breakfast were freshly baked.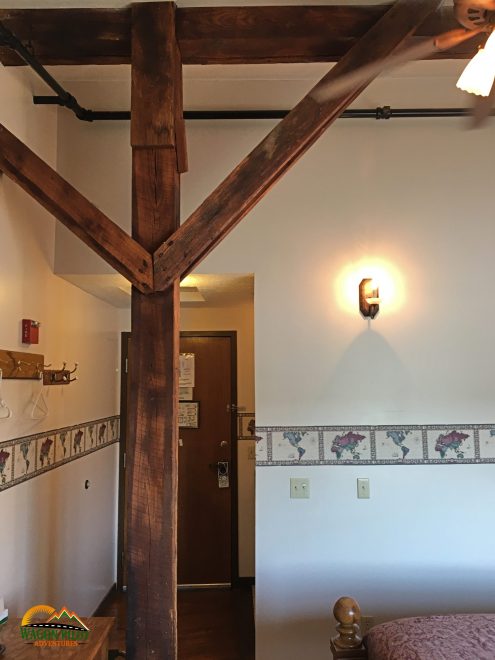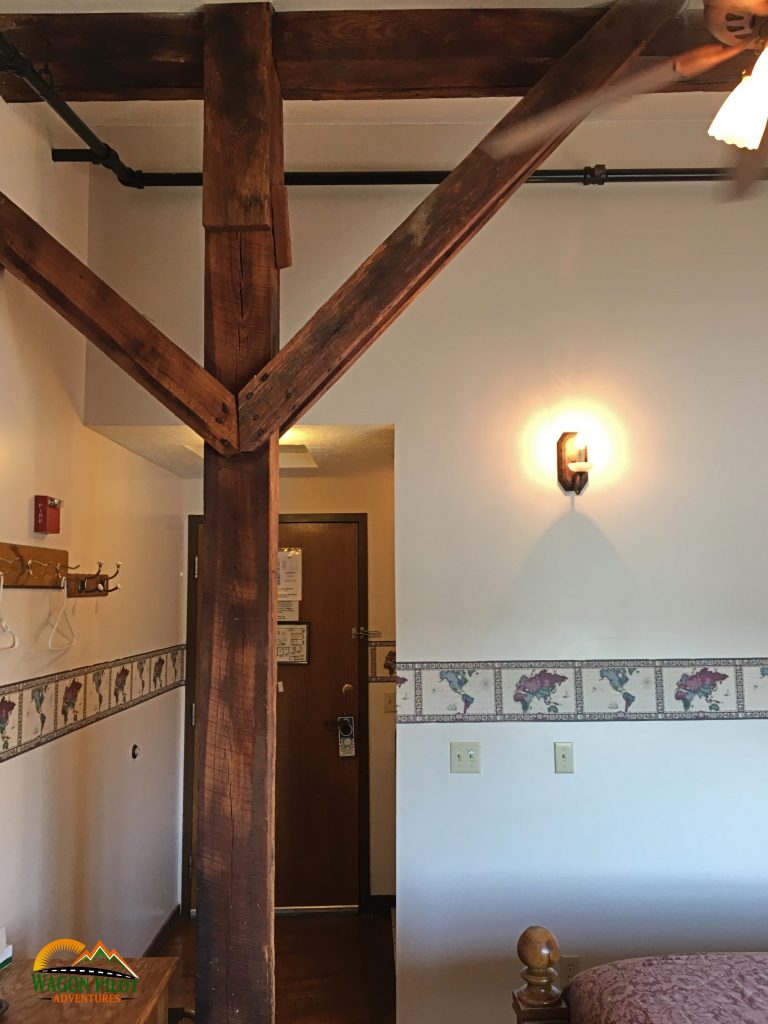 Stockport Mill Inn Rooms
Standard rooms and suites both have private balconies. Suites are slightly larger than a typical chain hotel rooms, while standard rooms are a bit smaller. All include a full bathroom and suites have a large jacuzzi tub.
There are a mix of amenities. Coffee makers, TV, and WiFi, but no fridge or microwave. Again, typical for B&B type accommodations. There is a microwave and full size fridge in the common area, along with dishes and utensils, if needed. Meals are definitely something to plan ahead, especially if visiting Monday through Thursday when the restaurant is not open. There are very few dining options in the area.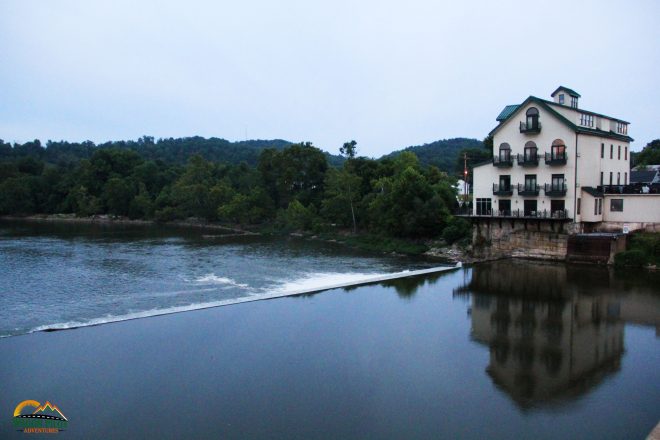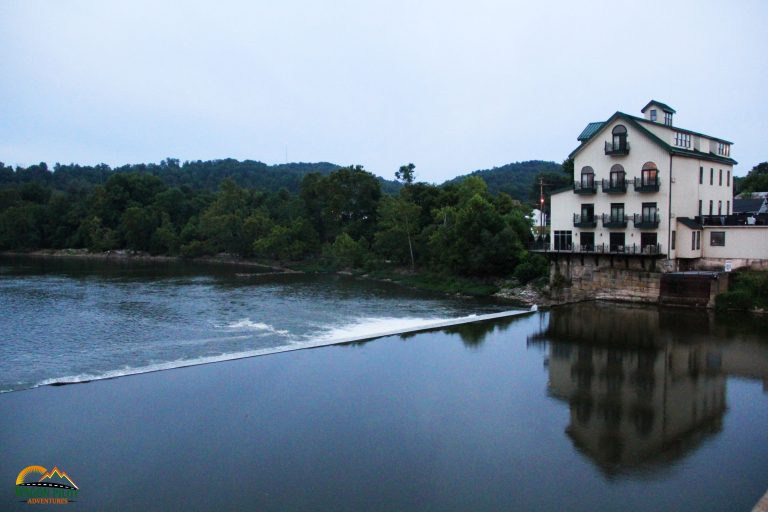 The Captain Hook suite is located on the fourth floor and includes a living room with river views on two sides, a dining table and kitchenette, and two bedrooms. There is also a spiral staircase leading to the small turret capping the building.
I stayed in a standard room, the Sonoma. Each room is decorated a bit differently, but all feature exposed wood beams. It's a great rustic touch and highlights the history of the building without being dated or forced. My room had a classic claw foot tub and separate (very small) vanity area. While it is a romantic touch, taking a shower in one is wholly impractical as the curtain sticks to you and it's difficult to get in and out over the high sides.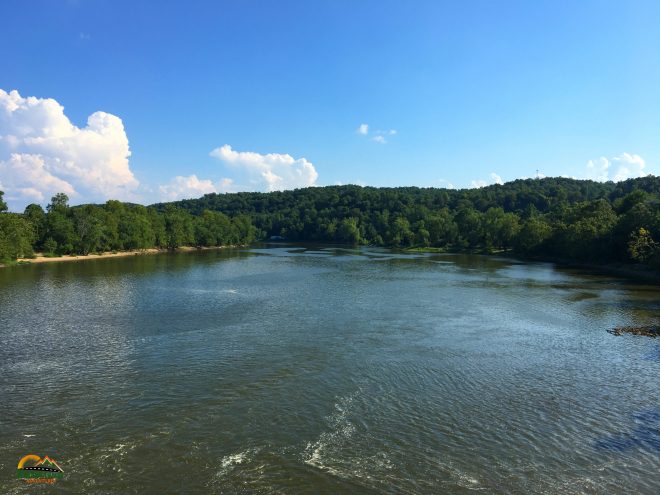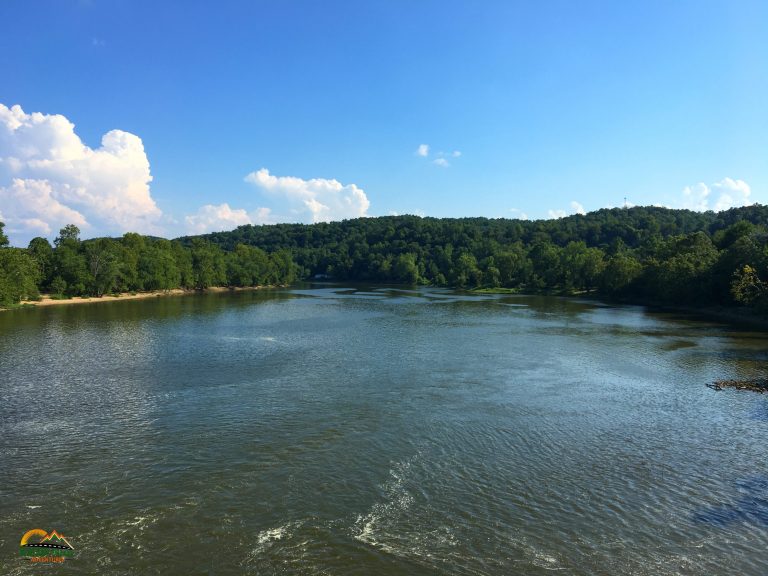 As mentioned, space is a bit tight compared to a chain hotel room as it's more of a square. The only seating was a small chair tucked into a corner and the desk/table was too small to be usable. I would highly recommend a suite for more than one person or if you'll be spending much time in the room. The common area would definitely come in handy here.
The room was clean, the bed comfortable, and, of course, quiet at night. The WiFi was surprisingly good, though I know a few others had some TV issues. I spent some time out on the balcony after dark to shoot some night photos of the stars. A word of warning: if you're there in the summer months be aware of the mass of flying insects outside at night and do not open the balcony door.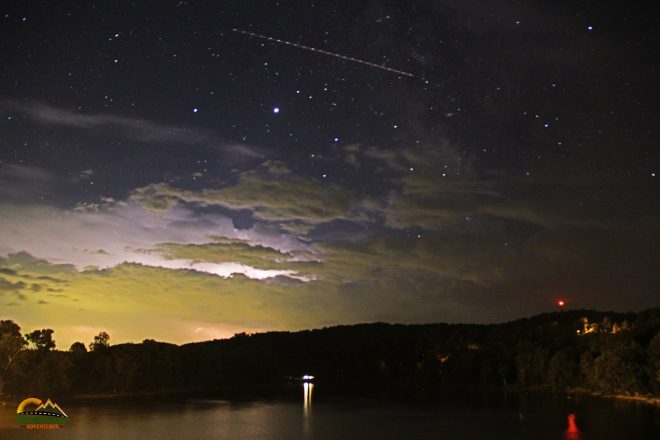 Stockport Mill Inn Experience
Overall, I'd stay at the Stockport Mill Inn again if I was in the area. The history and charm were matched by the staff. The property was clean and comfortable and a unique location for relaxing. Dinner was delicious, though you do need to be prepared for other food options due to limited days and hours. As a home base for motorcycle cruising or Fall leaf peeping, it would be perfect.
Stockport, itself, is tiny and there is not much around. McConnellsville is about a 15-20 minute drive and has places to eat, an old opera house for movies and entertainment, and a really interesting historical museum. For more information, visit the Stockport Mill Inn website and check the Morgan County CVB site for plenty of information on local attractions, events, and dining options.