Manscaped has become well-known for their cheeky commercials. It's a good laugh, but the fact is for generations male body hair grooming has been inexplicably ignored. Today, it has become more mainstream and even older guys, like myself, are enjoying the new products available. Trimmers, like the Lawn Mower 4.0, are designed primarily with below-the-belt grooming in mind. When Manscaped asked if I'd like to test drive one, I couldn't pass up the offer. The bulky hair trimmers I've been using for years were never really up to the task.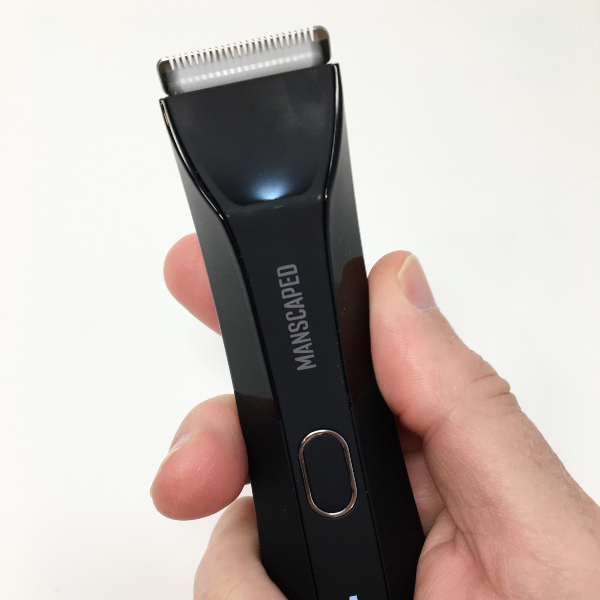 Waterproof and compact in size, the fourth generation Lawn Mower trimmer promises top notch male grooming. My task is straightforward: see how well it performs in the real world. I ran the Lawn Mower 4.0 through the paces on my hairy 40-something dad bod to see if this trimmer delivers.
NOTE: I received a free trimmer to review. I am not paid for my opinion and do not have any requirements of opinions to express. I'm also not a professional reviewer, so I don't feel obligated to hype up products. I do, however, get to pass along a 20% savings code for my readers.
Smooth Features
This is Manscaped's 4th generation Lawn Mower. They've had time to refine the trimmer's performance, durability, and features. The new body design of the LM4.0 not only looks sleek, it's functional. The unit comfortably fits into your hand and the beveled edges make it easy to keep a solid grip, even when it's wet. The compact head is good at getting into tight areas. A small charging dock provides power wirelessly to the trimmer. Lack of rough surfaces or charging port means easier cleanup and less places to gather debris. It features a spotlight, which I found surprisingly useful, especially down around the family jewels.
Lawn Mower 4.0 Features List
Waterproof – Safe for shower trimming and easy cleanup.
Replaceable blade assembly – Simply pop it off and snap a new one in when needed.
Wireless charging system – Drop the trimmer in the dock when needed, no cords to fuss with.
3 segment charge indicator light so you know how much power is left.
90 minutes operating time on a single charge.
Compact size to get in and around the goods.
7,000rpm motor for easy mowing.
Travel lock mode to prevent accident activation when in storage. Just press three times to lock or unlock power button.
Quiet operation..
LED spot light to see where those blades are headed.
SkinSafe technology to prevent nicks and cuts.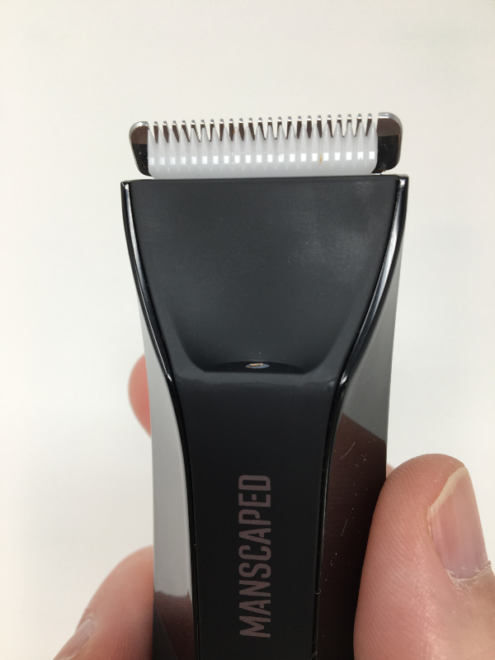 Just What is SkinSafe Technology?
SkinSafe Technology is not as high tech as the name suggests. The ceramic cutting blade is set back 3mm to prevent a sharp edge. This is the opposite of what you want for a fine edge facial trimmer, but woks well for trimming contours and soft skin in other areas of the body. The easily replaceable ceramic blades are good for hygiene (no rust), plus a sharp blade simply cuts better. How long these blades really last depends on how often and how much you are cutting. I have also noticed the leading edge is thicker and corners rounder than my other trimmers, which helps prevent scratches.
What's in the Box?
The Lawn Mower 4.0 arrives in a sleek, drawer style box; perfect for gift giving and storage. Inside the box you'll find two adjustable trimming guards, a small cleaning brush, a user manual and quick start guide. The charging dock with USB-C type cable includes the plug brick, so you don't need to find an extra lying around.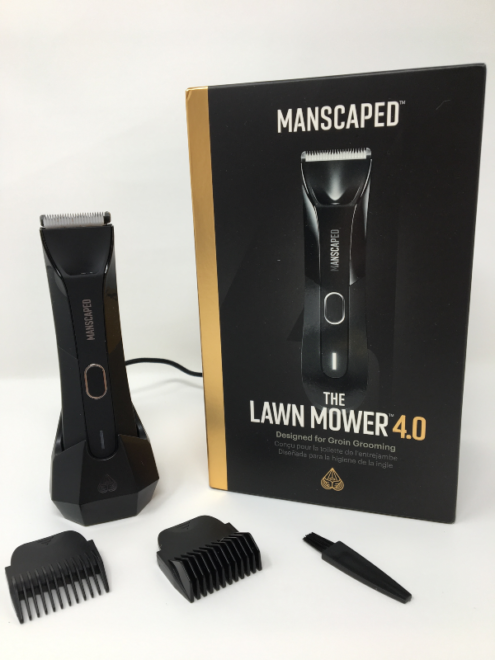 How Much does the Lawn Mower 4.0 Cost?
As a standalone purchase, the trimmer retails for $89.99 on the Manscaped website and roughly the same on Amazon. Use my link for an automatic 20% off your purchase at Manscaped.com.
Manscaped offers a combo of the trimmer paired with the Peak Performance Hygiene package for $84.99. The Hygiene package costs $14.99 every three months and gives you the option to choose two products, such as a replacement blade and one of their grooming products. A replacement blade assembly alone is $19.99, so you're saving $5 on the blade plus getting another free product with the subscription plan. How long does a blade last? That's going to come down to how often and how much you trim.
Body Groomin'
For the first round of tests I used the Lawn Mower 4.0 on my chest, armpits, and inside bend of my elbows. The Manscaped unit definitely was easier to use on the soft skin and contoured areas. Armpits were a breeze with or without the guards in place. Inside bend of elbows were also easy to trim. My larger trimmer would have ripped me to shreds without the guard in place. The LM4.0 didn't have any trouble trimming hair in one pass, though it does take a little longer to cover large areas with the small head.
My wonderful wife helped with the task of trimming my back hair. She was able to trim my extensive back hair without using the guard, which made the job easier since my hair grows in different directions. This also reduced the need to repeatedly go over areas. She commented on the light being useful, which I hadn't expected for that area. I also noticed the lack of feeling itchy during the process.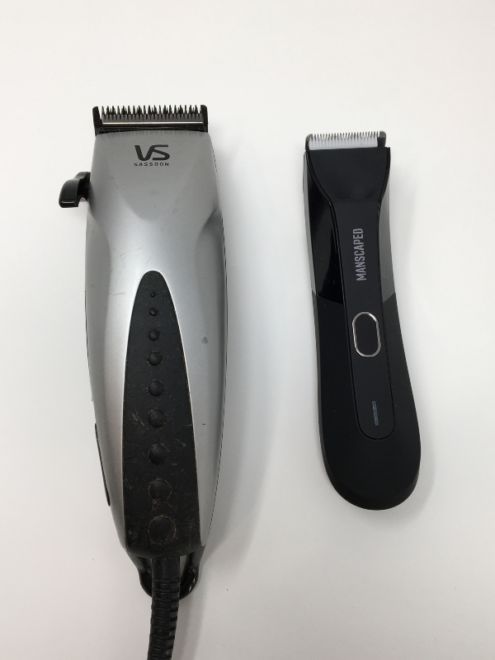 The Land Down Under
The second round focused on the prime focus of the Lawn Mower 4.0: below-the-belt trimming. Now, I'm not looking for a completely smooth package, just close and clean trim. The LM4 performed well for this task. Navigating was easy with the compact size of the unit and trimmer head. Most areas are easy to trim close without a guard in place, but I recommend at least the smaller attachment around the thin ball sack skin. If you have very coarse hair, consider keeping hair long enough to avoid chaffing from sharp stubble. If you want your junk to be truly smooth, I recommend going with a specially designed shaver, which Manscaped also offers. Remember that little spot light? Yeah, it really comes in handy down there. And being waterproof means going right from a trim to shower, just be sure not to dump all that hair into your drain.
Can You Use the Lawn Mower 4.0 for Beard Trimming?
A frequent questions comes up, "Is the LM4.0 a suitable beard trimmer?" Trimmer blades are not as fine as typical beard trimmers, which results in very sharp hairs and it can't quite cut lines with the same precision. The guards also clog up with thick whiskers quickly, though it is easier to handle than some beard trimmers due to small size. Hygiene is another concern with facial use. The damp areas of your body, such as groin and armpits, harbor different types of bacteria, which you don't want spreading to your face. If you do use it for both areas, swap blades and clean the unit well before switching areas. Personally, I would not recommend this trimmer for beard use.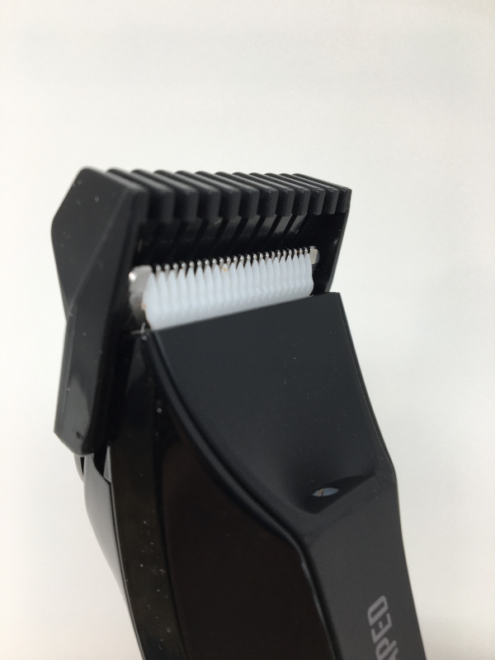 Golden Nuggets of Wisdom
Use the smaller guard to prevent nicks while trimming loose skin and hard to see areas.
If going for a completely smooth package, look into specially designs razors.
Shrinkage is your friend when trimming your balls. Cold hands or a splash of cold water will do the trick and save you from nicks and cuts.
Pull loose skin tight for a close trim.
Consider your optimal trimming length if you have coarse hair to prevent sharp hairs from rubbing in crotch areas. Better to go slightly longer than chafe.
Washing with an exfoliating soap will help prevent ingrown hairs and other skin issues.
Use appropriate lotions or powders to keep skin smooth, dry, and fresh all day.
Pros & Cons of the Manscaped Lawn Mower 4.0
Pros
Wireless charging, just drop in and forget about it.
The light is more useful than expected
Waterproof, easy cleaning and safe to use in shower
Easily replaceable blades
Compact size. Easy to maneuver around everything and in contours.
Cons
Small head size takes longer for trimming extensive body hair on chest and back.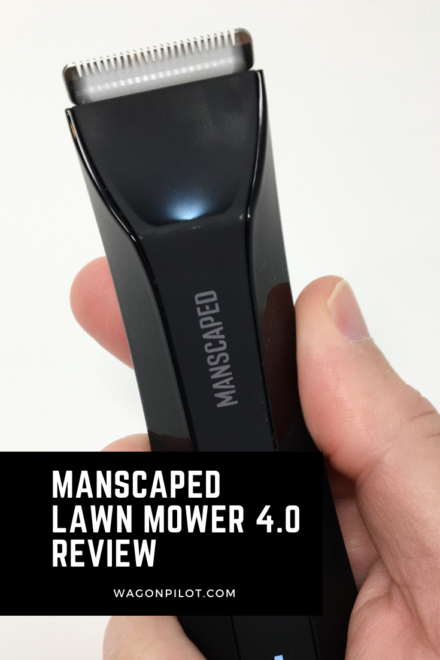 Final Thoughts
The Lawn Mower 4.0 worked well for my body hair grooming routine. In fact, I'm more likely to keep up with it more often. The trimmer worked well with and without the guard. Hair was trimmed efficiently and I didn't experience the typical scratches of the two trimmers I had been using for years. I like the wireless charging. The small charging dock doesn't take up much room in the corner of my counter and it's convenient to just drop the trimmer in instead of fishing out the power cord every time.
The Compact size of the unit made it easy to trim around everything and the body design is easy to grip. Being waterproof, it's easy to clean the trimmer after use. Time will tell how often the blade assembly needs to be replaced and if the Peak Hygiene package will be something I subscribe to later. I will be reviewing their Foot Duster soon. Overall, I'm very satisfied with the Manscaped Lawn Mower 4.0 as a body hair trimmer.