Asparagus is found locally in the early Spring in many areas of the country and can be found in stores are various times of the year. Our sheet pan oven roasted asparagus pairs well with lighter dishes, such as chicken or fish. Asparagus needs little seasoning, minimal preparation, and cooks quickly. Covering the sheet pan with a silicone baking mat will keep the asparagus from sticking to the pan.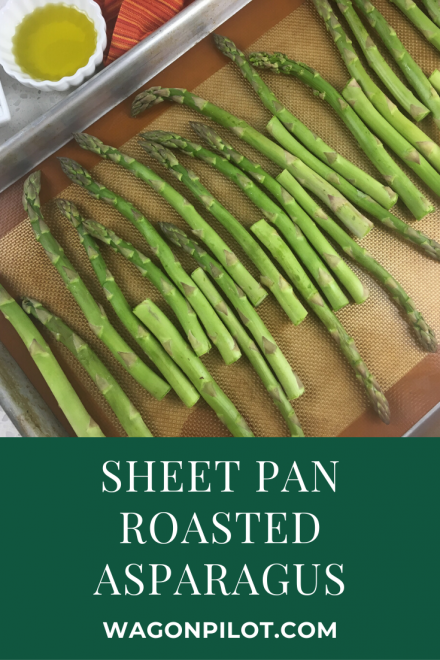 Tips for Choosing and Cooking Asparagus
Choose asparagus which is firm, not floppy. Tips should be closed and not dried out.
Look for similar size stalks in the bundle for even cooking.
If stems are very thick, use a vegetable peeler to scrape off some of the outer skin. Thick stalks are better suited for steaming/boiling than roasting.
Actual cook time will depend on the thickness of the asparagus and desired consistency. Check after 6 minutes and adjust cook time accordingly.
Cook on a sheet of parchment paper or a Silpat type silicone baking mat to prevent sticking to the pan.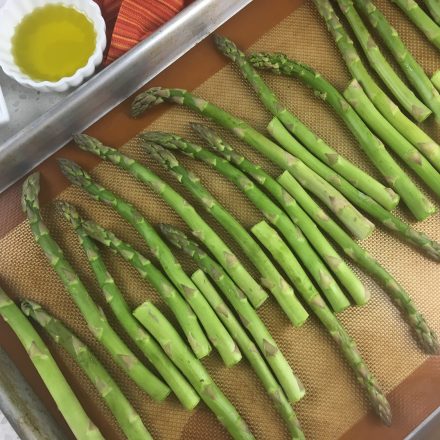 Sheet Pan Oven Roasted Asparagus
Sheet Pan Oven Roasted Asparagus
Equipment
Sheet pan, plus a sheet of parchment paper or Silpat type silicone baking mat.
Ingredients
1

pound

fresh asparagus, trim ends of stems

2

TB

extra virgin olive oil
Instructions
Place the top oven rack in the center position and pre-heat oven to 425°F. Line a large, rimmed baking sheet with parchment paper or a silicone baking mat.

Spread the trimmed asparagus onto the prepared baking sheet and drizzle with the olive oil. Season with salt and black pepper, to taste, and gently toss to combine. When asparagus is evenly coated, spread into a single layer without overcrowding.

Place baking sheet into the pre-heated oven and roast for 8-10 minutes, or until crisp tender. Turn the asparagus once while roasting. Asparagus size varies, so check doneness after six minutes.

Remove from oven and serve immediately. Drizzle with lemon juice if desired. Enjoy!