When you're looking to get away from it all, the Ohio State Park Lodges are the perfect base for relaxation and getting in touch with nature. The Salt Fork Lodge, in Eastern Ohio, is nestled within 17,000 acres of woodlands and a meandering reservoir lake. Spend your days fishing, golfing, or hiking the miles of trails and let the stress flow away. At night, sit by a campfire or stargaze from your balcony. At the crossroads of I-77 and I-70, it is within an easy two hour drive from Columbus, Cleveland, and Pittsburgh. Here's what you'll find at this rustic retreat.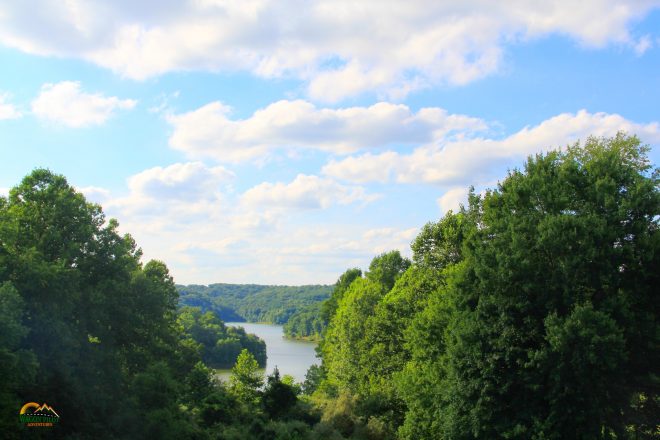 **Disclaimer: I was provided one night accommodation as part of a Guernsey County hosted tour, plus booked another night on my own dime. As always, honest opinions are what you'll find here.
Built in the early 1970s, Salt Fork Lodge has retained its rustic décor. While it would look dated at a chain hotel, the backwoods vibe is perfect for this location. Don't worry, the buildings are clean and have been maintained over the years. In fact, new roofs are being installed this year. The facility sits atop a hill overlooking the woods landscape and consists of a main lodge with two wings of hotel rooms. Nearby are separate cabins, perfect for larger families or longer visits. Camping is also available within the state park.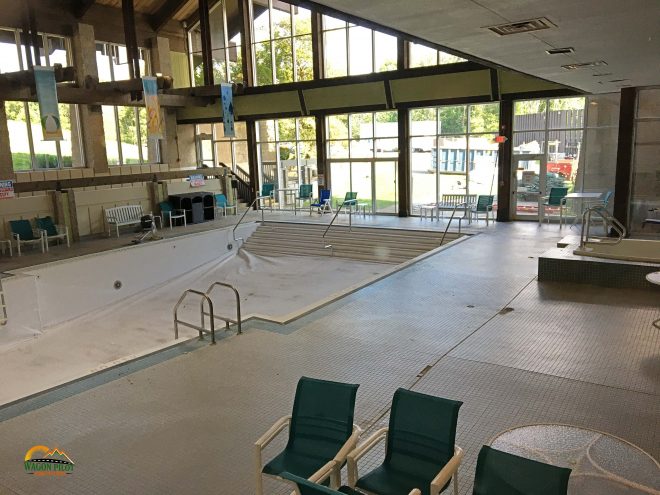 Salt Fork Lodge Amenities
The Salt Fork Lodge is fully outfitted for outdoor activities. Within the grounds are a large outdoor pool, sand-filled volleyball pit, children's playground, plus basketball, shuffleboard, and tennis courts. Miles of hiking trails meander through the state park, with some accessible right from the lodge. Inside visitors will find another pool, game room, and seating areas to relax by a large fireplace or with views out the large windows. A gift shop is chock full of souvenirs, including some celebrating local Bigfoot lore, and snacks. Read more about the Bigfoot events and other interesting area attractions here –>> 17 Quirky and Unique Things to See in Southeastern Ohio.
Just outside the lodge grounds is a challenging 18 hole golf course nestled into the rolling hills. Boat launches and two marinas, plus a large beach, will keep visitors busy with water sports. A nature center and putt-putt course are located near the beach. Seasonal fishing and hunting is available within the state park.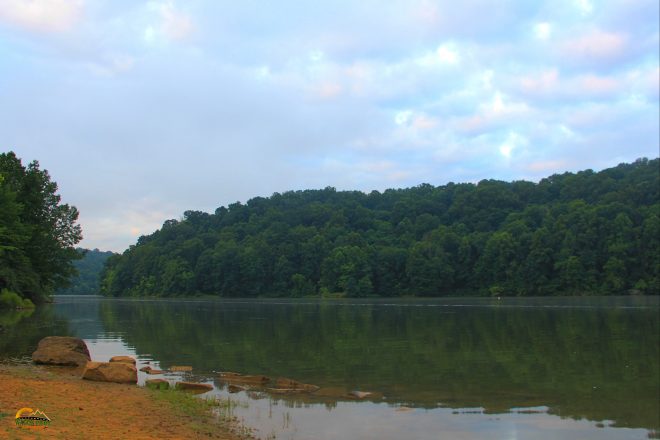 Salt Fork Lodge Dining and Alternatives
Salt Fork Lodge has its own on-site restaurant, serving up meals from breakfast through dinner hours. There is also a lounge with both table and bar seating. I only had a chance to eat breakfast at the restaurant during my stay and both service and food were excellent. The first night, I did take a peek at the menu and noticed prices were on the higher side and decided to head out to find something more budget friendly. That's were the remoteness of the lodge really hit; it's several miles just to drive to the park entrance, then several more until you can find anything else. Be sure to at least stock up on snacks and drinks on the way to the lodge. There are mini fridges and microwaves in the rooms, which will also help out in the lunch department.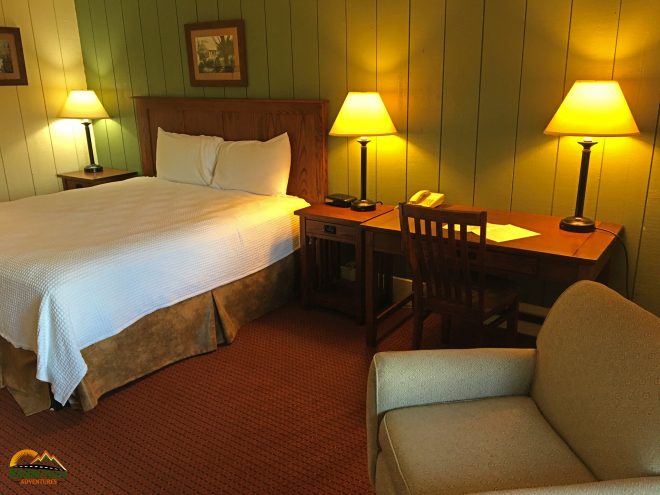 Salt Fork Lodge Rooms
Now on to the most important part: guest rooms. Guests can choose from double queen beds, double queens with a recessed bunk bed, single king bed, or the larger deluxe king bed room. I stayed in a standard king bed room, which shares a similar layout to most other rooms. Every room has either a balcony or walk out patio, which with face the pool or woods. Accessible rooms are available.
The room layout is one similar to any typical hotel and has one of my favorite features for family travel: an extra vanity with sink outside the main bathroom. There is an open luggage area, large mini fridge with separate freezer, microwave, and coffee maker in the entryway. The bathroom is a decent size and has a bathtub, which comes in handy when you have young children along for the trip.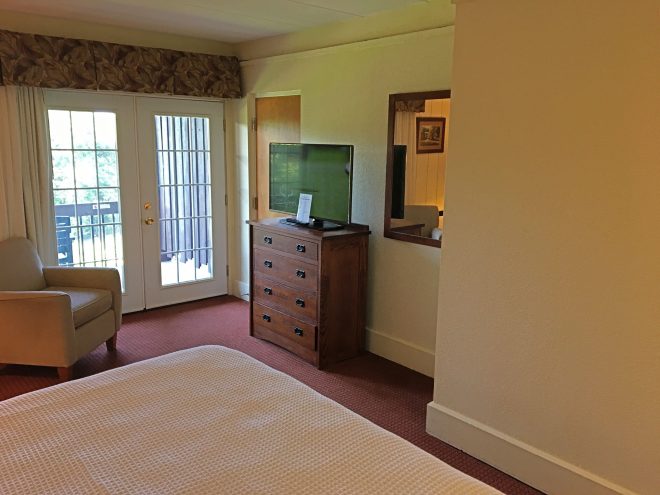 The main area has the bed(s), dresser, and TV. My king room had a desk and a comfy sitting chair, which was great for getting some work done then watching TV. Queen rooms only have a small table with two chairs. The bunk rooms are a fun extra with a pair of beds recessed into the wall. The balcony has plenty of room for the two chairs and is somewhat private with a fence style wood slat divider. I was surprised to see a few resident deer munching grass below when I arrived and they camped out nearby at night.
When reserving a room, request one facing outward, towards the woods instead of the pool, and also try to get one closer to the main lodge to save a bit of walking. And, as mentioned before, pack some groceries as there is not easy access to much in the area. Parking is easy and there are loading areas near the main building.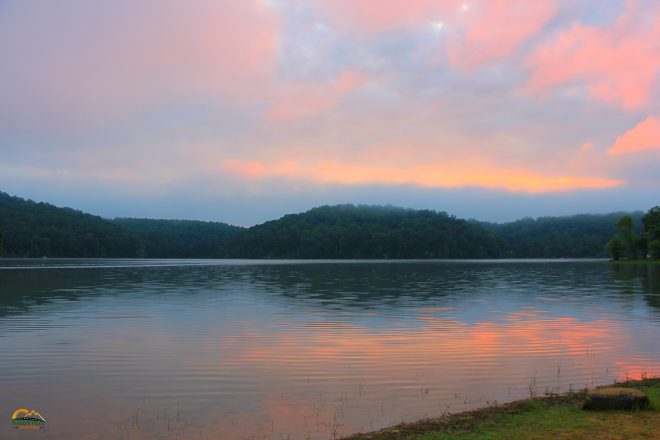 Salt Fork Lodge Review
Overall, I enjoyed my stay. As a frequent traveler, I have my favorite chain hotels and the rooms here, though an entirely different aesthetic, were up to my standards of cleanliness and usefulness. My room was quiet and the bed comfortable, which helped reinforce the peacefulness of the location. The lodge itself has a confusing layout and one can easily get turned around. For starters, the check in area is located on the 3rd level, not the 4th where it seems obvious to enter.
The overall feeling the lodge is exactly what you'd imagine. Soaring wood beamed ceilings, stone walls, and woodland views from tall windows. The rustic surroundings are perfect for an escape to nature any time of year. For a longer vacation, you may even consider one of the cottages down by the lake.
For more info and ta make reservations visit the Salt Fork Lodge website. Also, check the Cambridge/Guernsey County CVB website for nearby attractions and help planning your vacation in the area.