Levi and Catherine Coffin moved to Newport, now known as Fountain City, Indiana in 1826. As Quakers, they were staunchly against the practice of slavery. Newport was an important point on the Underground Railroad. Slaves escaping over the Ohio river from the South would pass through the area before heading off towards Canada or settling in towns friendly to free blacks. It was here that the Coffin family assisted over 2,000 slaves on the path to freedom. Today, the Levi Coffin House stands as a memorial to the thousands of slaves who risked their lives and the abolitionists who helped them along their journeys.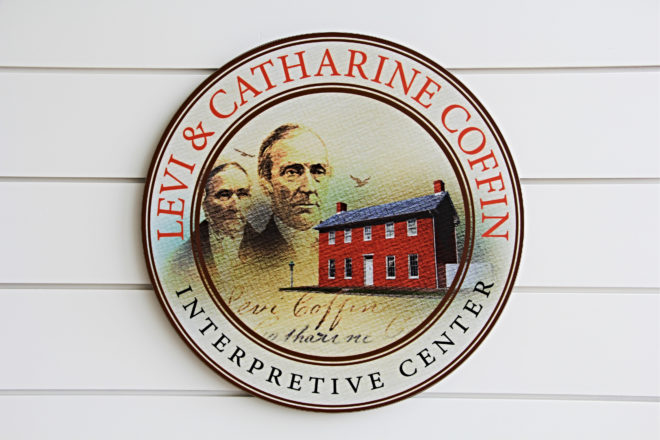 Levi had grown up in North Carolina and had a strong distaste for the Southern institution of slavery. As an adult, he became an outspoken abolitionist. In 1826 he moved to Newport, Indiana with his wife and eventually built the home on tour today in 1839. The Underground Railroad, a loose network of people and homes friendly to escaped slaves, included the home of Levi and Catherine Coffin. It is estimated that the family helped over 2,000 slaves during their years in Newport. Their home is a rare and important piece of African-American history during this period.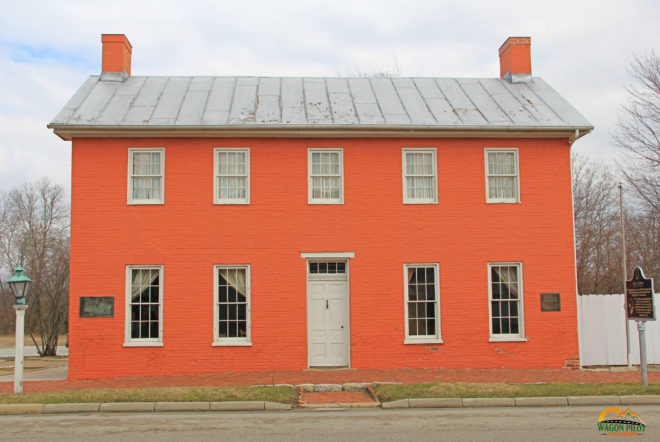 The Levi and Catherine Coffin House
The Levi and Catherine Coffin House, built in 1839, is now open to the public an important piece of our National history. During their time in Newport, slaves following the Underground Railroad were shuttled to the Coffin house to to hide. The Coffins provided food, shelter, and even clothing made by Catherine's sewing circle. The home has a few unique features built to aid in this role. There is a second kitchen in the basement, plus a spring fed cistern to provide plenty of water, even during the winter months. These two additions would prevent any suspicion aroused by extra activity. In case of slave hunters obtaining a permit to search their home, a secret space in the attic could be accessed from the children's bedroom and the small door easily concealed behind a piece of furniture. Being a largely Quaker area, they were protected by numbers and were able to avoid entanglements with the slave hunters. Roughly 1,000 escaped slaves passed through the Coffin home on their way north.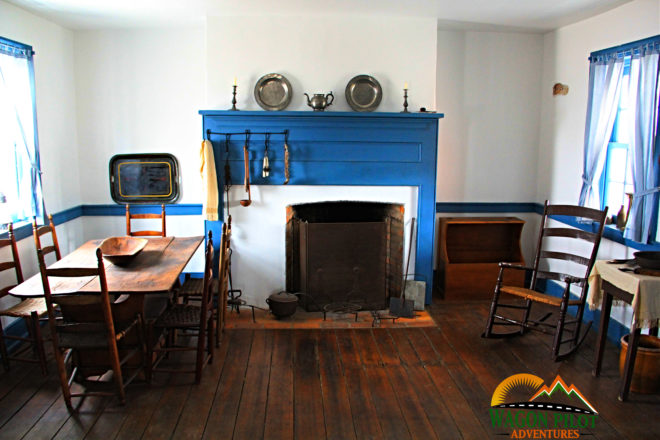 Levi and Catherine moved to Cincinnati in 1847 to open a wholesale warehouse specializing in goods for stores and businesses supporting free labor. It is believed they helped more than a thousand more runaway slaves seek freedom while living there. During his later years Levi was active in the National and International abolitionist movements.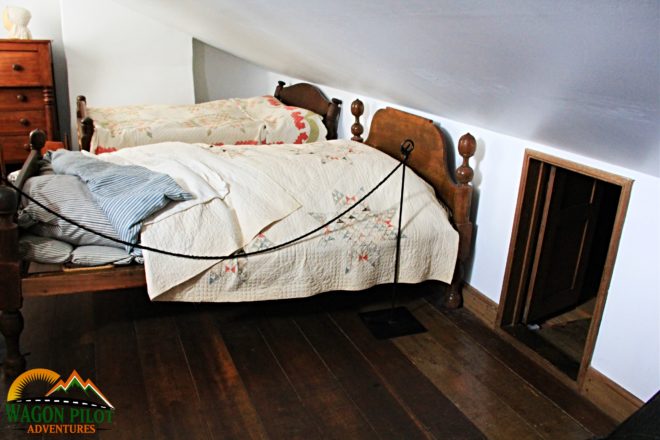 Planning a Visit to the Levi Coffin House
Visitors of all ages will appreciate a visit to the Levi Coffin House. A modern interpretive center was built into the neighboring home in 2016. Guests begin their visit here with an introductory film. After the film, a docent will lead your small group over to the Coffin home. Note that the historic house is in its original configuration and thus not easily accessible with small staircases. Visitors will get to see the entire home, including the basement kitchen and functioning cistern. Out back, the old barn has a wagon revealing a compartment used to transport slaves hidden beneath cargo.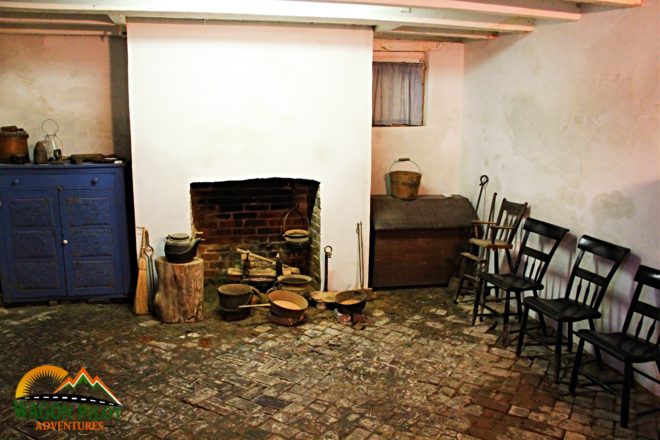 Once the home tour is finished, head upstairs in the interpretive center to explore the small museum. There are artifacts and some hands on displays to give kids an idea of how difficult slave life was. Admission to the Levi Coffin house is $10 for adult, $8 seniors, and $5 for kids 3 to 17. A gift shop and bathrooms are also located in the interpretive center. The site is open Tuesdays through Sundays from 10am to 5pm. For more information, visit their official website.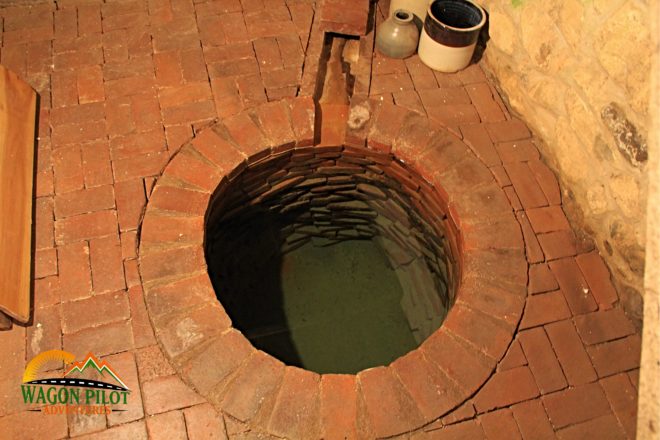 William Bush – Escaped Slave
William Bush was one of the many escaped slaves who came to the Levi Coffin house, thought his story is a little different. Somehow he managed to have himself shipped to Newport in a packing crate. In the museum, there is a display about Henry "box" Brown who similarly had himself shipped to Philadelphia. Visitors will also find a pair of William's worn wooden shoes on display. Instead of moving on to Canada, William Bush became a resident of Newport and worked as a blacksmith. Today, Eileen Baker-Wall, great-great granddaughter of William Bush works as a tour guide at the Levi Coffin house. A tangible connection to a history that has left so few traces.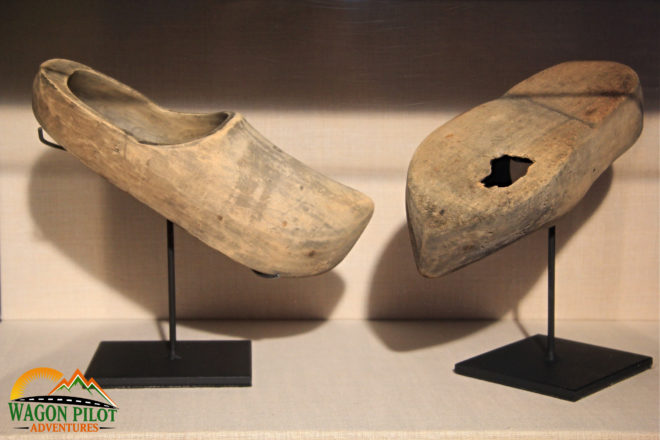 William Bush's grave can be found in the Willow Grove cemetery just down the road. While there, I noticed another significant grave marker, one belonging to a soldier who served with the 55th Massachusetts (Colored Infantry) during the Civil War. Read more in my Travel Shorts article on William H. Evans. There's always history wherever you look.