The predictability of modern chain hotels dominates the tourism landscape. Pull off any major interstate off-ramp or step through the exit of an airport and travelers will find exactly what they expect. The same lobby, same front desk, same amenities, and same rooms. There's very little to differentiate between brands nothing out of the ordinary. Historic hotels offer an escape from this monotony and add an element of adventure.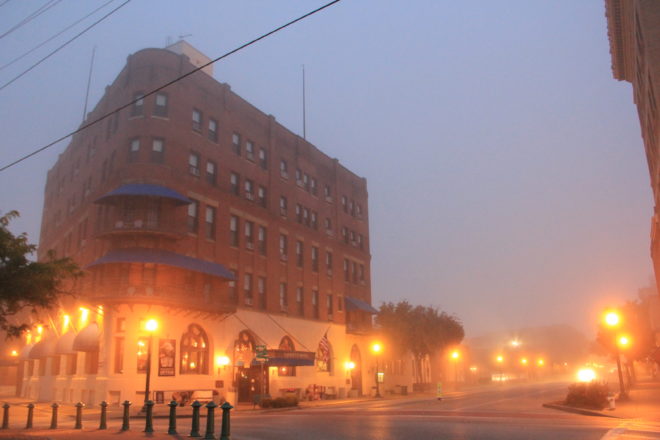 There was a time when hotels were uniquely designed and operated independently. From simple boarding rooms near to train depots to magnificent luxury resorts in the country, no two were alike. While many of these old properties have been lost to time, there has been a resurgence in historic hotels. More travelers are looking for their accommodations to be part of their vacation, not just a place to lay their head at night. These old buildings feature interesting architecture, varied rooms, and a connection to the locale.
While historic hotels have many benefits, there are also some challenges to be aware of before booking. You may have to give up on the buffet breakfast and trip to the exercise room for that prime downtown location. Maintenance and modernization are also issues to look into. The hotel may have been renovated, but was it recent or is that 1970s Colonial wallpaper showing a bit of its own history? Here are some benefits and items to know before booking an historic hotel stay.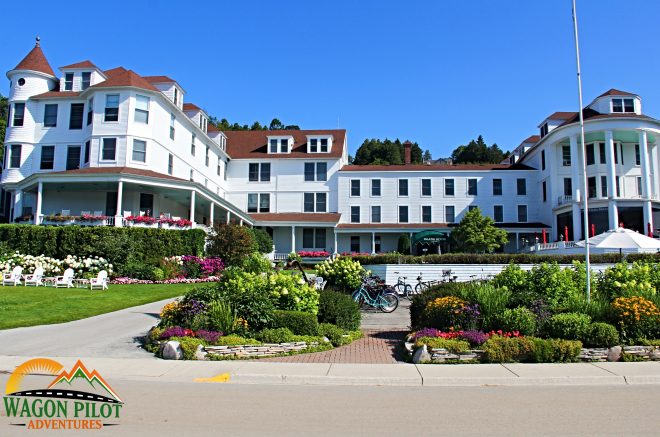 Historic Hotels in Prime Locations
While modern chains offer the convenience of arrival right off the highway or airport shuttle, historic hotels were often built in the heart of the action. Located in prime downtown real estate or within walking distance of attractions adds convenience for tourists or business travelers. No wasting time driving around looking for a parking spot or having to pay for a service. Simply walk out of the lobby and enjoy your time.
Other historic hotels are a destination of their own. Lakeside lodges, island hotels, or all-inclusive resorts tucked into the countryside offer an escape from the hustle and bustle of everyday life. Whether remote or downtown, there are aspects of hotel location to consider. One which varies widely is parking. Downtown space is at a premium, so be sure to ask about the parking situation. Some offer free valet service, while others may direct you to a paid public parking structure.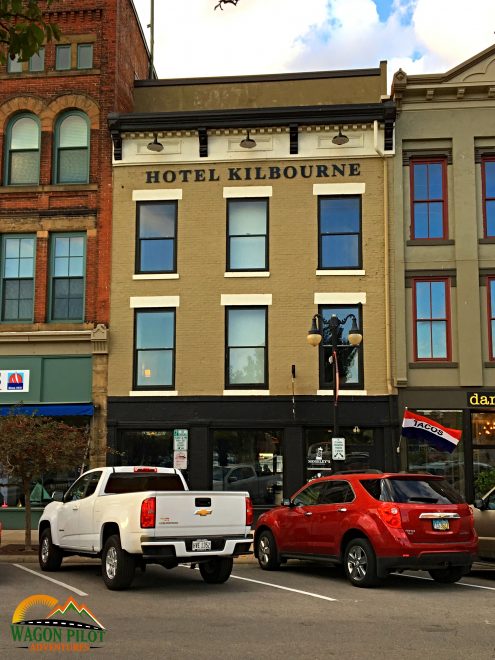 Another factor to think about is ease of access to outside amenities. Are there decent dining options within walking distance? How far are the places you want to visit? Do you need to bring basic supplies along due to a lack of nearby shopping?
An often overlooked item with these prime locations is noise. Most historic hotels were built to be convenient to travelers, which means downtown streets and/or near railroad depots. I recently spent a very long night listening to train whistles every hour during the night. Busy streets can also be a nuisance if the property is located at a major intersection or near late night bars. A quick look on Google' Map's Street View can help determine if noise level will be an issue.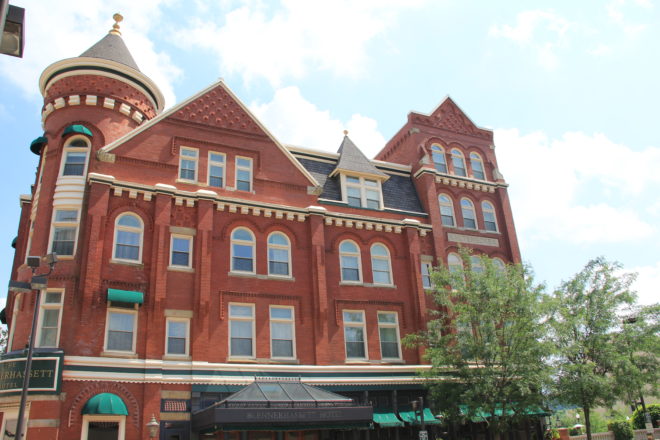 Historic Hotel Pricing and Reservations
While chains are predictable in most areas, historic hotels vary widely. Renovation costs add up and some may be seasonal, which pushes prices higher. However, I've stayed at some offering a far better experience for a very reasonable rate. Also shop the shoulder season or off season, since properties may be looking to squeeze a few more weeks out of their limited vacation time and fill up rooms.
Being independently owned, many historic hotels do not have the most up to date websites. Be sure to call and ask about any discounts or special packages before booking. They may also have deals that are not listed on their own website or listed on the popular hotel booking sites. Free breakfast coupons or discounted bundles with local attractions can save some extra cash.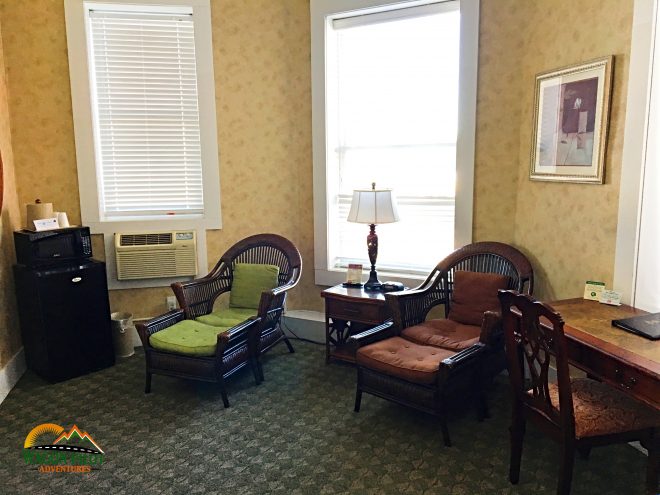 Historic Hotel Room Sizes and Layouts
Unlike cookie cutter chain properties, historic hotel rooms come in all manner of shapes and sizes. The original customer base for the hotel has a huge impact on room sizes. A lower budget hotel, which may have been near a railroad station, is likely to have smaller rooms than we are accustomed to today. On the other hand, destination hotels, which were primarily for the wealthy who could afford to travel, offer larger accommodations and multi-room suites. One thing you won't find in modern chains are the wonky shapes of Victorian hotel rooms, which use every nook and cranny of elaborate roof peaks and turrets. It makes for an interesting design, though not always convenient.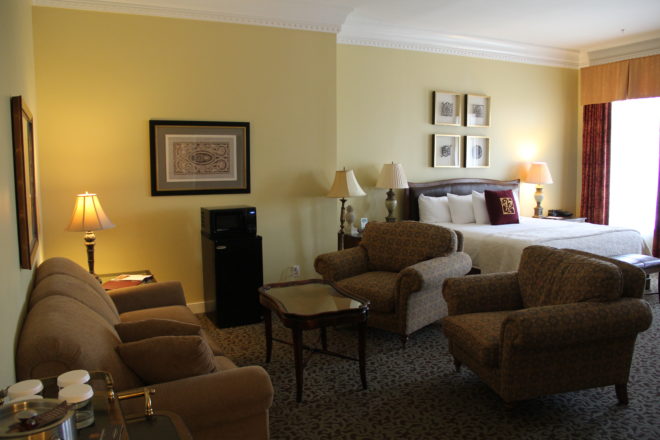 The furniture and decorations of historic hotels are often antiques or period reproductions. The well-padded seating is much preferable to the basic swivel desk chairs. While classically decorated, it's not unusual to find a large flat screen TV above an 1800s chest of drawers. Be aware that furniture, and even decorating themes, may vary from room to room.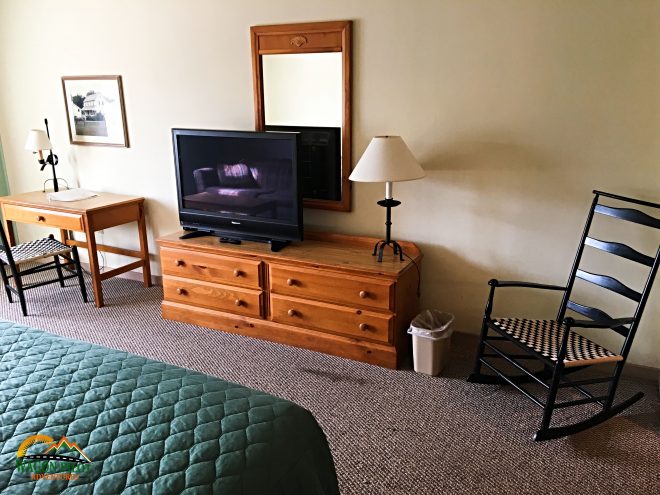 Historic Hotel Renovations
A key question for historic hotels is when was the building last modernized. Some may have been in a continual state up upkeep, which can mean outdated looks, but no issues with items like electricity and plumbing. Though updated, there are some items which are difficult to upgrade, mainly heating and central air systems; so a window unit may be all you have. Others may have gone through an overhaul decades ago and still look like the 1970s instead of the 1870s. My favorite old hotels are properties that have been updated in recent years, but with an attention to the styles from when the hotel was originally built. These offer the charm of the past without the musty smells and worn out furniture.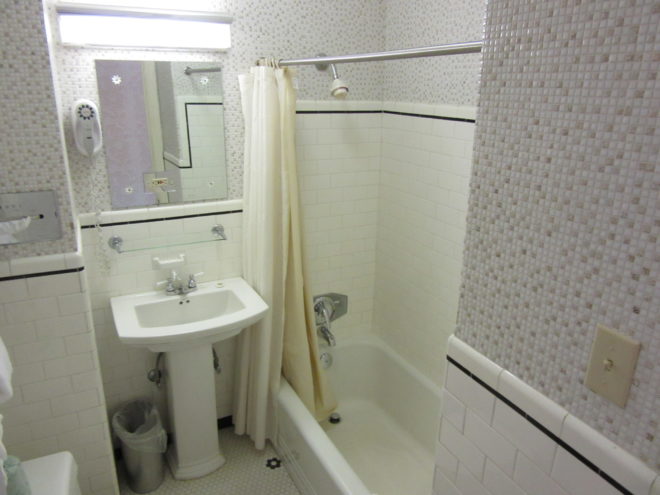 Historic Hotel Bathrooms and Showers
While most historic hotel bathrooms have been modernized, they often are constrained by the original footprint of the building. Typical bathrooms are tight on space and feature pedestal sinks, which leaves very little surface area to unpacked. Packing your essentials into a small travel bag helps to keep toiletries at hand. In some more recent renovations, bathroom space has been added to provide more space.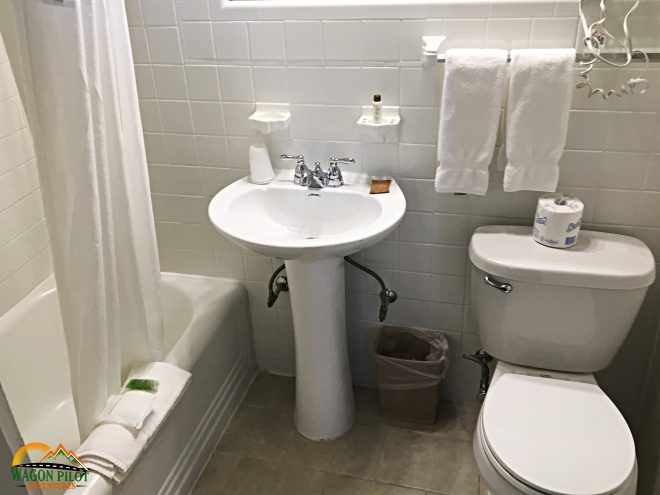 Bathtubs are standard, but not always with a shower head. While this works well for washing up the kids, it's not ideal for adult getting ready in the morning. Take a few minutes to check for pictures online to see the bathroom layout and if any issues may arise, especially for those with any physical limitations. In very rare cases, you may run into a property with shared bathrooms.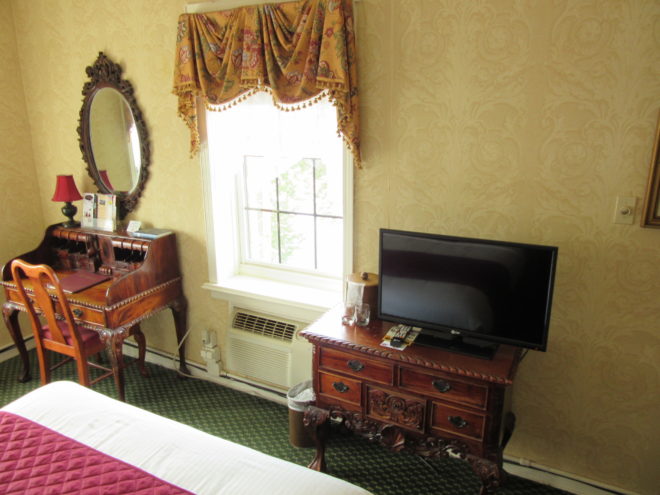 Electricity and Technology
One area where some older hotels lag behind is in meeting our modern thirst for technology. Poor WiFi and lack of a business office can hamper work travel and run up data usage on phones. While there are ways of working around these inconveniences, electrical outlets have been an issue on more than one of my recent road trips. Depending on when the electrical system was last updated, guests may have a difficult time finding enough outlets to need to unplug lamp a lamp or TV to fill the need.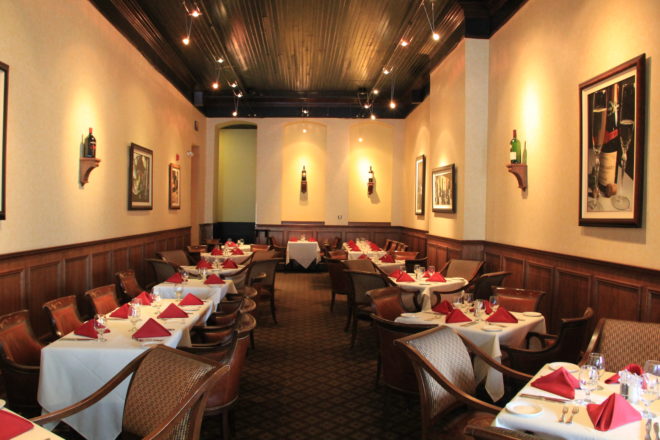 Historic Hotel Amenities
The amenities offered at historic hotels vary widely. Facilities we are used to at chains, such as pools, laundry, and exercise rooms, are often not available in older hotels. Vending machines may be nonexistent or only located in the lobby along with a coffee station. Don't be shocked when the desk attendant hands over a real key instead of a swipe card for your room.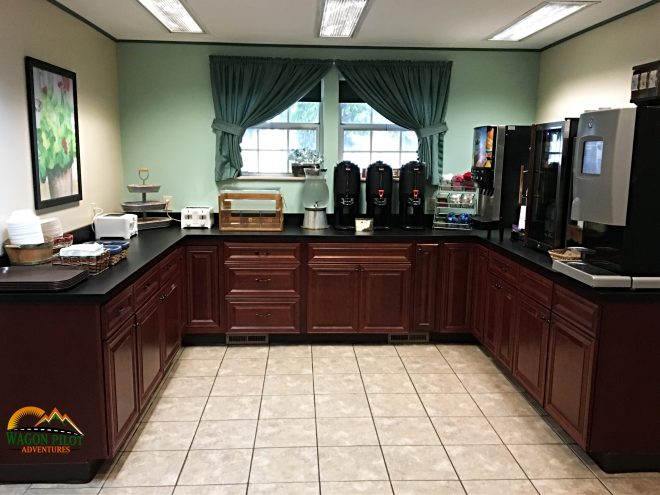 While it is uncommon to find a free breakfast buffet at an historic hotel, there are alternatives which add to the vacation experience. Some larger hotels have their own restaurants, though not all are open for breakfast. Local eateries typically fill the gap here and it can be fun to try different places each day. If the hotel has a restaurant, ask about dining packages when booking your stay.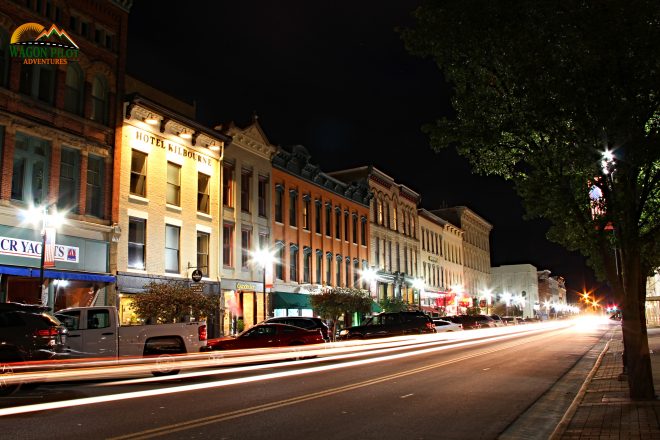 Is it Haunted?
Whether you believe in ghosts or not, historic hotels often have their own stories. Some based on history, some reports from guests over the years. Good way to learn some interesting local history. Ask at the front desk if they have any interesting stories or some even keep a guest book to record paranormal experiences.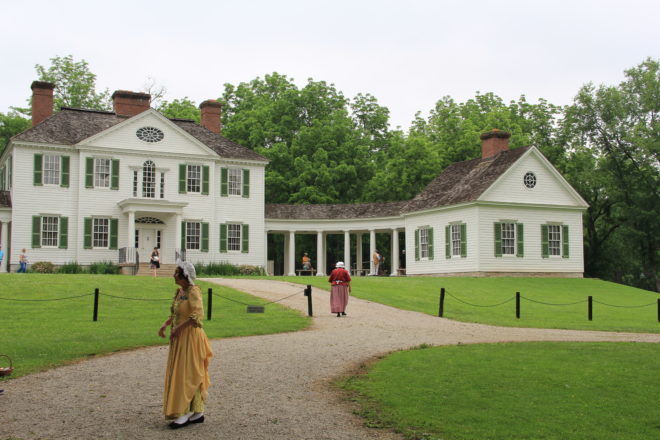 Now, I haven't personally seen a ghost at a hotel, but I know several reliable travelers who have had their own unusual experiences. My own ghostly encounter was at an old mansion, which has raised my awareness while staying overnight in old properties. You can also read about my recent tour of the historic Randolph Asylum in Winchester, Indiana.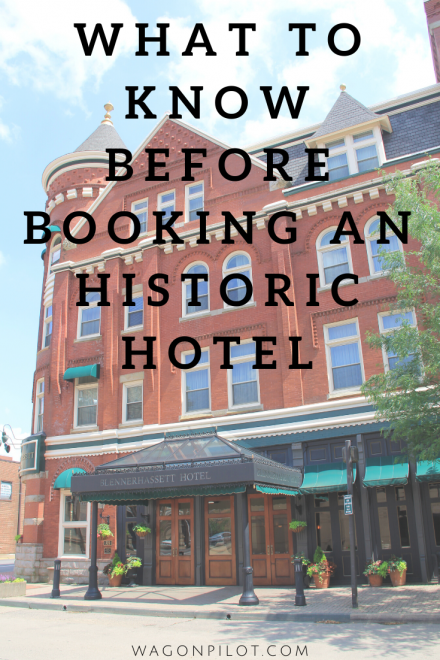 Historic hotels offer an extra bit of adventure to your vacations, but be sure to think about these tips and ask a few questions before booking your stay. Older properties add interest with elaborate architecture, unique rooms, local history. And, of course, there's the convenience of staying right in the heart of your vacation destination.