James Dean lived up to the moniker of shooting star. Staring in only three movies, he became an icon of youth counter-culture, only to die in a tragic car crash at age 24. While he is immortalized on Hollywood's silver screen, few know he hailed from rural Indiana. On a cloudy Spring day, I fired up the Mustang and set off on Indiana's back roads in search of James Dean's roots.
James Dean was born in Marion, Indiana February 8th, 1931 and was raised in Fairmount, just two towns south. His family moved to California when he was five, only to see him sent back to lived with his aunt and uncle after his mother passed away a few years later. Of course, he would later return to California to start on his acting career. I started my journey in Marion, at the memorial marker on the site where he was born, then worked my way south to Fairmount to see homes he had lived in, the town where he spent most of his childhood, and the cemetery where he was laid to rest.
On the Trail of James Dean in Indiana
I've laid out this trail as you would drive instead of chronologically for ease of planning your visit. These sites mark important moments in James Dean's life and places where you can learn more about the man behind the star. I recommend picking up a map from the James Dean Gallery, which has some additional points of interest around Fairmount.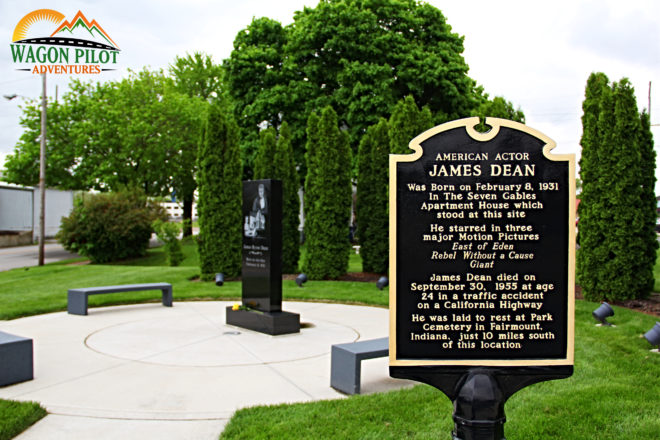 James Dean Birthplace Memorial
The apartment home where James Dean was born in 1931 is no longer standing, but a memorial park was dedicated on the site in 2015 to mark the 60th anniversary of the actor's passing. There is a black stone memorial along with an historic marker. It's just off the main road coming in from I-69 and there is easy parking. The memorial is on McClure Street, just off East 4th Street. An old train depot sits across the street, which now houses a restaurant. From here, begin your road trip south towards Fairmount on South Adams. Once you hit the brick lined Main Street of Jonesboro, jog over to Fairmount Ave.
Winslow House and Back Creek Friends Church
Upon James' return to Fairmount after his mother's death, he was raised by his aunt and uncle, Ortense and Marcus Winslow. Many would be surprised to know rebel James Dean lived on a farm and attended the Quaker Back Creek Friends Church. The large white farmhouse is now owned by Marcus Jr.. It is not open to the public, but they don't seem to mind if visitors stop in the driveway for a quick picture. The Friends church is the next property south of the farm. Again, there is no marker or museum. You can find the church at 7560 South 150 E (aka Sand Pike Rd).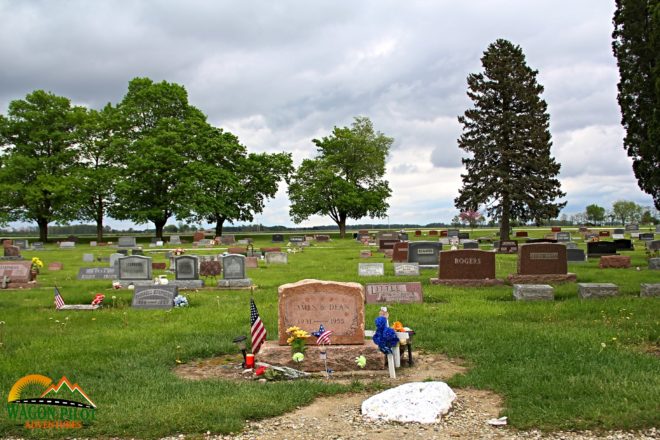 James Dean Grave Site
Continue south for less than a mile and you'll find the Park Cemetery. Turn into the second or third driveway and there are signs pointing visitors to James Dean's grave. Surprisingly, it's an ordinary grave marker; except of the lipstick kiss marks and numerous little gifts and flowers. The path here is narrow, just one car wide, so be careful not to disturb other graves during your visit. Continue south and the road becomes Farimount's Main Street.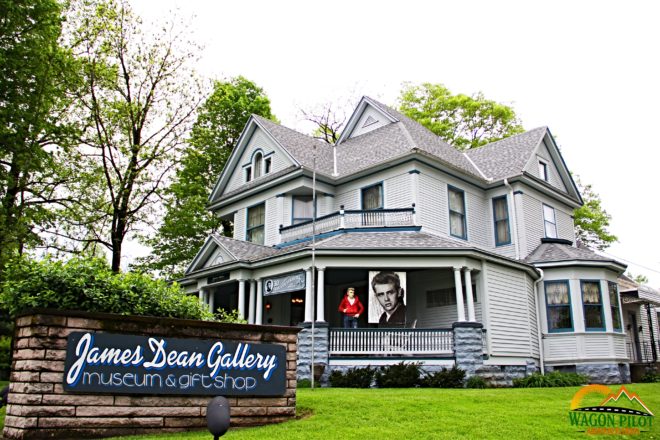 James Dean Gallery
A good first stop in Fairmount is the James Dean Gallery. Here you will find rooms full of James Dean memorabilia, including movie posters, souvenirs, and childhood photos. Owner David Loehr is an avid fan and can answer any questions your might have and point you to some fun local stops. In addition to the gallery's gift shop the Rebel Rebel shop in the back has all sorts of 1950s and 1960s items for sale. For more information, visit the gallery website.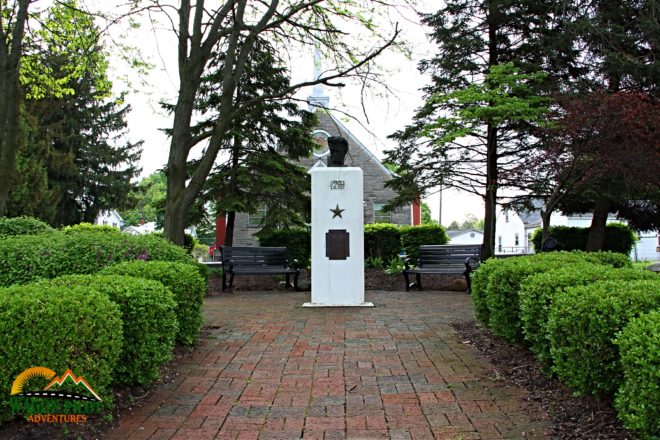 James Dean Memorial Park
Just down Main Street is a little memorial garden with a bust of James Dean. It's an odd spot, being right next to a busy gas station. The bronze sculpture, by artist Kenneth Kendall, was commissioned by James shortly before his death. Another cast of the bust resides in the Griffith Observatory in Los Angeles. You can find more of Kendall's work in the James Dean Gallery.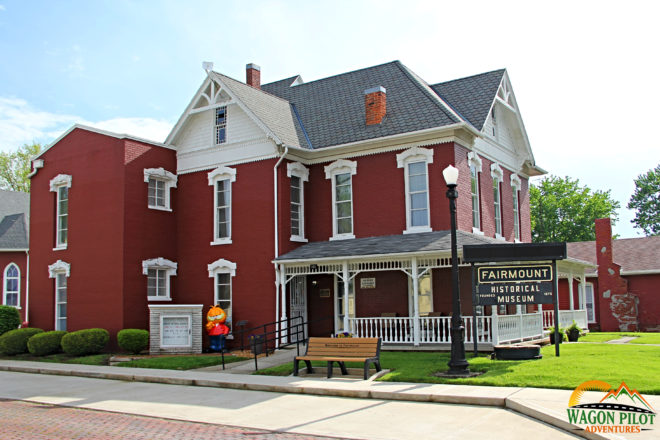 Fairmount Historical Museum
On Washington Street you'll find the Fairmount Historical Museum. Here you'll find more James Dean memorabilia along with two motorcycles formerly owned by the actor. There is also a display dedicated to Garfield artist Jim Davis, who grew up near Fairmount.
Take a wander around the town of Fairmount, which is still much the same as when James Dean walked its streets. A single traffic light in the center of town is surrounded by old buildings and mural or two of James can be found. The icon of teen angst likely spent happier times in this town, surrounded by friends and family, though he was quick to to head off after high school.
Feeling hungry? I highly recommend dinner at the Grains & Grill restaurant or a pint of locally brewed beer in the adjoining Bad Dad brewery. Read my review here.