Restaurants have become overly homogenized in recent decades. Pull off any highway exit in any small town and you'll find an underwhelming sameness of chain eateries. I'm always looking for unique family run establishments when I travel and was excited to detour through Fairmount, Indiana to see what Grains and Grill Restaurant had to offer. I left with a very optimistic view of what is possible for small town dining.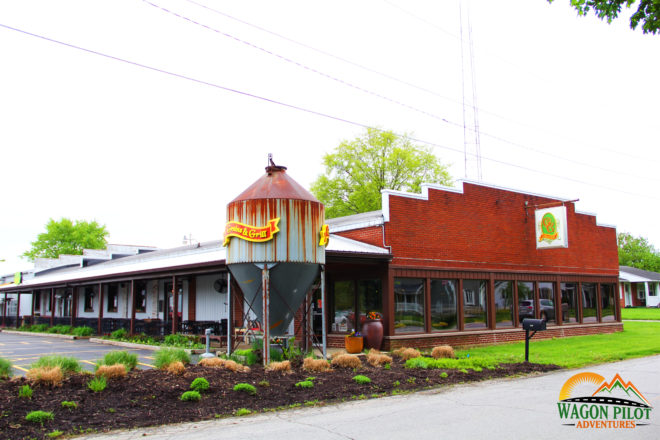 Disclaimer: I was invited to review the restaurant and received a free dinner. As always, these honest opinions are all my own.
Grains and Grill Restaurant
Joanie and Barry Howard returned to their hometown of Fairmount, Indiana and took a leap of faith into the restaurant industry. After much hard work in renovating the old John Deere dealership, Grains and Grill opened in 2015 serving up elevated comfort food to the community and beyond. Fairmount is most notable to tourists as the home town for both James Dean and Garfield cartoonist Jim Davis. The Howards made a decision not to mix those themes into the restaurant and instead their menu has become its own draw for out of town visitors.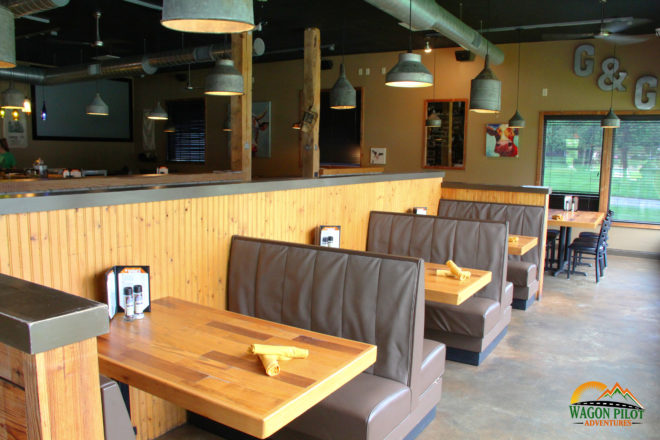 The front of the building is the main dining room; a combination of booths, tables, and high tops. In the middle there is an open event space and overflow seating. The décor blends in local materials, such as reclaimed barn wood and signs, into a slightly modern feel. One feature which stands out is a wall full of framed pictures of local farmers. Not as overly crisp as Magnolia Market, nor haphazard like Cracker Barrel; simply comfortable and inviting. The friendly staff adds to this atmosphere.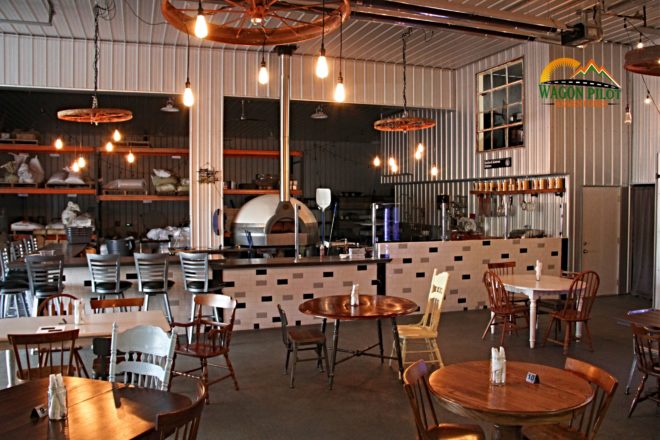 The rear of the building contains a bar with views of the brewing operations and beyond that a custom pizza oven with more seating. Outdoor seating rounds out the space in warmer months. Grains and Grill also hosts events, such as the Paws and Pints fundraiser for the local Humane Society and an annual open air French Market where hundreds of vendors sell their crafts. Wait, go back, did somebody mention beer and pizza?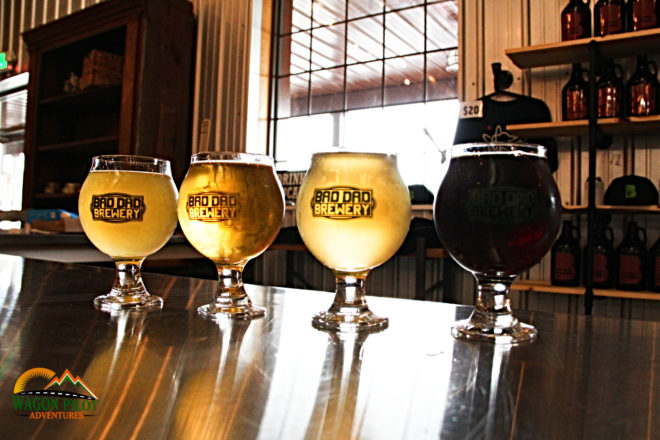 Bad Dad Brewing Co.
Grains and Grill has its own in house beer maker: Bad Bad Brewing Company, which opened in 2016. Bad Dad keeps around a dozen of their own beers on tap and has begun distributing its creations to local bars and restaurants. In addition to the bar, they fire up the pizza oven Wednesday through Friday. Keeping the business in the family, one son operates the brewery, while the other runs the pizza oven. While there, I sampled a range of their brews. The Peach Fuzz sour and Cartoon Cat hefeweizen were right up my alley, though I'd choose a pint of their Thank Benedict mocha stout to take the edge off a cold winter day. Sadly, it was Monday and I did not have a chance to try their scratch made pizzas.
Grains and Grill Menu
You think you know American comfort food. Steak, mashed potatoes and gravy, pasta with heavy sauces, and, in Indiana, plate sized pork tenderloins. Grains and Grill has taken this familiar palate, amped up the flavors, and added a few upscale options to round out the menu. Appetizers are an interesting mix of bar fare, such as soft pretzel sticks and fried mushrooms, alongside shrimp cocktail and crab cakes. Dinners include burgers, steaks, pasta, seafood, and salads. Each of these dishes are an elevated form of what you'd expect from a small town eatery. Sausage and sage pasta, Maple Pecan Salmon, a massive 40oz tomahawk ribeye; even the lowly hamburger is dressed up with bacon jam.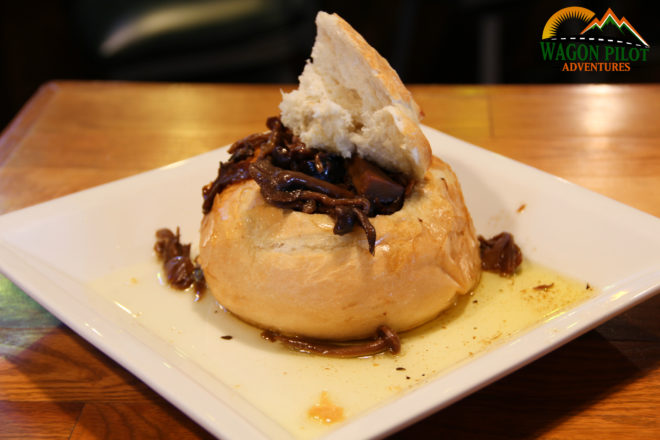 So, what did I eat? The forest mushroom appetizer was calling my name. A mix of mushrooms prepared in an herb butter and served in a fresh bread bowl; what's not to love? The variety of flavors was amazing and the herb butter perfect for dipping the bread. I could easily stop in for one of these and a pint any night of the week.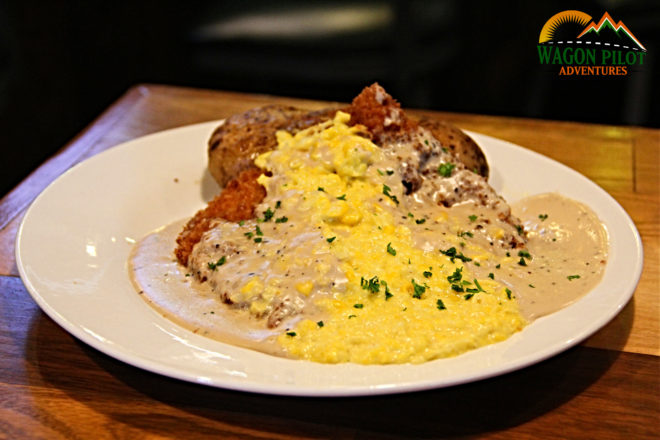 The dinner menu has many interesting items, but since it is Indiana I had to go with the pork tenderloin. Now, their Hoosier Hot Plate isn't your regular tenderloin platter. Grains and Grill serves it covered with house made creamed corn and sawmill gravy. The sweet cream corn is followed by a peppery punch from the sausage gravy that really takes your taste buds for a little road trip. I have to admit I wasn't prepared for this perfect flavor combo.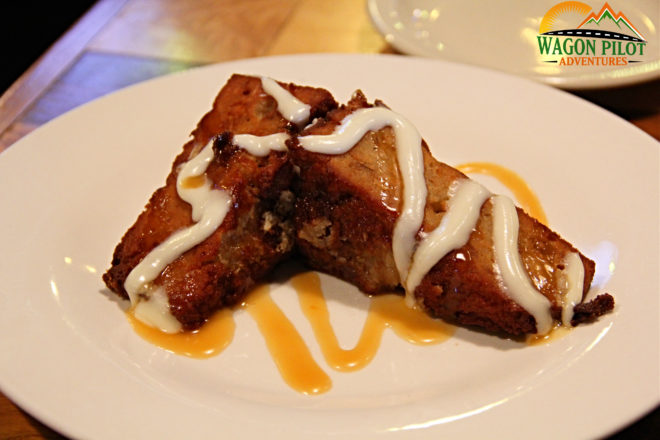 Of course, I had to try a bit of dessert. Their deep fried bread pudding with caramel sauce was full of flavor, but not over the top sweet. Already stuffed, I only had a bite and packed the rest to go. You'd be surprised how well cold bread pudding goes with a cup of coffee for breakfast.
Grains and Grill restaurant has turned the small town of Fairmount into a dining destination. Visitors frequently make the hour drive from both Fort Wayne and Indianapolis for an incredible dinner and I can see why. In the mix of bland chain restaurants and over-the-top fine dining, Grains and Grill has found a niche in elevating the classic comfort foods we all love with new flavors and combinations. The addition of their own Bad Dad Brewing Co. also draws in both locals and tourists with a full range of beer types and fresh made pizzas. It was one of the more surprising restaurants I've encountered along my travels and would easily work it into my next road trip through Indiana.
Grains and Grill Restaurant Information
The restaurant serves dinner Monday through Saturday, and is open for brunch Sundays. The bar and pizza oven serve guests Wednesday through Sunday. Visit their website and Facebook page for the latest hours and special events. Grains & Grill are also listed in Indiana Foodways Alliance trails.
Also Read: Review of Catello's Italian Restaurant in Pendleton, Indiana