Founded 1888 by Charles Edward during natural gas boom in central Indiana region. The unique opalescent glass was used by Louis Tiffany in his colorful stained glass designs and was a hit at the 1889 Paris Exposition. Despite initial success, the business failed financially. Luckily, other local businessmen bough the company and carried on production of its unique opalescent glass. Kokomo Opalescent Glass has been in operation for over 130 years and is the oldest art glass maker in the US. Their glass can be found all over the world, from cathedrals to Tiffany lamps and even throughout Disney World.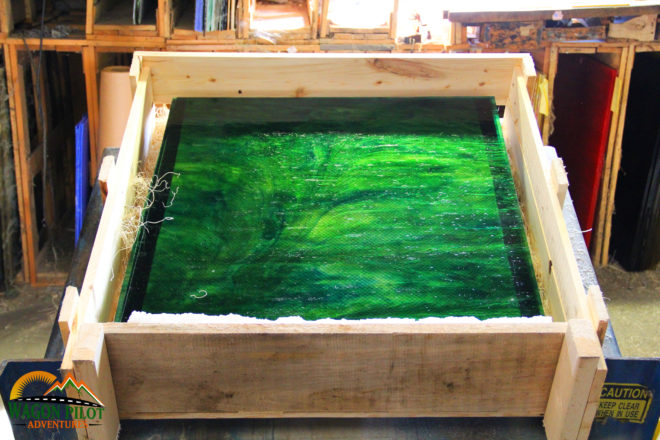 As part of a hosted visit by the Kokomo Visitors Bureau, I was given a free private tour of Kokomo Opalescent Glass by owner Jeff Shaw. During the tour, I learned about the history and process for making their famous glass sheets, plus other products and services offered. Kokomo Opalescent Glass offers public tours during week days for a small fee. At the end of the tour, guests get a free gift made in the studio, and can check out the gift shop. You'll find more information on tours at the end of the article.
Kokomo Opalescent Glass Sheet Production
The main product, which you can watch in production on a tour, is sheets of their famous opalescent glass. The process begins by heating glass in one of a dozen pots in the kiln to 2500 degrees Fahrenheit. Standing fifteen feet away for just a minute or two is enough to make you sweat on a cool day. Metal oxides, such as cobalt or gold, are added to the molten glass to create different colors. Thousands of color combinations and textures can be produced here. Once mixed, the colored glass is ready for processing into sheets.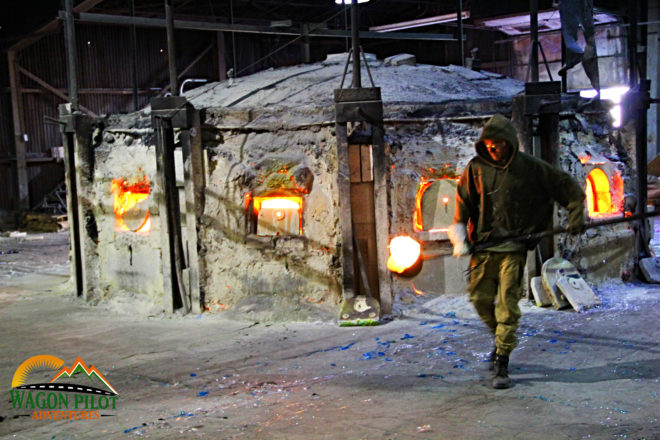 One or more workers, depending on the number of colors in the sheet, scoop the molten glass into calibrated ladles and run it over to the mixing table; tossing the glowing ball as they move across the room. Another artisan uses a metal rod to expertly mix the glass and feed it into a roller. The roller transforms the glass into a long sheet, which then moves through a long oven to slowly cool it and prevent cracks or shattering. At the end of the annealing oven, workers trim the glass into either long single sheets or 32 inch squares.
Sheets with imperfections are either crushed to be recycled in a new batch or sent to another artisan who will cut out usable sections. The majority of sheets are sold to large distributors. These orders are packed into wooden crates with plenty of protective insulation materials. Depending on the order, it can take two to four months to fill a request of various colors. Smaller sheets are also available for hobbyists or for restoration work. The factory has several rooms full of a mind boggling variety of glass colors and textures.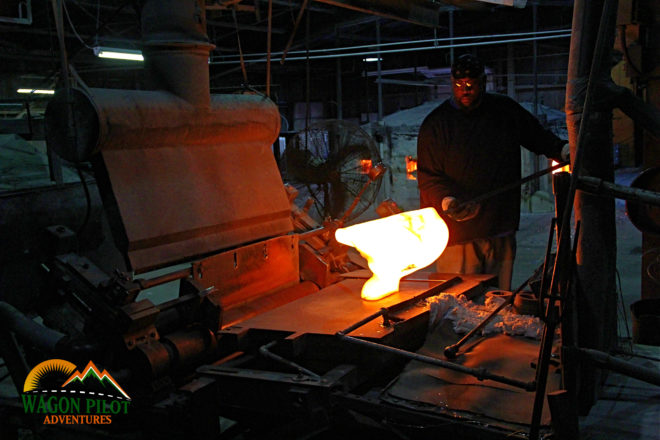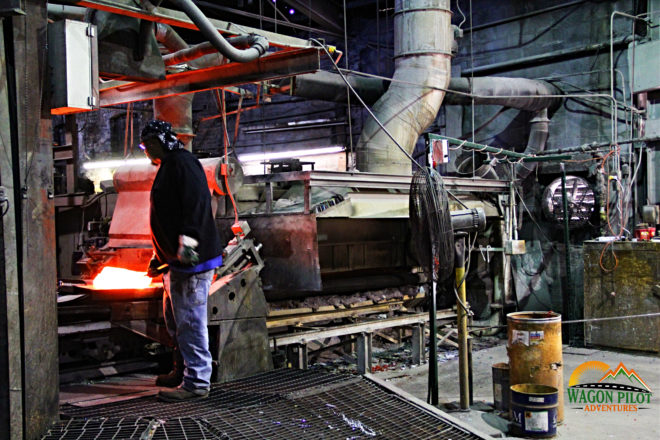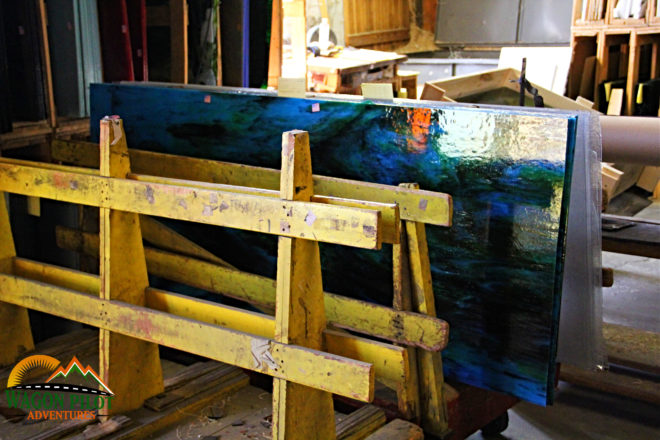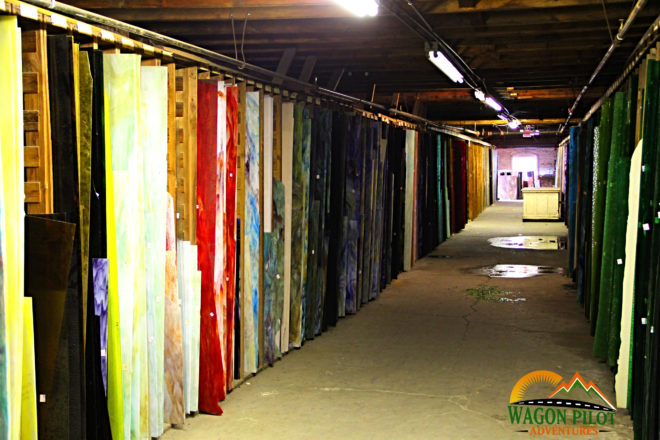 Other Kokomo Glass Products
In addition to their signature sheets, Kokomo Opalescent Glass has added new products to their factory. Colored, molten glass can be pressed into thick molds to create various standardized shapes. Awards and trophies of various colors and shapes can be engraved for customers. A glass blowing studio, similar to what most visitors will be familiar with, was added in the 1990s. Here they create items for sale, such as the popular roundels, figurines, and custom orders. Visitors will typically see glass blowing in action in the studio as part of the daily tours.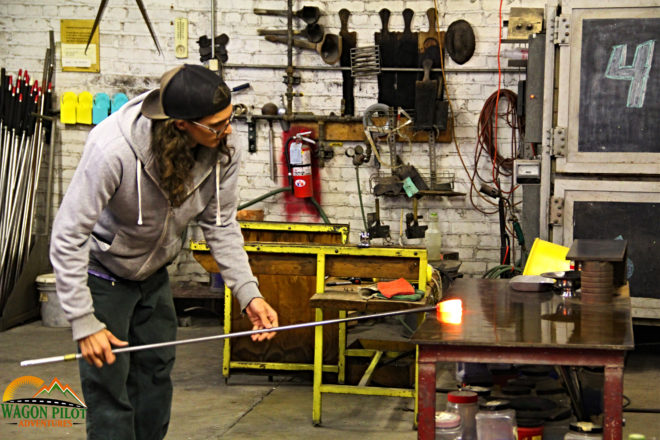 Kokomo Opalescent Glass offers a variety of classes ranging from making glass beads to more advanced glass blowing and creating stained glass windows. Professional in house restoration work is also available. New products are always in development, such as the bowl sinks and laminated glass counter tops I saw during my visit.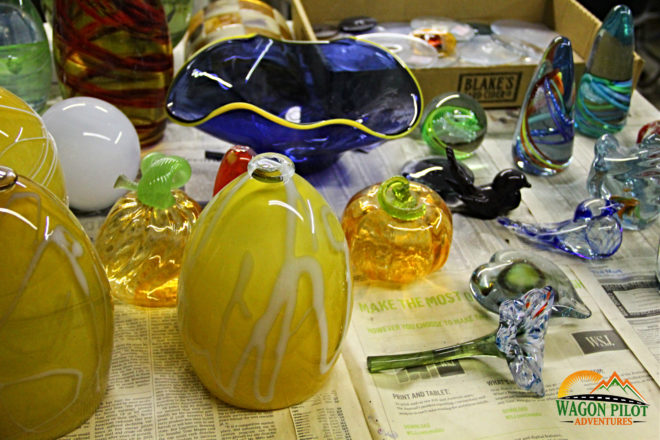 The Kokomo Opalescent Glass factory has been producing their unique glass for over 130 years. Times have changed, but they have stayed true to the process. In fact, there are original tables for making Tiffany glass sheets still on the shop floor along with texture rollers for creating glass used in restorations. Alongside the traditional craft, KOG has introduced new techniques and products to expand their business into the future.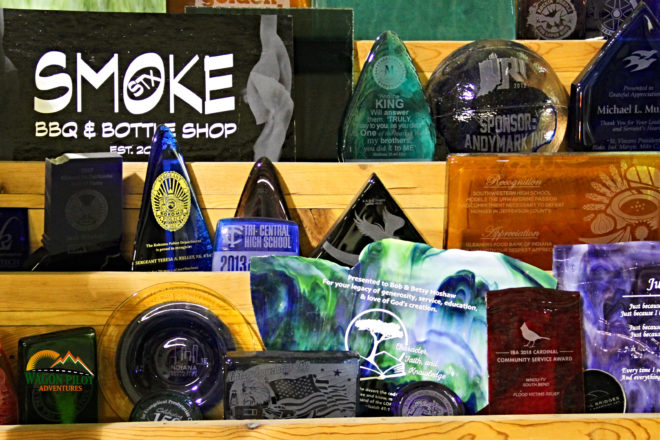 Kokomo Opalescent Glass Factory Tours
The factory tour was more interesting than I had initially expected. Having seen glass blowing several times, I was expecting more of the same. Kokomo Opalescent Glass production is a very different process and well worth a visit. Due to the heat generated by the kilns and ovens, work shifts are early in the day, so public tours are offered Monday through Friday at 10:00am. Private tours can also be arranged at 9:00am. Be sure to wear closed toe shoes as this is a live factory and glass pieces may be on the floor; safety glasses are provided. The kilns generate a massive amount of heat, so be prepared for high temperatures at the start of the tour. At the end of the visit, guests get to pick out a free gift from the studio, such as a glass bead or panel. For more information on tours and retail operations, visit their official website.
Thanks to Jeff Shaw at Kokomo Opalescent Glass and the Kokomo CVB for the amazing tour. Find more fun activities in the area here and on the Kokomo Visitors Bureau website.