Located in Ohio's Hocking Hills State Park, the Cedar Falls trail is perfect for an easy hike. Less than a mile round trip, and without steep elevation changes, it provides a good combination of exercise and sight seeing. Visitors are rewarded with a picturesque waterfall at the end of the trail.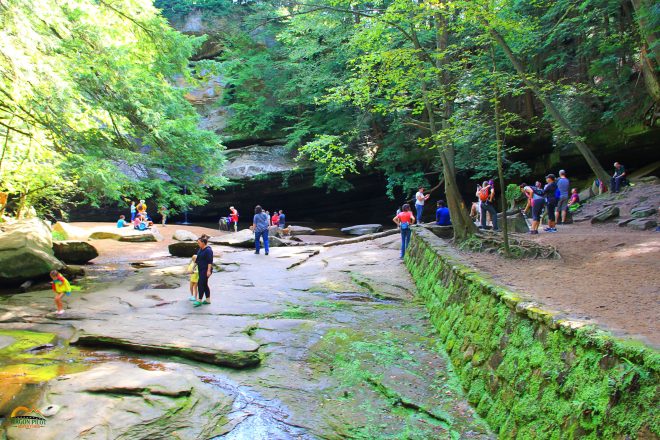 The trail leads hikers along a shallow stream within a gorge lined with jagged sandstone ledges and overhanging hemlock trees. Beautiful enough in itself, the real treat is arriving at Cedar Falls. One of the larger waterfalls in Hocking Hills, it cascades over and around the smooth rock face into a large pool. It was a mere trickle when we visited during the drought-plagued summer, but there was still plenty of water surrounding the falls to keep the area cool and refreshing. The pool transitions into a wide, flat stone area before condensing into a stream. Perfect for kids to splash round and play.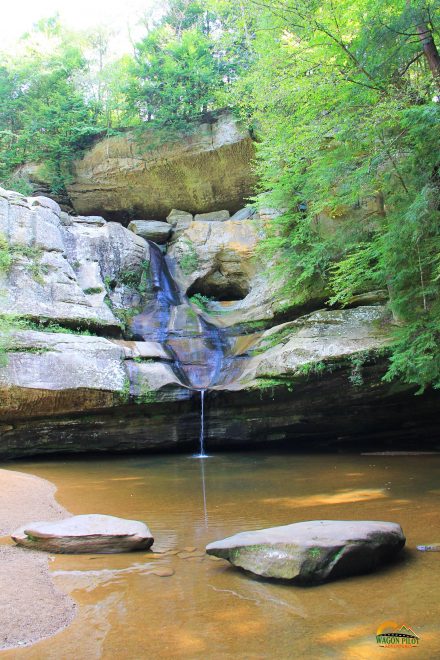 The main Cedar Falls trail is only 0.4 mile each way, though can be a bit challenging. The descent from the parking area is composed of long, wide steps for a long distance. I found these to be awkward as it completely throws off your walking rhythm. However, there aren't any steep angles to tackle. For those looking for a day trip hike, the Grandma Gatewood Trail leads off about two I miles in either direction to Ash Cave and Old Man's Cave. There is also a gorge rim trail that heads off nearly three miles to Old Man's Cave. It does not circle back on itself around Cedar Falls, so pay attention to how far you wander.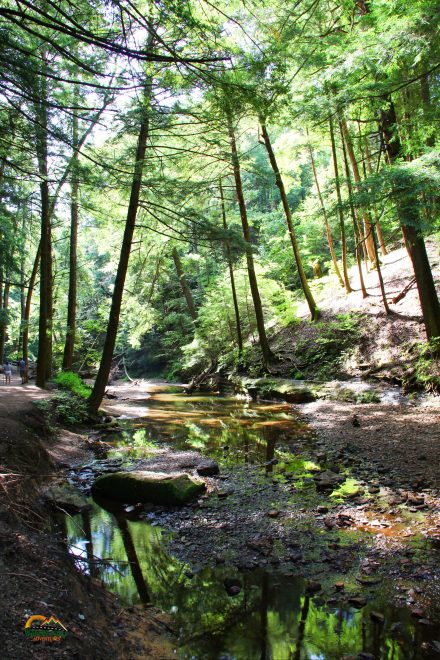 Like other Hocking Hills State Park trails, Cedar Falls is open year round dawn to dusk. Dogs are permitted on a leash and this is one of the better trails to take them along on a walk. While in the core section of Hock Hills, it is not quite as busy as Ash Cave and Old Man's Cave, but will still fill up by early afternoon. There is limited parking near the trail head, with another small lot further along the entry road. Modern bathrooms are located near the beginning of the trail.