Sandusky is world famous for the Cedar Point roller coasters and often thought of as a destination for solely for families and thrill seekers. What may surprise visitors is the vibrant downtown scene full of restaurants, shops, and activities. Sandusky is perfect for an adults only getaway.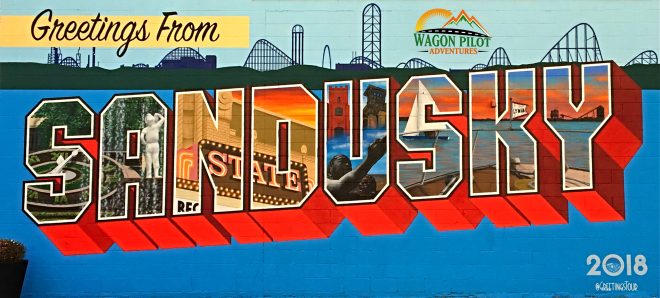 **Disclaimer: Some of the stops on this list were coordinated and provided by the Lake Erie Shores and Islands visitor bureau, while others were part of my own wanderings. As always, honest opinions are all my own.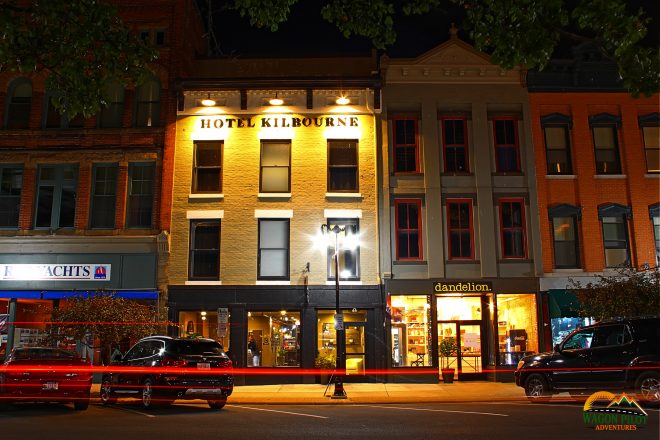 Where to Stay in Downtown Sandusky
The clear choice for a downtown Sandusky vacation is the Hotel Kilbourne. Nestled in a block of old buildings, the Kilbourne has been renovated in a modern loft style. Exposed brick to remind guests of the history, but not an outdated feel. The hotel boasts a bar and taco restaurant, plus a rooftop bar for harbor views in warmer months. Click here to read about my thoughts after a stay at this unique hotel.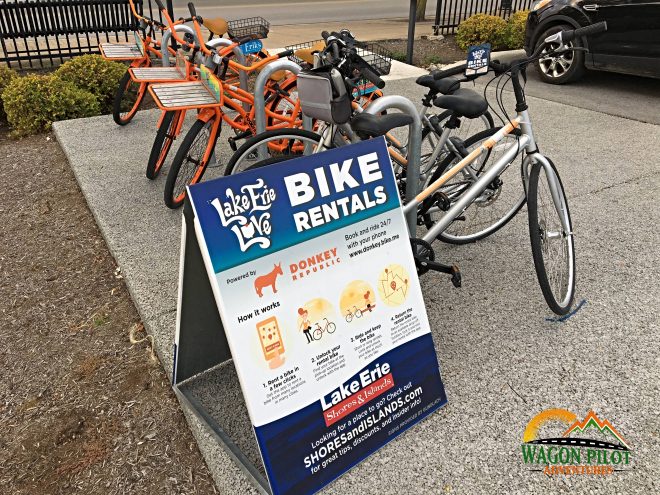 Getting Around Downtown Sandusky
Sandusky's downtown is easily walkable. From your hotel, simply stroll out the door and you're right in the heart of the action. If you need to drive, Sandusky offers plenty of free parking both in lots and on the streets. There are also rental bikes located around town. Download the app, pay, and pedal away. Want to head to Cedar Point or venture out to one of the islands? There's a Jet Express ferry dock on the waterfront.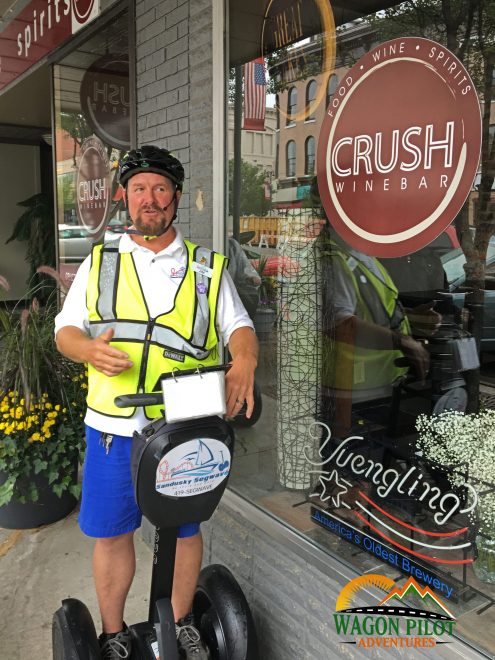 Best Things to do in Downtown Sandusky
Sandusky was founded in 1818 and embraces its two centuries of history, while renovating the downtown to stay relevant today. The downtown areas is filled with several blocks of shops, restaurants, and fun activities ranging from kayaking to wine tasting. The best way to star your adventure is on two wheels.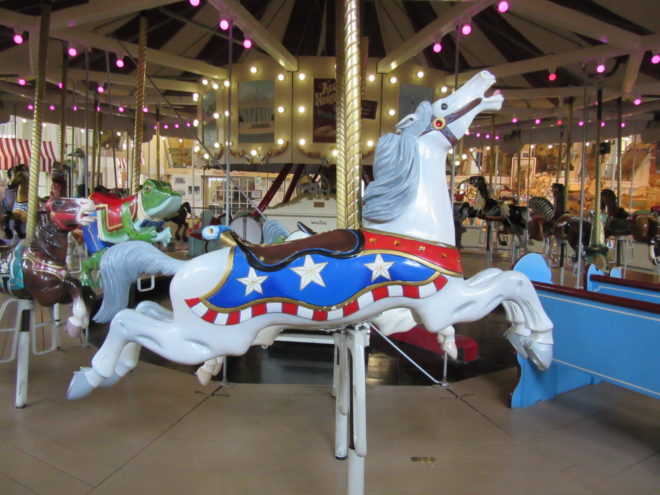 Sandusky Segwave Tours – What easier way to scoot around town than on a Segway? What, you've never ridden a Segway? Don't worry, it's much easier to learn than it looks. Tour guide and co-owner Jim Ervin is a thorough and patient teacher and everyone get s a bit of practice time before setting off on a one or two hour tour of the downtown. Each guests is equipped with an earpiece, so it's easy to listen in to Jim's extensive knowledge of Sandusky while cruising along. In 2020, Segwave will also be offering historic tours of Cedar Point.
Sandusky State Theatre – Featuring musical performances and classic movies, the restored 1928 building has long been a fixture downtown. Of special note are the jazz and comedy performances offered regularly.
Need some serious thrills? Jet Express offers quick ferry service to Cedar Point during the summer months. Not only is it convenient, the Cedar Point dock is located in the middle of the park to make it easier to get to your favorite rides. Jet Express will also take passengers to Kelley's Island an South Bass Island (Put-In-Bay) from downtown Sandusky.
One of Sandusky's newest attractions is Noble Axes located in the Marketplace at the Cooke. Guests can practice their skills, or just get out some aggression, flinging axes at targets. There is also a bar to liven up things.
Take a stroll — Sandusky's downtown is full of shops, restaurants, parks, and the waterfront all within easy walking distance.
The Merry-Go-Round Museum – Housed inside an unique bow-front former US Post Office, the exhibits inside offer a much closer look at the intricate details of carousel figures. The hand carved horses, chickens, goats, and other fanciful animals form an art gallery when displayed on their own. Guests may get to watch artisans at work in the open air shop doing restorations or creating new figures. An historic merry-go-round dominates the center of the building to cap off your visit with a ride.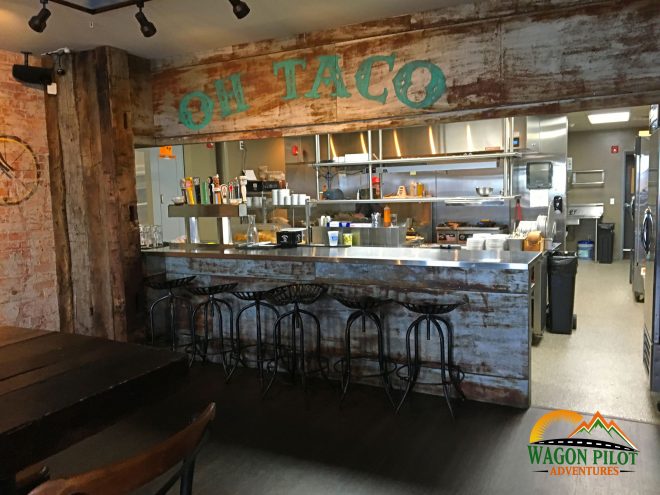 Where to Eat in Downtown Sandusky
Sandusky is a great destination for foodies. From coffee shops and bars to upscale dining, visitors will find several places to please their palates. Here are a few of my recommendations to get started.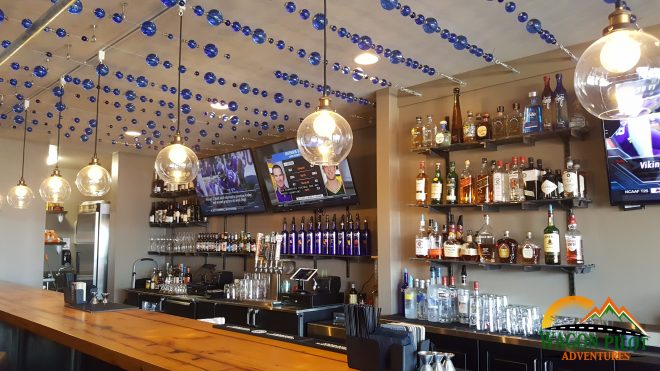 Breakfast – Praised by locals, the Port Sandusky Family Restaurant is now my go to choice for breakfast downtown. A stereotypical local dive, the food is excellent. As a bonus, it's only a block away from the Kilbourne.
Lunch Options – There are a couple great quick and casual options for lunch in downtown Sandusky. Oh Taco, located inside the Kilbourne Hotel, offers the standard spread of Mexican takeout, but with some interesting upgrades like the goat cheese and honey guacamole. Down the street in the Marketplace at the Cooke, you'll find classic sandwiches at the Sandusky Bell & Deli and BBQ at Derrick Jr.'s.
Dinner Options – Sandusky has an eclectic variety of restaurants to please anyone's taste and style. J. Bistro or Crush Wine Bar are perfect for an upscale, romantic date night. On the casual side, Barra offers Mexican fare in a modern city bar setting. One of my favorites is the Small City Taphouse, which serves up amazing sushi and Asian cuisine alongside over 80 beers on tap at Ohio's longest bar.
Cocktail Hour – Choose your own atmosphere to cap off the night. The Volstead is a tiny speakeasy with excellent cocktails. On the flip side, the Crowbar is a lively LGBTQ bar where you'll find dancing and drag shows on some nights. On a warm summer night, head up to Moseley's rooftop bar at the Kilbourne and enjoy a view of the harbor.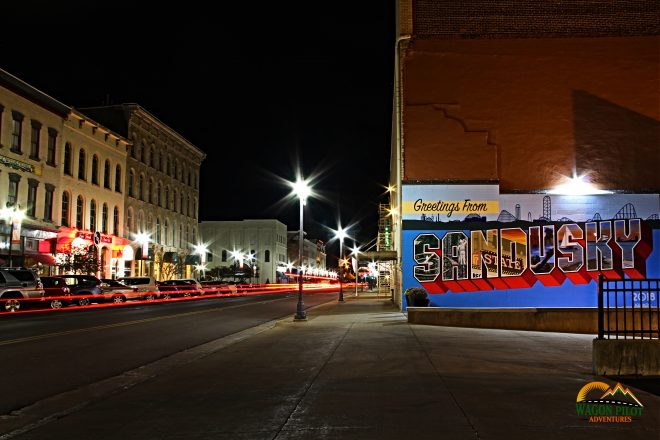 Downtown Sandusky, Ohio is the perfect adults only getaway. Whether you're looking for a romantic vacation, shopping, or lake shore adventure you'll find plenty to keep you occupied. These suggestions are just a few of the options available. Check out the Lake Erie Shores & Islands website for more ideas and start planning your next trip.