One of my favorite items to pick up at our local market's food counter is this wonderful orzo pasta salad. It has so much flavor packed into each bite. The only problem is the price vs how quickly I go through a container. Here is a basic version along with some suggestions for tweaking it to your personal taste.
This delicious side dish tastes even better after the flavors have a chance to mingle, so make it a day or two in advance to take to your next picnic, tailgating, or casual get-together. For an extra depth of flavor add sun dried tomatoes, your favorite olives, or whatever tickles your taste buds.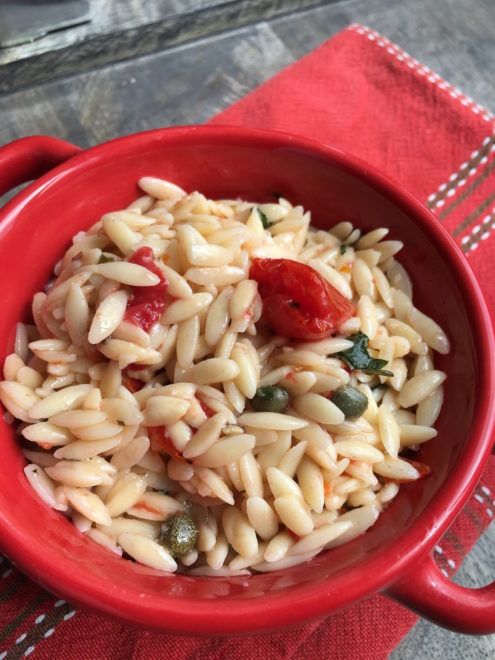 Orzo Pasta Salad Ingredients
2 T. olive oil
3 cloves garlic, peeled and finely minced
1 large or2 medium tomatoes, washed and chopped, seeds and excess liquid discarded
1 ½ c.dried orzo, cooked according to package directions and cooled
2 T. capers
1 T. caper liquid
1 T. fresh lemon juice
1 T. fresh thyme, stems removed and chopped
1 T. fresh parsley, stems removed and chopped
Optional toppings/mix-ins
2 T. diced sun dried tomatoes
Olives
Finely diced shallot or sweet red onion
Cubes of goat cheese or feta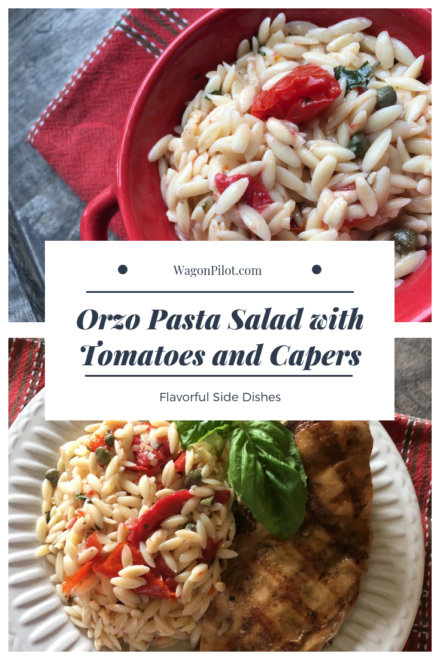 Orzo Pasta Salad Directions
Add olive oil and minced garlic to a cold skillet and turn heat to medium high.Sauté for 2 minutes, then add tomatoes and cook for an additional 2-3 minutes (until tomatoes become soft). Remove from heat and set aside.
In a large bowl, combine the cooked orzo, capers and liquid, lemon juice, thyme and parsley with the tomato and garlic mixture. Toss until thoroughly combined. Season with salt and pepper, to taste.
Cover and refrigerate for at least one hour or overnight. Stir and serve chilled with grilled chicken breasts or your favorite main dish.