Johnny Appleseed: American folktale legend or pioneer? I had to ask myself that question while heading to Fort Wayne, Indiana last week. You see, while looking at a map of the area surrounding our hotel I couldn't help but notice the grave of the famed apple tree planter was just across the street. I had to see the grave myself and follow up with a bit of research to answer all the questions popping into my head.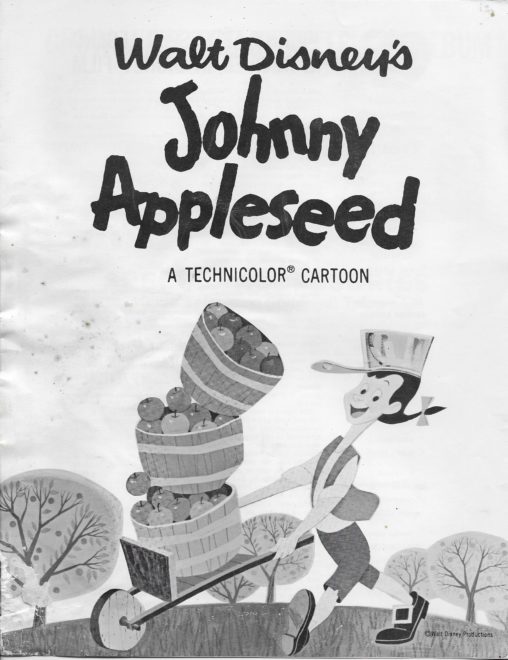 Most of us know the old tale and the image of Johnny Appleseed wandering far and wide, tin pan for a hat and sack of apple seeds hung over his shoulder. Thinking back, I never really gave any though to exactly where he was going or in what time period of early American history. My eleven year old daughter didn't recall him at all.
With an overly hot day closing out June, we set out in search of his grave. It was a bit challenging since it is inconsistent on online maps and the road to the grave itself is not marked. A hill was spotted and Pokemon Go confirmed the location. We parked, climbed, and found the grave of Johnny Appleseed tucked away behind some juniper bushes and apple trees. Surrounded by a low wrought iron fence, there is a stone inscribed, "Johnny Appleseed. He lived for others." It was a strange feeling seeing the tangible remains of a legend. Arguing drunks in the nearby parking lot lent an odd atmosphere to the scene, which in my mind should have been idyllic.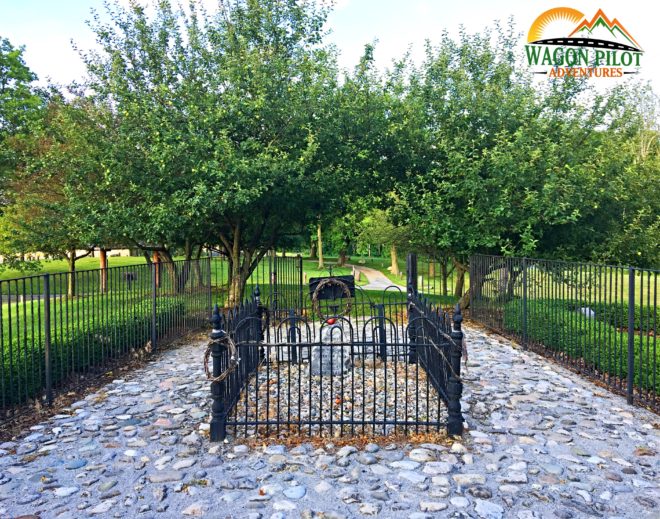 So, now we know Johnny Appleseed was a real person, but that only adds questions. Where was he from? When did he live? Are the stories true and how did he end up in Fort Wayne of all places? A quick search on the Interwebs gave up some basic info, then a little more digging rounded out the picture. John Chapman was born in Leominster, Massachusetts in 1774. As an adult, he led an interesting life as somewhat of a wandering Swedenborgian missionary. He did indeed spread apple trees across the near Midwest, but not as we were all told. Johnny planted several nurseries, which he would leave under the care of a local to sell/barter the trees, and spent much of his time traveling across Pennsylvania, Ohio, Indiana, and Illinois; sometimes settling down in one area, such as Mansfield, Ohio, for several years.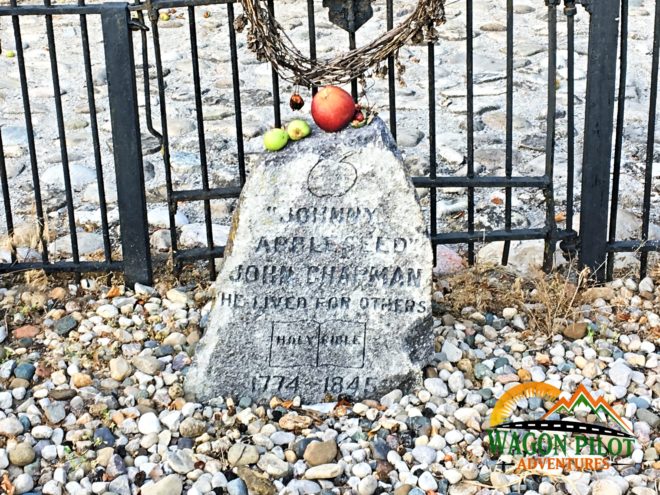 Johnny Appleseed appears to have fallen into legend as a symbol of the manifest destiny of western expansion. The simple missionary leading the way and the apple seeds a Biblical symbol all their own. John Chapman does seem to have lived his life as a pious missionary for the most part, eschewing wealth and possessions, leaving hundreds of acres of nurseries in his wake. His remaining years were spent in Fort Wayne, Indiana where he seems to have been a well known local character due to his dress and habits. Whether he ever wore a tin pan as a hat is debatable, but the local baseball team is now know as the Tin Caps.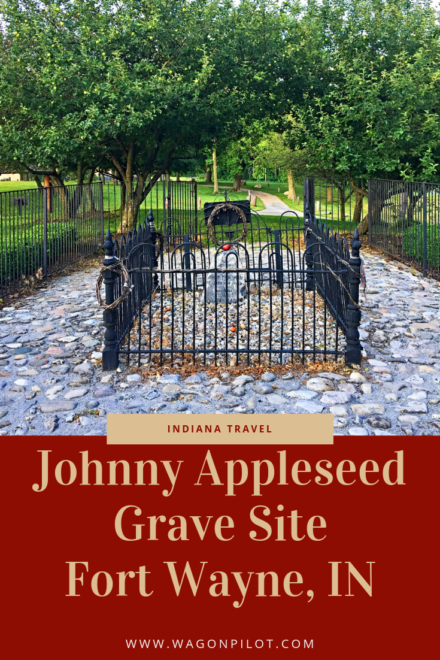 The final resting place of Johnny Appleseed is as nebulous as details on his life. The grave we visited is likely not the specific location, but the Archer family cemetery where several contemporaries recall him being buried. It is, however, a touchstone to a legend of American history. A story that is worth being told in more detail if anyone is ever ambitious enough to scour old records and stories spanning several states and decades. The chance encounter with John Chapman has enriched my own appreciation for the old folklore and bits of truth hiding in plain site.