There's nothing like the smell of bacon filling the kitchen. However, the mess it makes around the stove and counter, plus the greasy pan, are a pain to deal with afterward. The simple solution is putting away that skillet and using the oven. I'll show you how to cook bacon in the oven with much less mess, less work, and a more perfect end result. Cooking bacon in the oven also allows for a few extra tricks to elevate this already versatile food.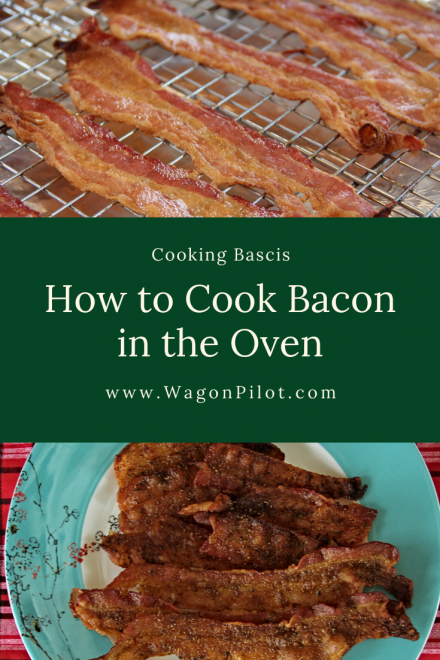 Equipment Needed for Cooking Bacon in the Oven
Cooking bacon in the oven is really easy and only needs a few pieces of equipment. You'll need a standard half sheet size baking pan with a cooling rack. Choose a commercial style steel pan with rolled edges and a grid style rack. These can be bought as matching sets, which ensures a proper fit in the corners. Pick up a pair of pans, which will come in handy for making everything from cookies to sheet pan dinners and will last for years. Here's a link to the set I have been using for years; available from Amazon.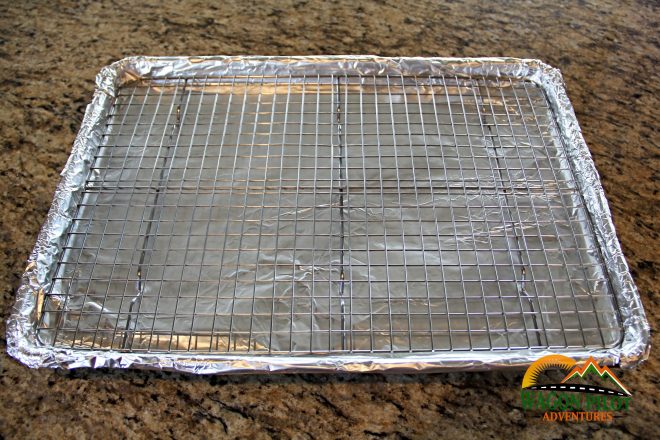 The only other item is regular aluminum foil. It isn't necessary for cooking your oven bacon, but will make cleanup a breeze. After the grease cools, simply roll up the foil and toss that mess in the trash. The only thing you'll need to scrub is the cooling rack.
So, why use the cooling grid? As bacon cooks, a lot of fat will render off. All this grease needs to go somewhere. The cooling rack allows a lot of the grease to drip off, while still leaving enough behind for the bacon to get crispy. This also results in less grease splatter while cooking, which leaves your oven clean.
How to Cook Bacon in the Oven
Set up for cooking bacon in the oven by placing overlapping layers of foil to catch the bacon grease. Insert the cooling grid on top of the foil. Lay strips of bacon across the grid in a flat layer. The bacon will shrink a bit during cooking, so you can fill the entire sheet with the strips just touching, but do not overlap. That's it, no more prep required.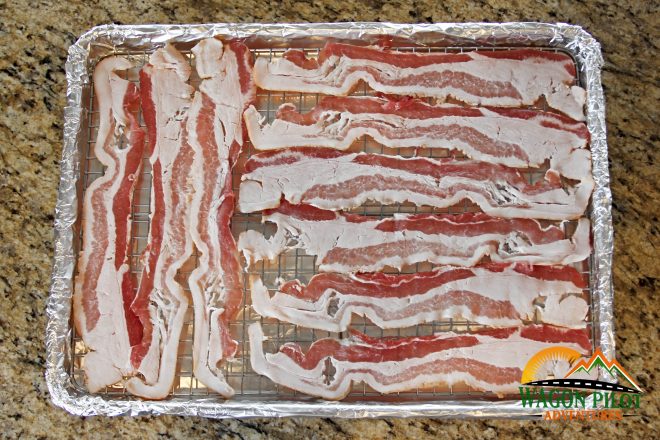 Insert the sheet pan into the oven for cooking on the middle oven rack; we'll discuss the time and temperature in the next section. If making two sheet pans of bacon at the same time, rotate and switch racks half way through cooking for even browning. When bacon has reached the desired level of doneness, remove and let cool for a few minutes. Use tongs to move the strips to a paper towel lined plate, or blot the strips right on the cooling rack if using immediately.
What Time and Temperature to Cook bacon in the Oven
Oven temperature for cooking bacon is a subject given much debate. I have tried countless strategies over the years and the best result has been achieved by starting the bacon in a cold oven. It may seem counter-intuitive for cooking something that need to be crispy, but there is method to this madness. Bacon has a lot of fat. Hitting it with high temperature will cook it faster, but also cause it to shrivel and retain much of that fat. Starting the bacon in a cold oven, and evenly ramping up the temperature, will allow more of the fat to render off and the strips will stay flatter, which is better when using the bacon for sandwiches, etc.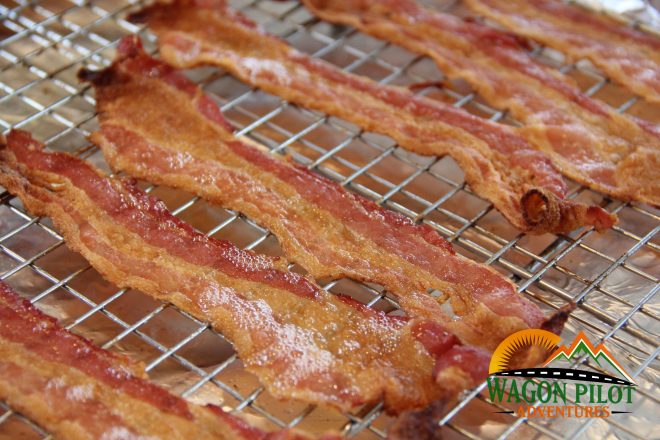 Here's my favorite method. Place the bacon on the sheet pan, then place on the middle rack of the cold oven. Set the temperature to 400 degrees Fahrenheit and set the timer to 25 minutes. If cooking two sheet pans of bacon at the same time, rotate and switch racks about half way through. Ovens vary a bit on how quickly they heat up and hold temperature, plus bacon thickness varies, so you'll have to keep an eye on it to reach the desired level of crispiness. I start checking the bacon after 20 minutes of cooking to see how far along it is.
So, can I cook bacon in a hot oven? If your oven is already hot, no problem. Insert the sheet pan of bacon on the middle rack of a 400F oven and set the timer for 12 minutes. Be sure to keep an eye on the bacon after about 10 minutes.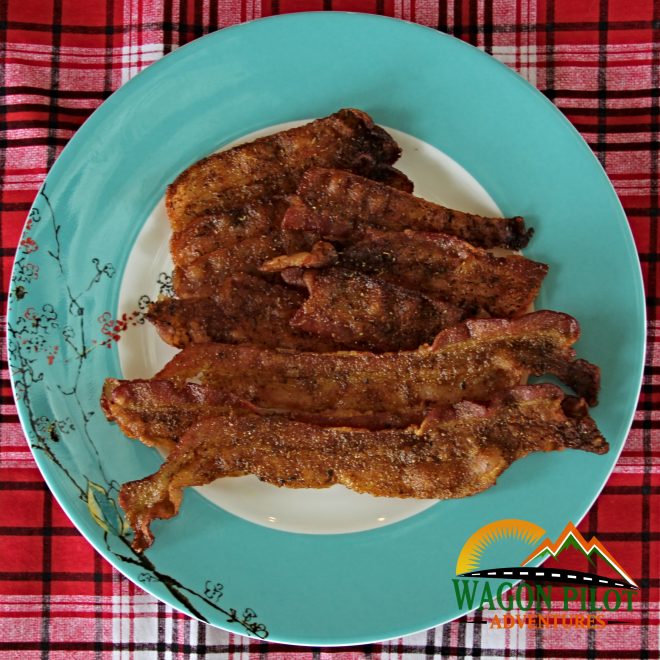 Pros and Cons of Cooking Bacon in the Oven
This is one of the few times where my opinion is lopsided. Cooking bacon in the oven works so well compared to other methods that I don't have any negatives. Here are all of the benefits over stove top cooking.
No splatter like stove top method
Easy clean up, especially when using a foil-lined sheet pan.
Easy to reach desired doneness and especially good at making crispy bacon
Easy to time while whipping up breakfast.
Makes nice, flat bacon for using on sandwiches.
Can add different flavor variations by topping bacon with spices, sugars, etc.
Is Oven Bacon Better than Air Fryer Bacon?
But wait, there's a new method everyone's talking about: air frying bacon. It's true, air fryers are great at making really crispy bacon. Some air fryers, like my Cosori, have a perforated basket, so the grease drains off like a sheet pan cooling rack, too. They can also cook bacon in as little as seven or eight minutes. However, there are some drawbacks.
The big issue with air fryers is the limited batch size. Air fryers are perfect for small batches of bacon, say making yourself a quick breakfast or a BLT, but more than that and it's not as efficient as cooking a whole package worth of bacon in the oven. For instance, my air fryer will only handle about four full strips of bacon in a single layer, after I've cut them in half. You can overlap, but then the bacon sticks together as it shrinks quickly. Bottom line: how much bacon do you need and how quickly?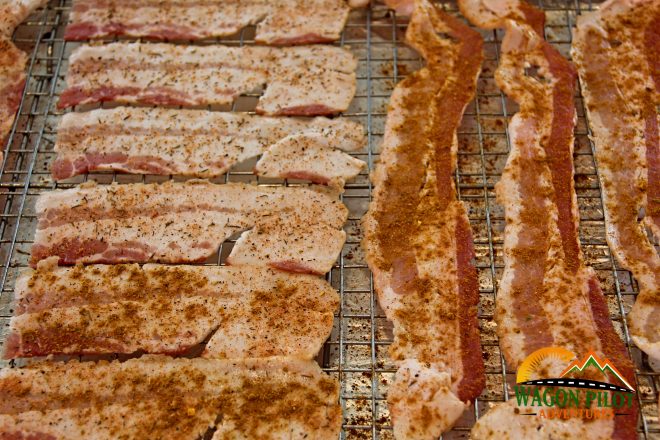 Making Flavored Bacon in the Oven
Bacon is already a versatile food. Whether as strips on a breakfast platter or on a BLT sandwich, bacon stands on it's own with plenty of goodness. But what if we amp up that flavor? Since cooking bacon in the oven doesn't require any flipping, it can be topped with a huge variety of add-ons. A popular version in many BBQ joints is candied bacon, made by adding maple syrup or brown sugar while cooking. While sweet versions are delicious, I like to experiment and get a little more creative with flavors. Open up your spice cabinet and think about the possibilities. I've topped bacon with chili powder, Old Bay crab boil, and even Indian curry. Simple cracked black pepper is an easy way to begin your flavored bacon experiments. Go spicy, sweet, smoky, or whatever type of flavor you love.
To make flavored bacon, simply lay out the bacon on the sheet pan rack, then sprinkle or brush on whatever toppings and bake as usual. Enjoy!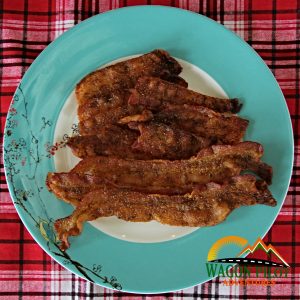 How to Cook Bacon in the Oven
How to Cook Bacon in the Oven
Equipment
half sheet pan with grid-type cooling rack insert
Instructions
Line a sheet pan with aluminum foil,overlapping if needed. Place a cooling rack grid in the pan on top of the foil.

Place bacon on sheet pan grid and place into cold oven on middle rack. Set temp to 400F and timer for 25minutes. Start the timer when you turn on the oven, not when it reaches temperature.

Keep an eye on the bacon when it gets around the 20 minute mark, then add time to adjust for desired doneness.

Remove sheet pan from oven and let cool for a few minutes. Remove bacon strips to a paper towel lined plate or blot on the rack if using immediately. Enjoy!
Notes
**Alternative hot oven method: Place bacon on sheet pan, then place onto middle rack of a preheated oven set to 400F. Set timer for 12 minutes. Check bacon around 10 minutes and add time to adjust for desired crispiness.