Affordable farm-to-table restaurants are something I always look for while traveling. All too often, these establishments are more of a marketing ploy or so over-priced that it's a foodie destination and not for the average diner. Locally sourced food is often not accessible to locals who just want to go out for a decent meal. Hiram's Tavern is making an effort to bridge that gap.
UPDATE: HIRAM'S TAVERN HAS CLOSED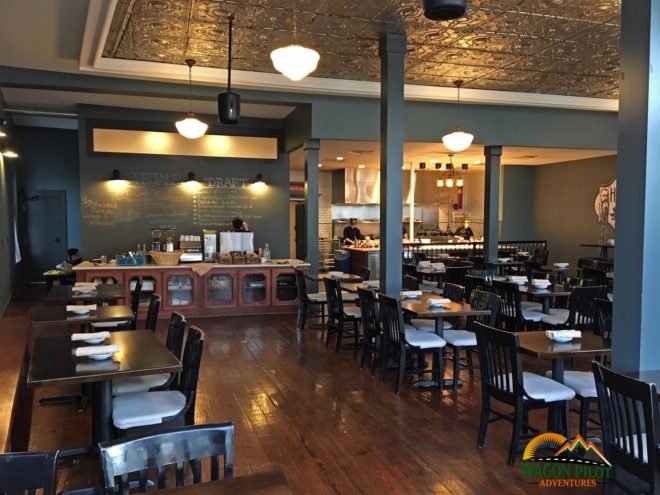 Located in downtown Imlay City, Hiram's Tavern is a bit of a hike for Metro Detroiters. With a built up commercial area near the I69 interchange, there is not a lot going on downtown. Hiram's, named after a local Civil War legend, caught my eye a few months back while driving through with its warm and inviting glow. The interior artfully splices modern design with the patterned tin ceiling and wood beams of the old building giving a sense that it has been there for decades. Tables cover most of the floor space with a partially open kitchen along the back wall. AU-shaped bar with a little seating area fill in the rest of the space. Comfortable, but not crowded. With the goal of affordable farm-to-table, I had to plan a visit.
Hiram's Tavern Menu
The real draw, of course, is the food.The menu starts with an unique spread of appetizers. Scotch egg,smoked trout, pork belly wontons. Meat figures in many dishes to take advantage of their own Farm Field Table Butcher shop (located in Ferndale). Cajun meatloaf, lamb gyro, Wagyu beef burger, etc. Daily specials typically feature a seafood entree and steaks. Most prices were in the $10 to $20 range, with a few higher. Much to my annoyance, main dishes are generally not served with any sides. This always strikes me as a way to make prices seem more affordable upfront, then you need to spend an extra $5. Hiram's has a good craft beer and hard cider selection at average prices, however their cocktails were a bit overpriced.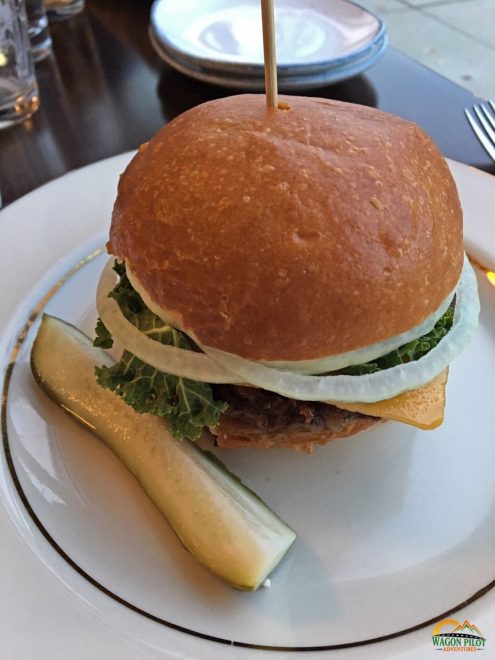 Our Experience
The beer list was impressive, so a sampler started off the night. I was excited to try the smoked trout appetizer, but sadly they were out. My friend ordered the pork belly wontons and I went basic with half a loaf of fresh baked bread and butter, which paired well with the beer.
For the main course, I ordered the Waygu burger and daily special of carrots roasted with honey and pistachios. My friend selected the Cajun meatloaf and mushroom risotto. I ordered the simple Wagyu beef burger with an expectation of it being an exercise in flavors and was not let down. It is average size, but each layer had a purpose. The crumbled pistachios on the roasted carrots were a surprising addition of flavor and something I'll be adding to my repertoire at home. My friend declared the meatloaf as the best he's ever eaten and was also impressed with the risotto. Overall, a fantastic meal.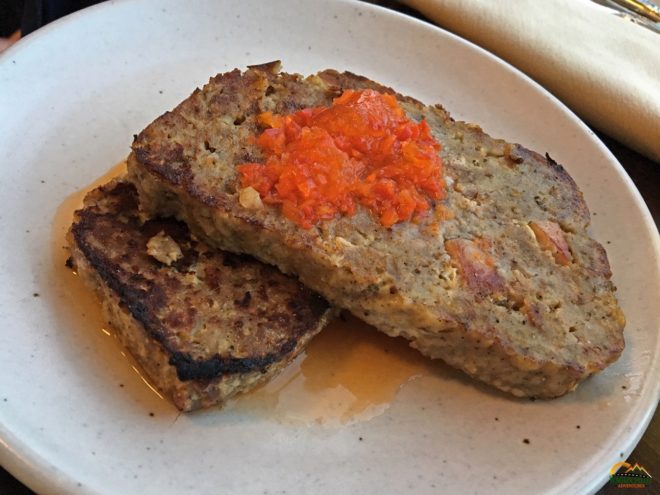 Did Hiram's Tavern Meet it's Objectives?
First count: the food quality. Hiram's nailed it in terms of flavors and variety. Unlike some new concept restaurants, the menu was not filled with unusual dishes, but rather common meals elevated to a higher level. The quality of the meat, not surprisingly, was excellent. Everything we ate gave the impression that each ingredient was chosen to give the flavor a boost, without being over-spiced or salty.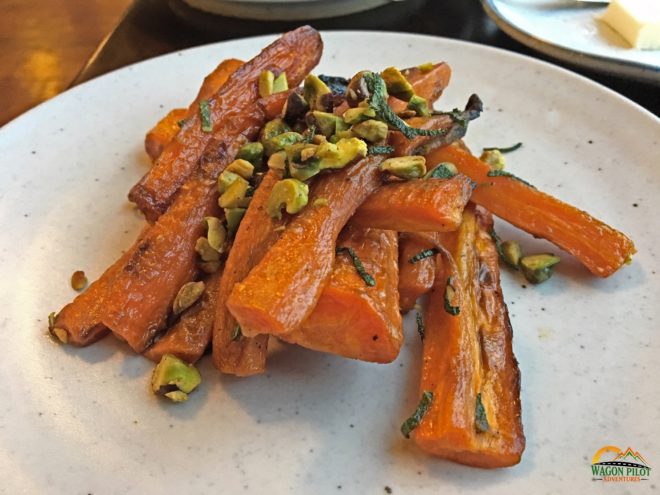 Second count: affordability. While not as high priced as other farm-to-table restaurants, Hiram's could do a bit better on price. The main points for me was the small portion sizes with a lack of side dish. Two slices of meatloaf for $14 or a hamburger for $11 falls a bit short on value and affordability when you still need to spend another $5 for a side. Speaking of sides,their "shareable" moniker is misleading since the portions are what you'd expect for a single serving to pair with your main course.As a local eatery, Hiram's is still more of a special night out than regular weekday meal, though they are not too far off. A small bump up in portion sizes, or including a side with the main course, would put them on par for a decent local restaurant. The balance between true farm-to-table and affordability is still something restaurants need to continue developing.
Would I eat at Hiram's Tavern again?
I will definitely return to Hiram's for another meal. It is a little high on the budget, but the quality and flavors of the food are top notch. They do offer some good happy hour discounts, such as their Scotch egg for $4 and meatloaf sandwich for$9. so that may be my next visit. Hiram's is a place to watch for an unique approach to farm to table in the heart of farming country.