If I had to pick a favorite Michigan lighthouse, it would have to be the Grand Traverse lighthouse. A solitary beacon at the very tip of the Leelanau peninsula, it is bracketed by trees and a ragged shoreline. Vacationers who make the long drive are rewarded with a well-preserved building and museum, plus stunning views. Visiting during the warmer months, one can easily be drawn away into their imagination to another time and place in the idyllic setting inside the Leelanau State Park.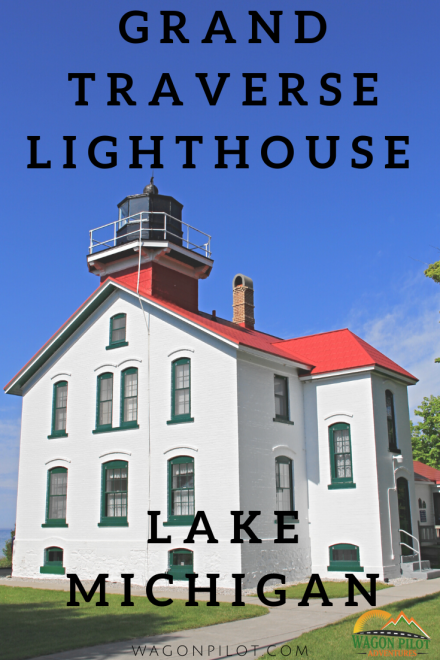 Grand Traverse Lighthouse History
Grand Traverse lighthouse is the second to occupy this location. The original, built in 1852, was the typical light tower with a detached keeper's house. The harsh Lake Michigan weather proved too much for this design and poor quality construction. The first lighthouse was demolished in 1858 and a new building erected further up on land. A more robust two-story brick house, fitted with a light on the roof, still stands today.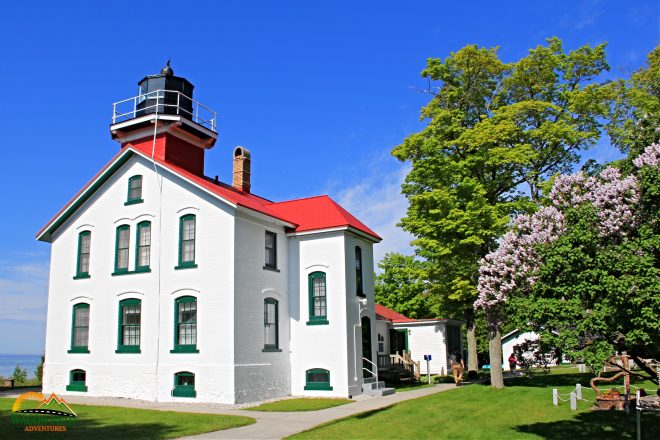 The Grand Traverse light is 48 feet above ground level and 103 feet above the lake (103 foot focal plane). Originally fitted with a 5th order Fresnel lens and burning whale oil, this was upgraded to a 4th order lens in 1870. Fuel evolved to kerosene and then electricity over the years.
The home was renovated and expanded in 1901 to accommodate a keeper's assistant and his family. A substantial fog signal building was built in 1899 due to increased shipping traffic navigating the treacherous waters from the Manitou Passage to the Straits of Mackinac.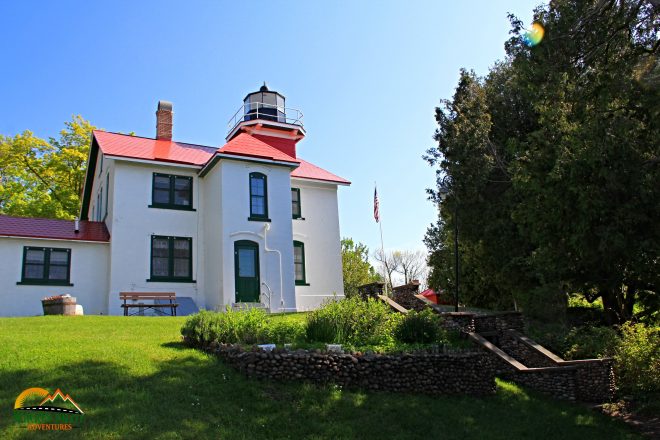 The lighthouse operated from 1858 until 1972, when it was replaced with an automated beacon mounted on a plain steel framework tower. The building sat abandoned until it was taken over by the Grand Traverse Lighthouse Foundation, restored, then opened to the public as a museum in 1987. Their work continues to this day, providing thousands of visitors a chance to visit the beautiful historic location.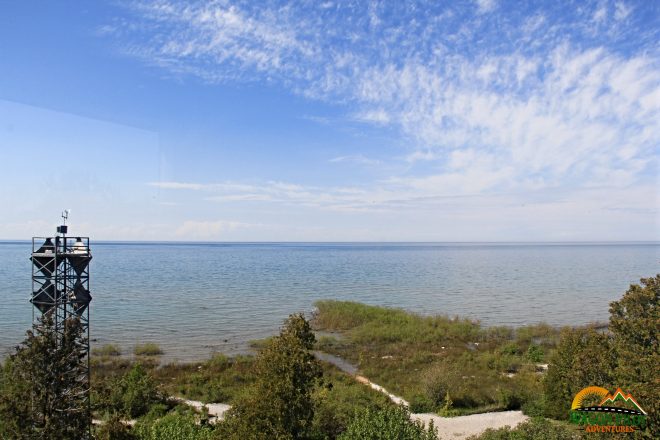 Touring The Grand Traverse Lighthouse
The Grand Traverse lighthouse is located within the Leelanau State Park at the end of the peninsula and is well worth the drive. The state park covers 1500 acres and offers rustic camping and a few small cabins along the shore. Visit their website for details and reservations.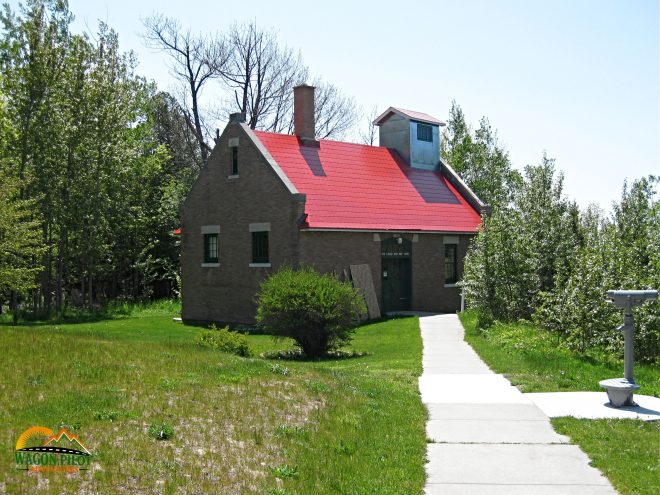 The lighthouse is open to the public from May through November each year for self-guided tours. Guests can walk through the keeper's half of the house and climb up to the rooftop lighthouse beacon for a spectacular view of lake Michigan. The brick fog signal building is also open and houses special exhibits, including one about the two aircraft carriers which served to train US Navy pilots during Word War II. Educational talks and kids activities may also take place throughout the season. Kids can get a certificate for climbing to the light and a unique patch and activity is available for Boy and Girl Scouts.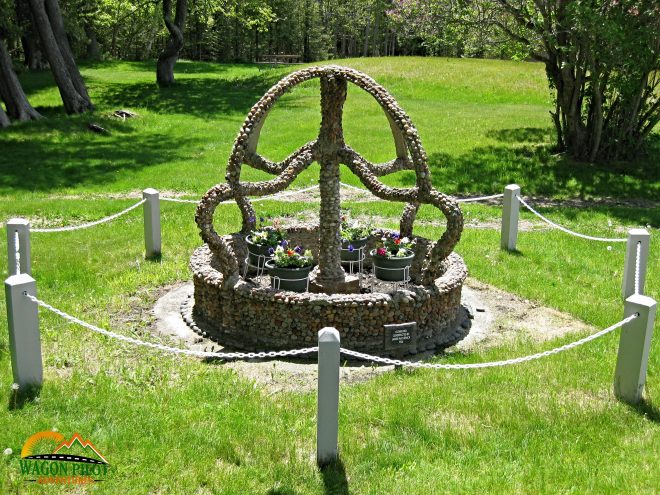 While many Michigan lighthouse grounds are mostly open field and rocky shoreline, Grand Traverse sits on a hill surrounded by lilac bushes and trees. There are interesting garden decorations, such as a bird feeder and planters, made with cement and beach rocks by keeper James McCormick (served 1923-1938) back in the 1920s. These fun pieces remind me of a memorial stone created by a keeper at the Point Betsie lighthouse.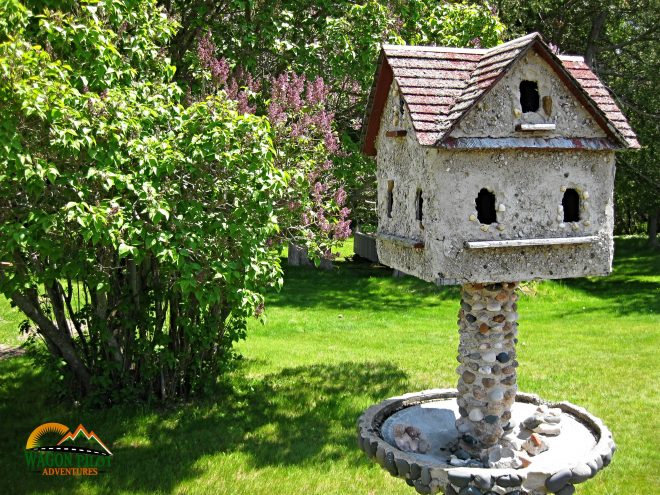 After touring the lighthouse, wander down to the lake shore for a walk, have a picnic near the parking area, or hike on nearly 9 miles of trails in the state park. The shoreline is rocky, so no beach to lounge on here, but still very scenic. The view and terrain really emphasize the importance of this lighthouse beacon to ships passing through.
Grand Traverse Lighthouse Keeper Program
Surprisingly, there are very few Michigan lighthouses where you can spend the night. Some, like the Grand Traverse, offer a lighthouse keeper program to allow visitors the opportunity to live a bit of history. From April through December, keepers can live and work at the lighthouse for a week. Guests stay in the former keeper's assistant quarters side of the house, which includes two bedrooms, two bathrooms, a kitchen, and living room.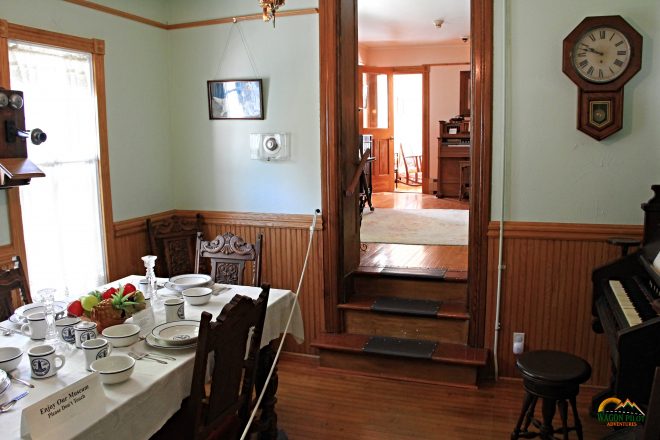 It's not exactly a vacation. Duties for volunteer lighthouse keepers include keeping the lighthouse clean, welcoming visitors and providing information, plus assisting with the gift shop when needed. More fun activities may include lighthouse and grounds maintenance. While it may seem like a lot of work, there is also plenty of down time and keepers do get one day off. Sit and relax in the garden, do some fishing, or take a drive down to explore the town of Northport.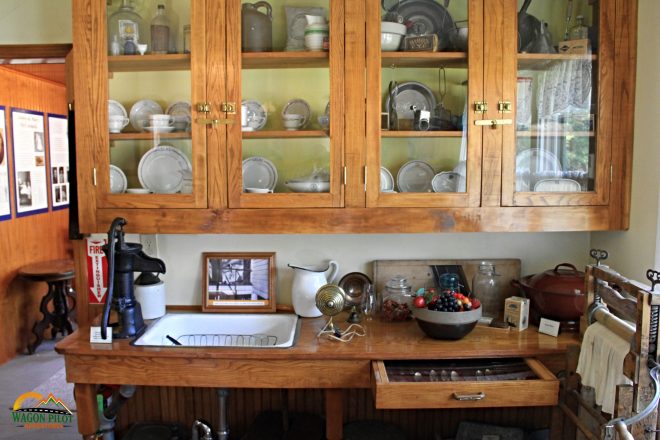 There is a $150 fee for the week, plus personal supplies, such as food and bedding. Prospective lighthouse keepers must fill out an application and provide letters of reference. Check the Grand Traverse website for specific details, a keeper's handbook, and the application form.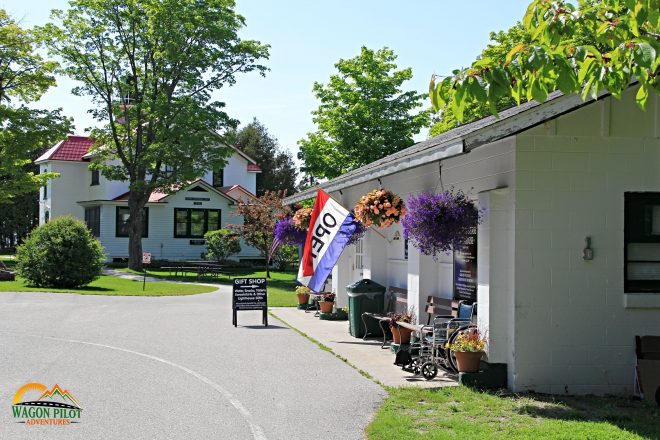 Grand Traverse Lighthouse Hours and Gift Shop
The Grand Traverse lighthouse is open daily May through October and weekends in November. Hours vary by month and Holidays. Admission at time writing is $5 for adults and $2 for kids ages 6 to 12. Being located within a State Park, a license plate recreation passport is required for your vehicle for entry. Visit the Grand Traverse Lighthouse website for the latest info on hours, admission, and special events. The gift shop features plenty of summertime Lake Michigan and lighthouse souvenirs to take home. They also offer some items online in the off-season to brighten up your winter months.