Fun Adventures with Dad at Disney World
Often I see lists for Father's Day or things for dad to do at Disney World that are rooted in giving dad a day to himself. Golf, spa, a shave, etc. That's never been my speed. When I want to celebrate being a father I want to do it by spending time with my daughter. After all, that's the reason I am a dad! Here are a few ways we have spent our daddy & daughter time at Disney World and some suggestions my fellow dads can use to plan some special time with their kids. The biggest piece of advice I can give is go out and do what you and your kids enjoy and make the most of that time!
Conquer the Mountains at Magic Kingdom!
My daughter is all about the thrill rides lately. It started with endless rides on the Teacups when she was a toddler and this adventure is inspired by a day we spent on our last vacation. Magic Kingdom is not universally known for its thrill rides, and with parks like Universal and Six Flags offering proper high speed roller coasters with death defying drops it's no surprise. For the younger kids though, there are plenty of thrills to be had and for the open minded dads it can be a lot of fun. Once ride I've developed a fondness for is The Barnstormer. Themed around The Great Goofini and his ill-conceived stunts, this is a kiddie coaster that isn't as slow and tame as you'd expect. The queue itself has a lot of tongue in cheek visuals too. Start here and work your way through the list. Some younger kids may not be tall enough to hit experience all of the rides yet, so I included the minimum heights in the list.
The Barnstormer, Fantasyland, 35″ (You can meet Goofini & friends at Pete's Silly Sideshow)
Seven Dwarfs Mine Train, Fantasyland, 38″ *FastPass+ recommended
Big Thunder Mountain Railroad, Frontierland, *FastPass+ recommended for busier days; good to hit during night parades/fireworks
Splash Mountain, Frontierland, 40″ *FastPass+ recommended for busier days; good to hit during night parades/fireworks. Prepare to get wet!
Space Mountain, Tomorrowland, 44″ *FastPass+ recommended for busier days
Extra fun
Mad Tea Party, Fantasyland. See how fast you can spin your teacup without getting sick! Dizziness will follow.
Tomorrowland Speedway, Tomorrowland, 32″ with adult. Not really thrilling except for younger kids who want to 'drive' a car.
Astro Orbiter, Tomorrowland. Space themed spinner ride with the thrill of being high above the Park. Ride at night for an amazing view.
Casey's Corner is always a great dad spot for lunch/snacks. Hot dogs, mini corn dogs, etc. Make sure to pose for a pic with the baseball player statues!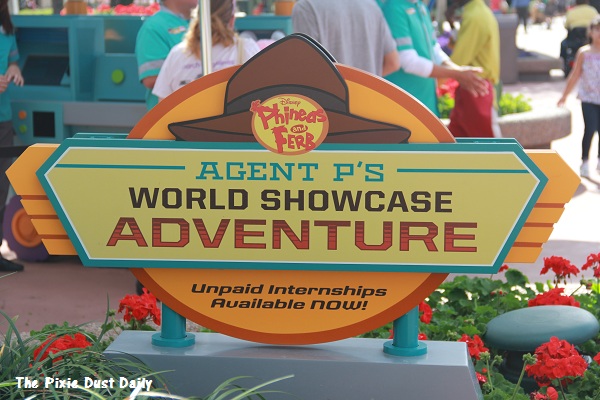 Epcot Adventure
Another fun activity we did on our last trip was the Agent P Adventure in Epcot's World Showcase. For dads and kids who share a love of history and travel this is a great way to spend a day touring the country pavilions. Join Agent P, also known as Phineas & Ferb's pet platypus, in an international spy mission throughout the World Showcase pavilions. If you're not up on your Disney  cartoons, check out the Phineas & Ferb website and watch a few episodes. It's a great show and you'll have more fun knowing the characters.
To begin, pick up a F.O.N.E., or Field Operative Notification Equipment, on the bridge leading to the World Showcase, the International Gateway entrance area, or in the Norway or Italy pavilions. The cast members at the kiosks will give you instructions and ask you to pick a pavilion to begin your mission. Agents will contact you through the cell phone-like device to fill you in on the story then send you off to secret locations to help solve the case. Once you have completed the mission you can deposit the FONE in a drop box or return it to an Agent P kiosk and start another adventure. Each adventure takes around half an hour, but you can take take the opportunity to explore other parts of the pavilions while you are there. There is no cost or time limit, so do as many as you want.
Since the World Showcase doesn't open until 11:00am, there are a couple of options we enjoy in Future World. If you arrive early and want to get a bite to eat, head to the Land pavilion. They have a great selection at Sunshine Seasons and you can also ride Soarin' and Living with the Land. Be sure to get a FastPass+ for Soarin' since it fills up quickly. The other option is to hit Mission Space and then help dad design and test a car on Test Track 2.0.  A FP+ is recommended for Test Track.
Boating and Fishing Excursions
For dads and kids who love fishing, or just being out on the water, there are several options available around Disney World. This is one of the hidden gems many people do not know about and a great way to get away from the hustle and bustle of the Parks.
Fishing
Two to four hour guided bass fishing excursions take you on a catch and release trip which includes a private guide and all supplies needed. Whether you are a pro or have never touched a fishing rod, this is a great adventure. Prices range from 2-hour (up to 5 guests) — $235-$270 to 4-hour (up to 5 guests) — $455. Price includes One year BASS (Bass Anglers Sportsman Society) membership, which includes 11 issues of Bassmaster Magazine (one membership per excursion). Call (407) 939-BASS or (407) 939-2277 to make a reservation, or submit a BASS Reservation Request Form online now and a Fishing Coordinator will contact you in 12 to 24 hours. Reservations can be made up to 180 days in advance.
Dockside fishing is also available at the Fort Wilderness Campgrounds (casting rods), Port Orleans Riverside resort (cane pole). Visit Disney World's fishing page for more details.
Boating
Many guests are surprised at just how many boats ply the waters around Disney World. From Park transportation to personal watercraft rentals there is a lot of fun to be had. Everything from pontoon boats to 2 person speedboats to sailboats and canoes are available to rent at several resorts around Seven Seas Lagoon and Bay Lake, and also limited vessels at the Yacht Club resort. (Port Orleans no longer offers boat rentals).
Boating fun doesn't end there though. A quick getaway on one of the many transportation watercraft can be an exciting excursion. My favorite escape is to board a boat at the Magic Kingdom docks, enjoy a leisurely cruise to either Fort Wilderness or Wilderness Lodge, then disembark for lunch and some exploring. If you find yourself in the area later in the day, check out the Chip & Dale's Campfire Sing-a-long at Fort Wilderness. A great finish to a day out with dad!
Check here for a complete list of boat rental and other activity pricing.
Canoes/Kayaks — $6.50 per 1/2 hour; $11 per hour
Sea Raycer by Sea Ray –$32 per 1/2 hour; $45 per hour
Pedal boat — *$6.93 per 1/2 hour
12′ Sailboat — *$21.30 per hour
21′ SunTracker Pontoon — $45 per 1/2 hour (up to 8 people)
Boston Whaler — $45 per 1/2 hour (6 guests)
Burgers and Bowling
If you're short on time and just looking for an afternoon out, Splitsville in Downtown Disney/Disney Springs is a great activity. Grab some lunch while you enjoy a few frames of bowling. Afterward you can check out the rest of Disney Springs or go back to the Parks. Visit Splitsville's website for hours, pricing, and menus.
Decide if you want to focus on a Park or something non-traditional around Disney property and figure out what activities your group enjoys. The possibilities are endless. What special things do you share with your kids around Disney World?