Promenade Park, the latest in a chain of urban redevelopment, will add a multitude of new spaces and activities to downtown Fort Wayne, Indiana. Situated along the St. Mary's River, the 4.2 acre park will appeal to young and old with open playscapes, water features, and entertainment venues. Promenade Park extends the network of greenspaces within the city and provides easy access to the river and surrounding natural areas; something Fort Wayne has proven is a priority for its community.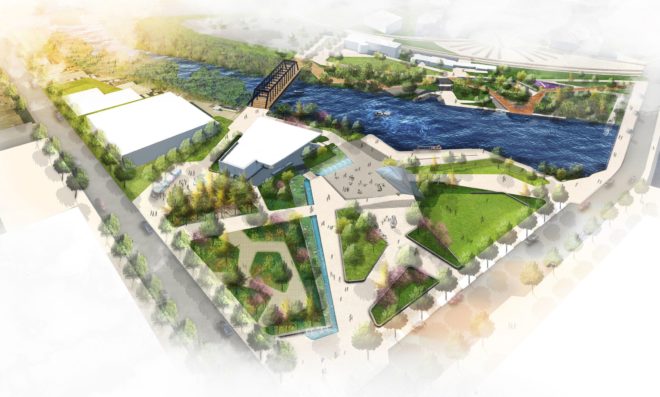 Disclaimer: I was given a pre-opening tour of Promenade Park during a press trip provided by Visit Fort Wayne.
Promenade Park Extends Fort Wayne's Urban Oasis
Fort Wayne, Indiana has created an urban oasis by converting old commercial and industrial land lining its rivers into vibrant and welcoming outdoor spaces for its residents and visitors. The centerpiece, Headwaters Park, celebrates the the connection of the St. Joseph, St. Mary, and Maumee rivers with green space, a festival center, and reconstruction of old Fort Wayne. A massive network of hiking and biking trails, the River Greenway, spiders out across the Fort Wayne metro area. Promenade Park will extend this green space and add several new outdoor activities.
Promenade Park is a different type of space than the plain grassy areas or art installations we are used to seeing as part of urban revitalization efforts. Instead it offers several layers of interest to visitors. Wide concrete pathways are broken up with a mix of lawn, flowers, and water features. A playground and canal with locks will keep kids busy for hours, while a band shell offers a host of family entertainment options.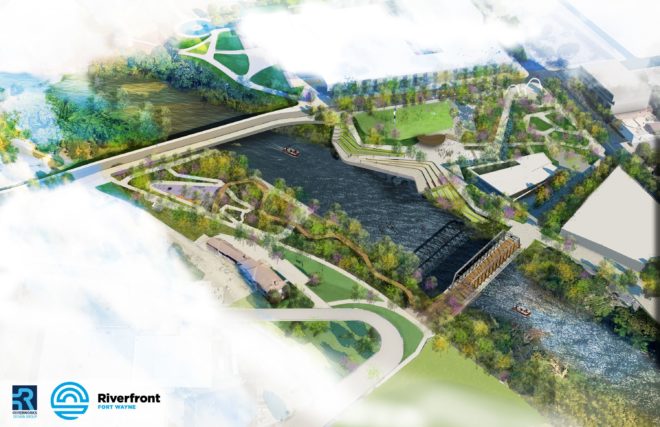 Promenade Park for All Seasons
A multi-use pavilion has both indoor and sheltered outdoor spaces along with the Trubble Cafe and Tap. This facility can serve as a venue for a wide variety of functions, such as weddings, year round. In front of the pavilion, the pathway leads down to the river level where visitors can stroll along the bank and tour boats dock. Promenade Park spans the entire riverfront between the Wells Street and Harrison Street bridges, which allows access to more new spaces on the opposite bank. A nearly 600 foot long canopy walk through the trees provides views of the main park and downtown skyline. Below are more open spaces and a kayak launch for the Fort Wayne Outfitters.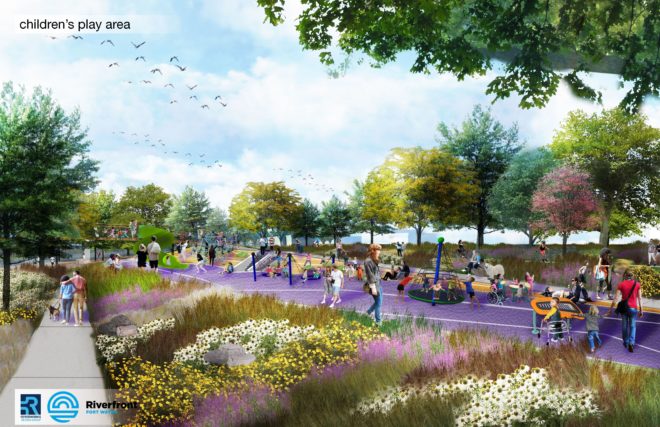 Promenade Park's Accessibility Focus
Promenade Park was designed with a heavy focus on being accessible to all visitors, which is not often the case with outdoor spaces. Wide pathways lead to flat or gently sloping grass areas, which allow wheelchair access. Paths have integrated tactile elements to help guide the visually impaired, while water features, flower beds, and various textures built into the landscaping offer more enjoyment. The playground is also designed with accessibility in mind. Handicap parking spaces are located next to the park for further convenience.
Fort Wayne has shown how urban sprawl can be redeveloped into an inviting and enjoyable living space to draw locals and tourists back to city centers. Promenade Park is an innovative design, which showcases the natural environment of the river along side multiple entertainment features to attract all ages and interests.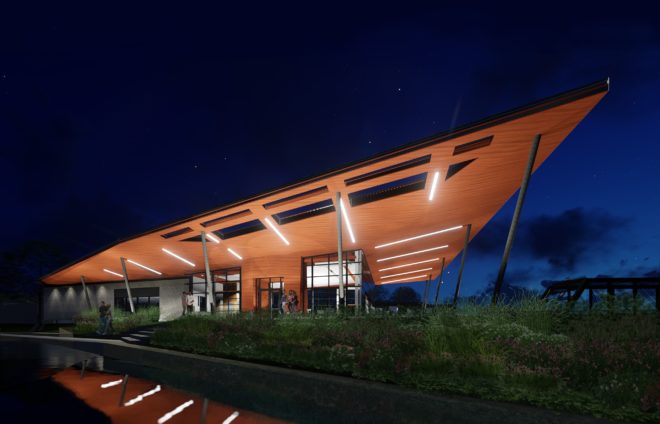 Promenade Park Grand Opening and Information
Promenade Park celebrates its Grand Opening August 9th through 11th with a boat parade, river lighting, floating band performance, and community art projects. For more information on Promenade Park and other green spaces, visit the Riverfront Fort Wayne website.
Looking for more to do in Fort Wayne? Here are 10 Fun and Unique Things to do at the Children's Zoo.