*Disclosure: I received this product for testing from the manufacturer. I only test products that I would use myself and always give an honest review.
If you're tired of scraping your windows the old fashioned way, then join the Scrape-A-Round movement. Scrape-A-Round is different than traditional flat bladed ice scrapers because of the softer plastic and round shape, which allows the scraper to conform to the window curvature. Let's face it, our cars just don't have flat windshields. The handle is also easier to hold and takes up less storage room in your car. no more tripping over a three foot pole in the back seat. The design is more innovative than just being round, the handle also has a toothed side to loosen up tough sheet ice and can be removed to use the tool as a funnel when you need to top off the windshield washer fluid. I love products that have more than one use!
I've always had a problem clearing the windshield on my Flex  since the typical flat ice scrapers have never done a decent job on the windshield. Last week I had a chance to test out the Scrape-a-Round twice to see how it compared. Huge difference! It did a great job at clearing the frost and ice and was also more adept at getting into places like under the wipers and the edges/corners of the windows. To top that off, it was also a lot quicker than trying to scrape little straight lines with a traditional scraper. The only downside is that you still need a brush to get off snow or wipe away piled up ice if there is a lot. The manufacturer might want to consider selling the Scrape-a-Round in a set with a long-handled brush for us SUV and wagon owners. I'm really sold on this design and it will mostly replace my old scrapers. I'm still waiting to try it out on a tick coating of ice to see how well the little ice breaker attachment works. Great innovation and I'd definitely recommend it to others.
Watch the video below to get a good idea of how the Scrape-A-Round works.
Here's a special deal for my readers–>> Get FREE Shipping at Scrape-A-Round.com Use code LU8FBEZREU2 at checkout.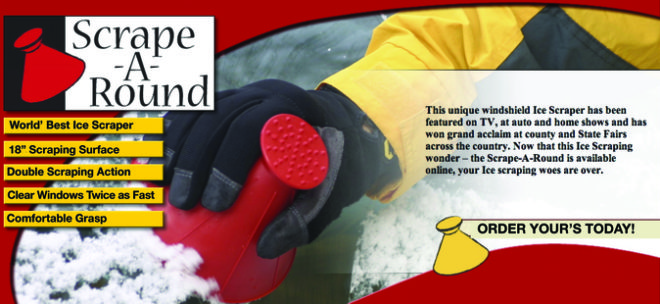 Watch the Scrape-A-Round in action
Save
Save