When winter hits and the furnace is running non-stop it gets very dry indoors. If the air becomes too dry in your house it can cause wood floors to shrink, cracks to form in drywall seams, and even affect your health. One or more portable humidifiers are a great solution to this problem. Even if you already have a unit built into your central furnace, it may not do a very good job. In our previous home I was constantly adjusting the output of the furnace humidifier to balance between dry air and water accumulating on the windows. After a bad experience with a humidifier dumping a full tank of water all over our new hardwood floor last year, I spent a good bit of time researching a replacement for this winter season.
After reading several articles and looking at various models, I decided to go with a few table top size cool mist humidifiers for our home. They needed to be easy to maintain, hold enough water for a day, and could be moved to different rooms without much effort. Amazon has quite a few different brands and models, plus plenty of user experiences to go with them. I settled on two of the most popular and highest quality humidifiers. Both are of similar size, cost, and had very few reports of issues or negative experiences. Let's take a quick look at both and then see how they've performed over the past two months of testing.
The Anypro humidifier has a 3.5L  (nearly 1 gallon) capacity and easy to use dial for controlling the mist output. It has a built-in nightlight which can be set to a single color or to cycle through multiple colors. The top has a pad for adding aromatherapy oils, though it works solely on evaporation and is not located within the mist air stream. Comes with a one year warranty.
The TaoTronics humidifier has a 4.0L capacity and digital screen with push buttons for controls. It features three output settings, a timer, humidity sensor/control, and a blue nightlight. This humidifier also contains a permanent ceramic filter to reduce calcium and magnesium buildup.  60 day warranty, plus an additional 18 months when the product is registered.
Testing Experience
Both models share similar features and performed well overall. Common features include low water level shutoff, approximately 1 day capacity, and an adjustable output nozzle which can be rotated 360 degrees. Both have a nightlight, which is great for kids and also to prevent anyone from bumping into it in the dark. The lights are pleasant colors and diffused through the water tank so as not to be annoying at night. The bases are deeper than others I've seen, which makes for easy cleaning and also helps to prevent leaking from the top feed tanks. The biggest difference between the two models was when it comes time to refill the water tanks. The egg-shaped Anypro is very awkward to take off and get lined up to reinstall, while the boxy TaoTronics model has a built in carrying handle and sits flat in the sink.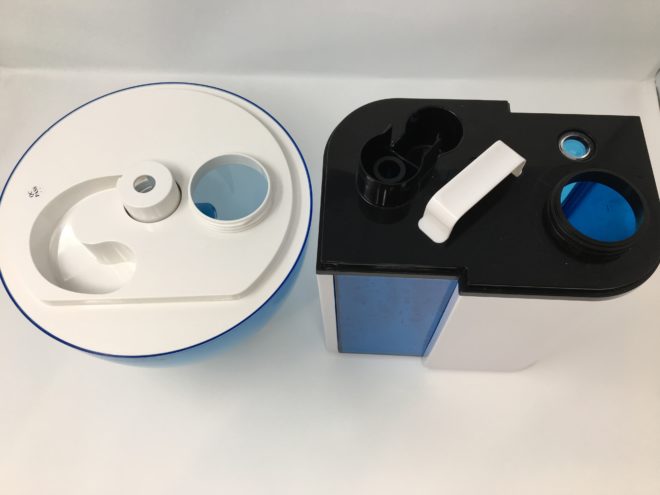 Proper maintenance is important for humidifiers and the only place I found issues with there: the tanks are difficult to clean. The insides are only accessible through the filler hole, so it's hard to get a cleaning tool in there. I was surprised that both did not have removable parts to allow access to the tower where the mist travels up. This is an important area to keep clean since it is always damp. I did find that the cleaning kit for my cats' water fountain did an excellent job of getting in there to scrub the mist towers and a bit of the water tanks. Be sure to wash the tanks and inside the base with a mixture of water and vinegar weekly to keep clean and prevent any buildup.
Wrap Up and Recommendations
While both humidifiers performed well, I'd give a higher recommendation to the TaoTronics model. It edged out the Anypro with a few extra features and was much easier to refill. The TaoTronics has a more compact footprint despite having a larger capacity tank. It also offers more user controls, such as a timer and humidity setting, plus the built in filter. Both are reasonably priced in the $50 to $75 range and seem built well enough to last for several years of use. One last thing I'd recommend is a separate hygrometer to monitor the humidity in your home, such as this AcuRite model. It will take the guess work out of keeping the air in your home at a comfortable and healthy level. Thanks for reading and feel free to leave any questions of comments below or on my social media channels.
Save
Save
Save
Save
Save