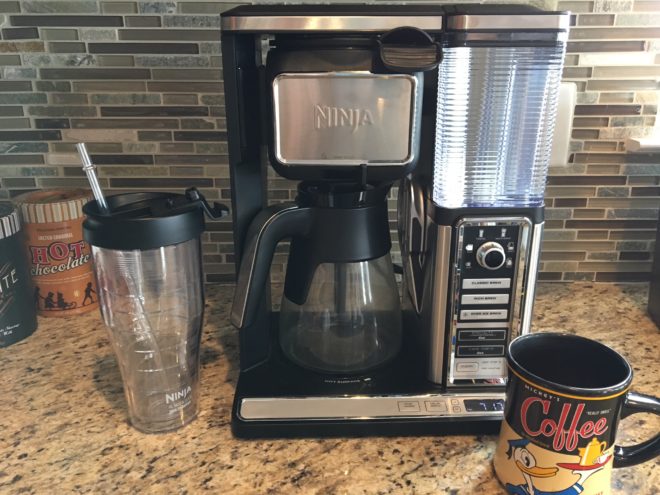 Disclosure: I received this product for review. This post contains links from a trusted partner from which I may earn a small commission.
Recently, I have been shopping for a replacement for my trusty old Keurig B80 coffee maker. So when I was offered the opportunity to test the Ninja Coffee Bar System I accepted, since I was already looking at it as a contender against the Keurig 2.0. I've been limited to brewing single mugs for a long time and having the ability to make a single cup or a pot was a requirement. There are few systems that can do both and most are over-complicated. When I recently saw the Ninja Coffee Bar System at a blogger convention I was impressed by how integrated everything seemed and wanted to learn more. Now that I've had a chance to test drive this coffee machine all week I can share with you how well, or not so well, it performed.
Key Features
When I received the Ninja Coffee Bar System and took a closer look I was surprised at all the features they crammed into one package. Even more impressive is that it's still the size of a standard coffee maker and isn't clunky with the extra features tacked on like some other models I've seen. What stands out most to me is the sheer number of brew options and sizes. I'll discuss this more later, but for now let's start with the basics.
I received the full size Ninja Coffee Bar System; which is the most common model. It comes with a glass carafe and 22oz. insulated tumbler plus a frothing attachment. There are also two more compact models for people who are looking for primarily single serve use and an upgrade model with stainless steel carafe. Here is the long list of features the Ninja includes:
6 brew sizes – 2 mugs, 2 tumblers, half and whole carafe
Classic and rich standard brew strengths
3 specialty brews – brew over ice, 4oz. specialty (mimics espresso for drinks), and 'cafe forte' bold strength
Flip down mug platform for single serving brew
Hot or cold frothing arm, mixer type
43oz water reservoir (1 carafe capacity)
Filter assembly drip stop
Reusable filter (paper filters can also be used)
Temperature controlled carafe warming plate
Clock with programmable settings
Every Day Workhorse
The Ninja Coffee Bar System is essentially a two-in-one in terms of daily brewing. It can do the job of both a single serve machine and traditional carafe brewer without sacrificing quality. Instead of relying on k-cups or pods, the Ninja has various brewing sizes you can select from a regular cup to travel mugs to a full pot. You get to control how much coffee grounds to use and there's also a Rich Brew setting, which I found much more flexible than trying to find a decent k-cup to brew a large mug. One thing I noticed was the Ninja brews the coffee in stages to get more flavor out of the grounds instead of just pouring the water right through. It takes a bit longer, about 2 minutes for a large mug, but seems to work well.
It's clear that the Ninja was designed with multiple roles in mind and not as a traditional brewer with some extra features for single serve, etc. There's a sturdy flip down platform for holding a mug for single serve and plenty of room for a large travel tumbler. One design feature that I've found very helpful is the measuring tool. It has two scoops with icons showing which size and how many for different size brews, plus it has its own storage slot right on the side. Clever. The one modification I'd like to see is a bit larger water tank. It holds enough for a full carafe or a few mugs, but could use a little more capacity.
Specialized Brews
Now this is where the Ninja gets fancy. I was already impressed with its performance as a single serve brewer, but wasn't sure what to expect with the specialty brews. This sort of thing always strikes me as a gimmick and not something I'd really use. One feature stood out that I had to try though: Brew Over Ice. I loved iced coffee and have never had a good cup straight from a machine before. The Ninja came with a large insulated tumbler, so all I had to do was fill it with ice then hit the Brew Over Ice button. I was impressed yet again. It was just the right strength so as not to get watered down by the ice and left enough room to top off with cream. This thing is going to save me a lot of money on iced coffee next summer.
The Ninja also has a few other tricks up its sleeves. For those of you who like the fancier coffee drinks, there is a specialty brew setting which turns out a 2 oz. serving of very dark coffee to use in various recipes. There's also a 'cafe forte' setting which makes a cup of dark, rich coffee to drink straight. With the full size models there is a frother arm that swings out. It actually does a pretty good job and detaches easily for cleaning. It's not a steamer, but that's not a mess I want to deal with in a home brewer. I'll have to see if I can recreate my favorite Starbucks iced caramel macchiato once of these days. Whether you are looking for something to make the occasional coffee house drink or not, none of these features get in the way of the main brewing functions.
Ninja vs Keurig
The big question on my mind when I was sent the Ninja Coffee Bar System was, "Will this outperform my Keurig and be a better option than upgrading to a Keurig 2.0?" I spent some time doing back to back brewing comparisons and thinking about other factors, such as costs and flexibility. Here are a few things that stood out.
Brew Strength – Keurigs are mostly limited by the amount of coffee grounds in the k-cups. There are some aftermarket cups which let you add more grounds and also San Fransisco Bay has their own design which I've been a fan of for brew strength and cost savings. The Ninja has an advantage in the single serve due to the size of the filter compartment. The Ninja's slower brewing method also produces a better cup. In the Keurig you can visibly see the coffee stream change from coffee to slightly brown water. Brewing speed is a lot quicker for the Keurig; 1 minute vs 2 minutes. AS far as carafe brewing goes, I couldn't test this fully since my older Keurig does not have that capability. The Ninja works like a traditional coffee maker in this regard, so you retain the flexibility with coffee grounds.
Flexibility – Some of the newer Keurigs offer multiple k-cup types, including variants for travel mugs and carafes. I like that the Ninja can cover a whole range of sizes without the need for keeping stock of specific pods. The different brew strengths multiples this factor even more so for the Ninja. The most prominent for me is the single serve variety. Keurig has always had a problem brewing a larger mug without losing quality. A 12 oz. mug with the Ninja is at full strength, even at the basic Classic brew setting.
Cost – Cost is always a downside for pod brewers, but they make up for it in convenience. Drop in a pod, hit the button, and you're done; no mess to clean up. When you're looking at a machine that can brew a whole pot, or even travel tumblers, this becomes more restrictive. Looking on Amazon, K-Mug and K-Carafe cups are in the $2 range. That's a bit much for making it at home; especially for the travel mugs. The other cost factor, like I mentioned before, is having to keep a stock of multiple k-cup sizes. The convenience vs cost factor is not as good with the new Keurigs. Personally, I'd rather spend the extra money on better quality coffee grounds. As for machine prices, the full size Ninja Coffee Bar System and Keurig 2.0 are both around $199 without discounts.
Overall, the Ninja was the winner. I've enjoyed my Keurig the past few year, but the Ninja simply does a better job at single serve and carafe brewing. The cost savings is icing on the cake.
End Results – How well does it perform
When I first looked at the Ninja Coffee Bar System it looked too complicated and I have been enjoying the simplicity and convenience of the Keurig. At the end of a week of testing I have to admit I was more than impressed. Not only does it work really well as a single serve machine, but it does everything else without sacrificing quality. That's not something you typically see in any product that has more than one main feature. Single serve, full pots, iced coffee all came out great without any extra effort. I'll put my stamp of approval on the Ninja. This is a purchase I would easily make and recommend to my readers and friends.
You can find more information on the various Ninja Coffee Bar System models and prices and compare them to other brewers on Amazon.com.
Save
Save
Save
Save
Save
Save
Save
Save
Save
Save