Turn off onto a side street in tiny Perkinsville, Indiana and Bonge's Tavern looms large; covered top to bottom in classic advertisements. This colorful restaurant resides in a town of maybe a few hundred residents about an hour northeast of Indianapolis or a winding drive from Anderson. Seeing it for the first time, you instantly wonder why people drive from all around just to eat at Bonge's Tavern. Once inside though, you quickly discover the exterior belies the high level of cuisine. It's delicious enough that prospective diners tailgate in the parking lot in hopes of scoring a table.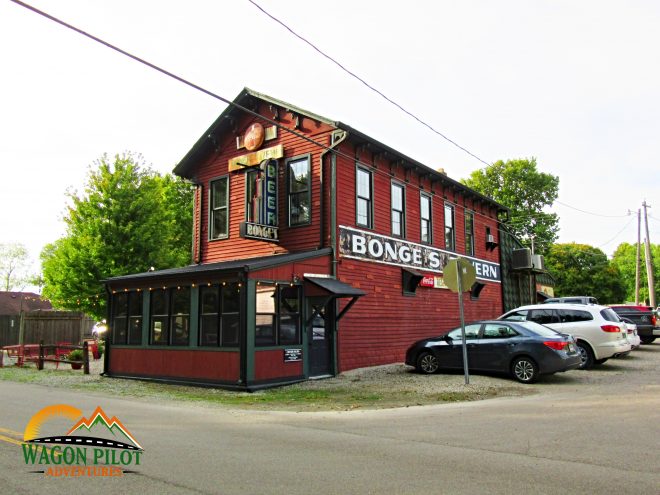 DISCLAIMER: I was hosted by The Indiana Foodways Alliance and Madison Country CVB for dinner at Bonge's Tavern. Honest opinions, as always, are all my own.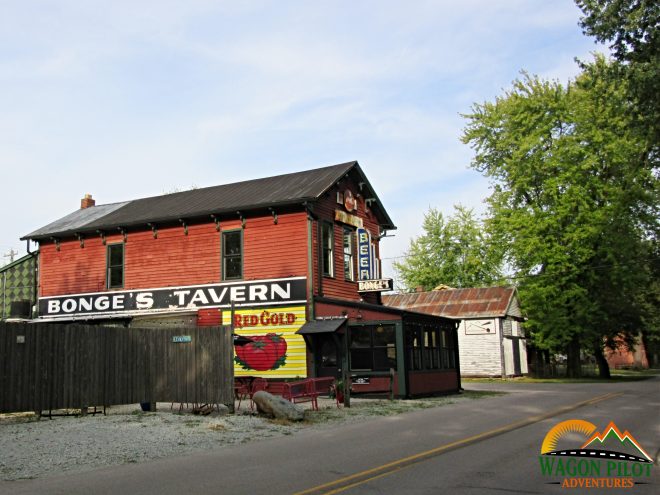 History of Bonge's Tavern
The building itself, possibly a general store or roadside inn, dates to the late 1830s and became Bonge's Tavern in 1934. Over the years the property became run down, not surprising in such a small, rural town, and eventually served as a biker bar into 1980s. The building underwent an extensive restoration and reopened in 1997 in its current form under chef Tony Huelster.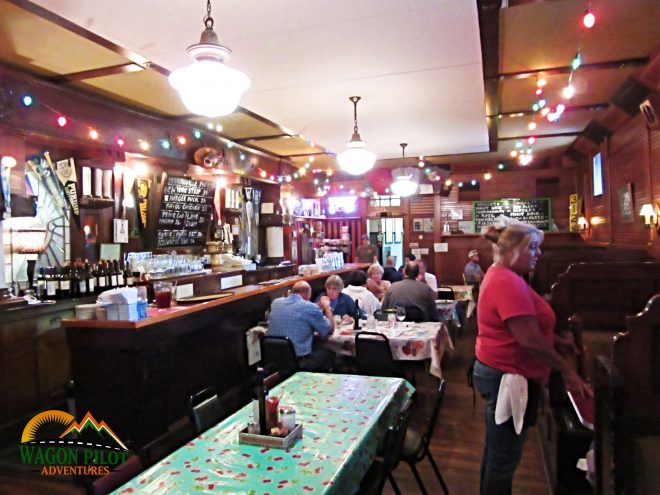 Today, Bonge's Tavern serves dinner Tuesday through Saturday. Hours are short, opening at 4:30pm and closing at 9pm or 10pm. Being a tavern means it's adults only. The dining room is deceptively small with only five booths and six tables. The bar area appears to be original, though doesn't have seating anymore. The interior décor also retains its original theme and feels comfortably authentic. With such limited time and seating, guests queue up outside and tailgate in warmer months. So bring some snacks and a cold beverage to pass the time with friends. And don't worry, there's no dress code like you'd find at other restaurants with similar quality cuisine. Shorts and sandals are welcome here.
So what is it that draws guests from miles around to eat at Bonge's Tavern? Partly the kitschy classic décor, but mostly for the food. There's something I always look for in my travels: local eateries that serve up good food with little fuss. Bonge's Tavern takes this to the next level with a short, but fantastic menu.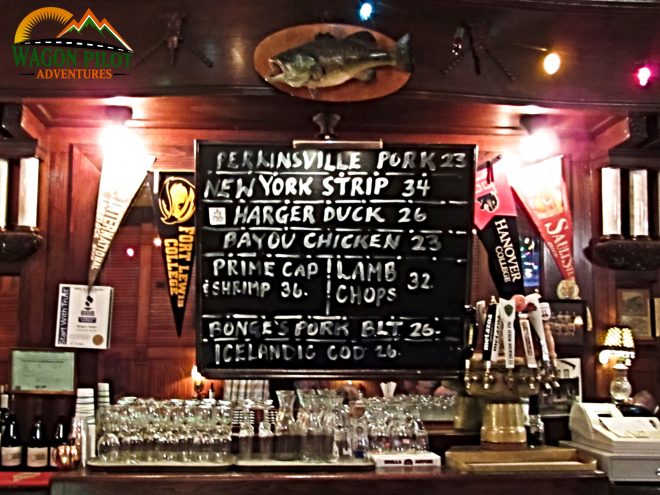 The Bonge's Tavern Chalkboard
A simple chalkboard behind the bar is all Bonge's Tavern needs for its menu. Three items grace it every day: NY Strip, Harger Duck, and Perkinsville Pork. On Fridays and Saturdays, Prime Cap with Shrimp is added to the list. Three or four more diner items are added each day to round it out. Fresh fish, maybe some BBQ, possibly chicken. It's this limited menu that allows Bonge's to consistently serve top notch cuisine, which draws guests from Indianapolis and beyond. Now you're asking yourself, is it really that good?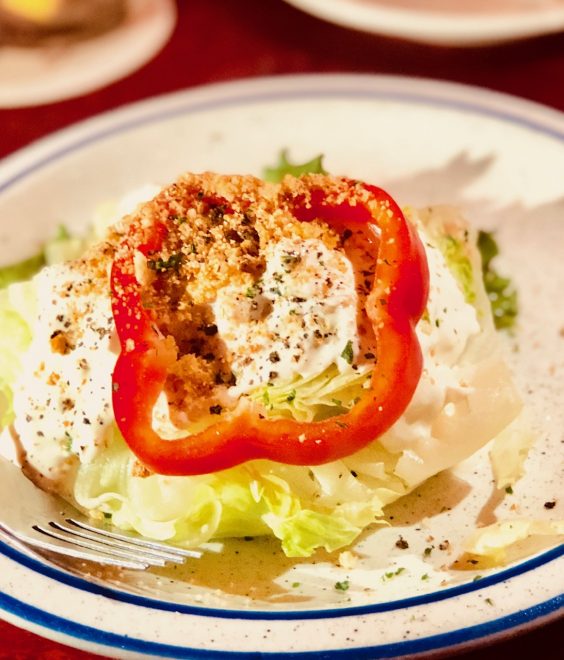 Just How Good is the Food at Bonge's Tavern?
In a word: excellent. Bonge's Tavern features a meat-centric menu varied in types of sauces and seasonings. On any given night diners will find a selection of beef, pork, duck, chicken, and fish in various forms. Two or three appetizers are offered and each meal begins with either soup or an iceberg wedge salad topped with their homemade blue cheese dressing or vinaigrette. Bonge's also features a decadent sugar cream cake for dessert. We tried several options on our recent visit.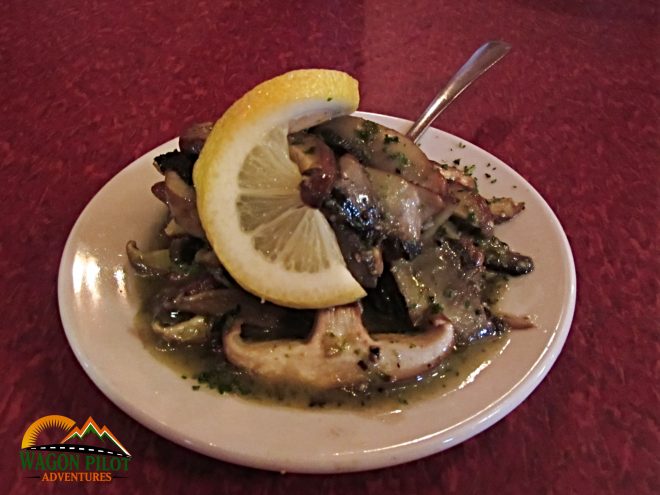 For starters, a few appetizers are offered along with a signature heavy, sweet cornbread. We passed around a plate of sauteed mushrooms, which were full of flavor but nothing that stands out. The cornbread, on the other hand, was really good. Super moist and had a little jalapeno kick. Bonge's Tavern has a famous tomato soup recipe and those who ordered it were impressed. I love a good, crisp iceberg wedge salad between courses and theirs did not disappoint.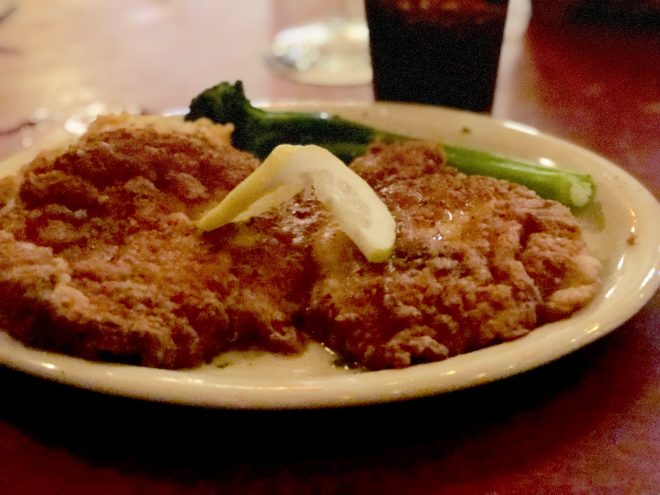 Our group ordered a variety of items from the menu to pass around. There are three standards Bonge's serves daily. The NY Strip, which is a straight forward well-seasoned steak; the best option for not-so-adventurous diners. The Perkinsville Pork is an elevated take on the classic Indiana pork tenderloin. Grated Parmesan in the breading and topped with a lemon butter sauce to kick up the flavors. Finally, the Harger Duck; a bacon wrapped duck breast roulade stuffed with jalapeno cream cheese. You can't go wrong with any of these choices.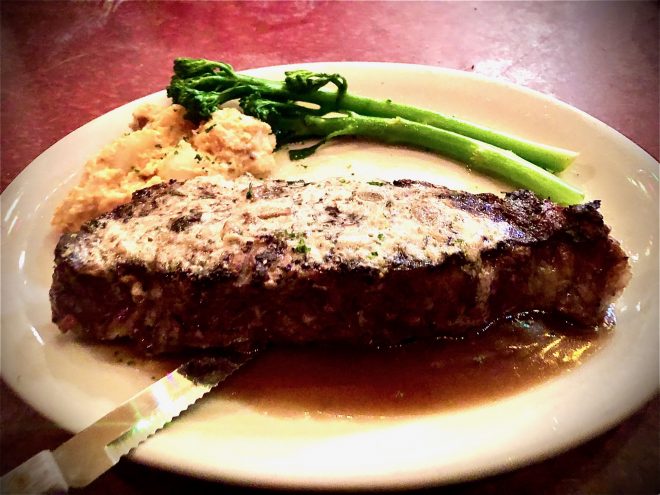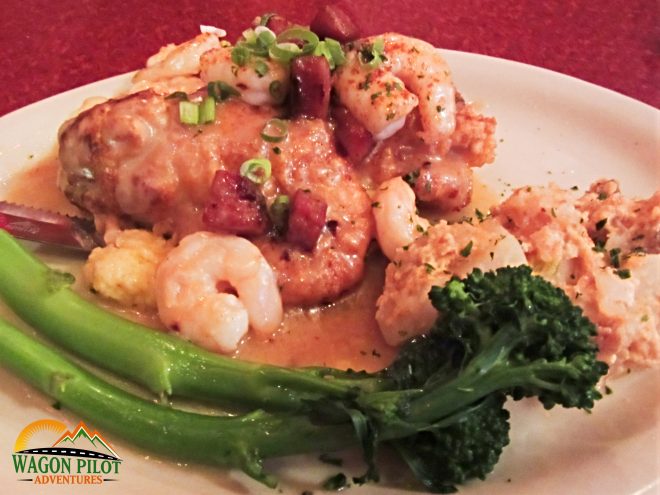 Also on the menu that night were Bayou Chicken, Lamp Chops, Bonge's Pork BLT, and Icelandic Cod. I chose the Pork BLT, which consisted of a thick cut pork chop topped with sprouts and pork belly. Someone had the chicken, which came smothered in shrimp and a sauce. While I enjoyed my choice, the Perkinsville Pork was delicious. The lemon butter sauce really brightens up the flavor of the dish. For dessert, I had to squeeze in their famous sugar cream cake with blueberries. Think of a moist yellow cake topped with a light sugar cream pie filling. Between this and a visit to the Wick's Pie factory, I'm officially in love with Hoosier Pie.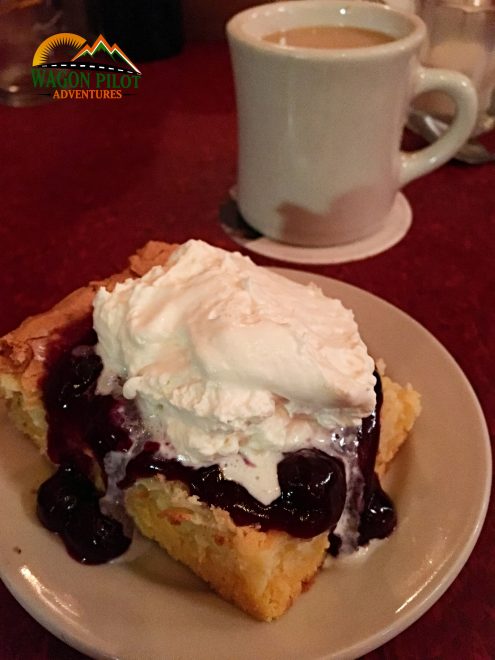 After a delicious meal, I can see why people drive an hour plus just to eat at Bonge's Tavern. It's not just dinner, but an experience; especially if you show up prepared to mill around in the parking lot with friends. We camped out at one of the picnic tables for a drink before getting our call in for dinner. It was a perfect summer day, made even better with a great dinner.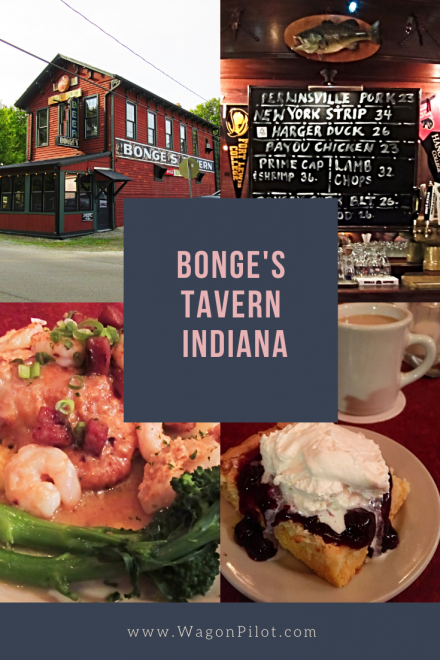 For directions, hours, and more click here to visit Bonge's Tavern website. And since you;'re making the drive out to the area, plan a bit of extra time to wander through the amazingly designed showrooms at Open Gate Design & Decor.