Looking for an escape from the cold this winter? Downtown Detroit has several options for easy family getaways that will keep you warm and entertained. Plan a day trip, or make it a long weekend with a stay in one of the many new hotels in the city. Here are a few of our favorite places to visit once the winter doldrums hit.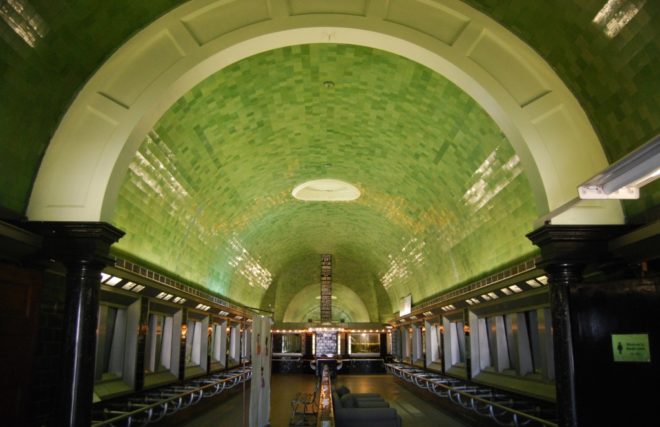 Fun on Belle Isle and Riverfront
Belle Isle has seen much improvement in recent years under the direction of the Michigan State Parks. The aquarium and fountain have been restored, roads repaired, and parks cleaned up. There are a few indoor activities that make a trip to the island worth a day trip, plus the chance to get a close view of freighters cruising by in the Detroit River. A State Parks pass is required for entry to the island and all attractions mentioned below are free.
Dossin Great Lakes Museum – The Dossin museum is a little known treat. Located on the eastern shore of Belle Isle, this little museum focuses on Great Lakes shipping and over the centuries. Visitors will find early Detroit artifacts, items from the glory days of passenger steamships on the Great Lakes, and the bow of a retired freighter. Kids will have fun with the hands on displays and climbing around the freighter's bridge. During cold weather, there is a room with huge windows, perfect for watching the ships sail bay. The Dossin Museum is open Friday through Sunday 10am to 4pm.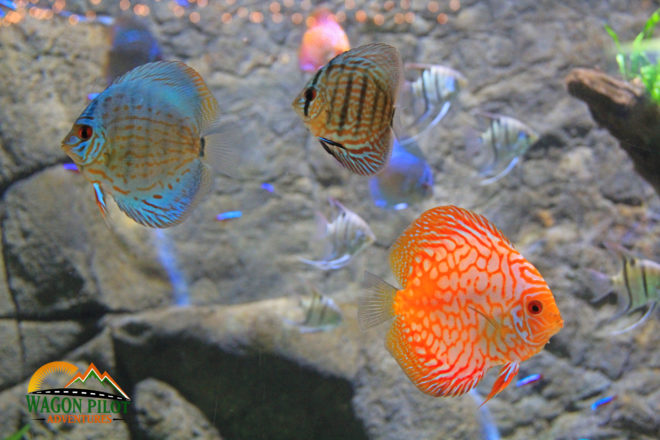 Belle Isle Aquarium – The Belle Isle Aquarium is the oldest continually operating aquarium in North America. The brilliant green tile work has been restored to its original glory on the arched ceiling and it seems to draw you into the building. The tanks feature mainly Great Lakes fish, which gives visitors the opportunity to learn more about their surroundings. It is not a large aquarium by modern standards, but well worth a visit. The aquarium is open Friday through Sunday 10am to 4pm.
Belle Isle Nature Center – In the Belle Isle Nature Center visitors will encounter several local species, including turtles, fish, and fallow deer. The deer arrived from Europe back in the 1800s and used to roam free on the island, then as part of the former zoo. Today, a small herd lives at the nature center and guests have the opportunity to hand feed them throughout the day.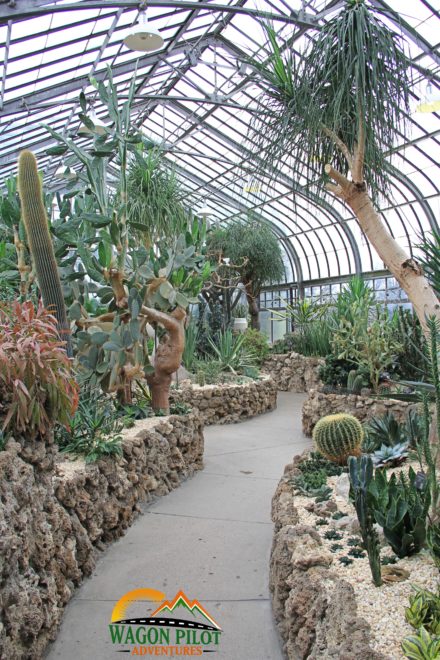 Scripps Conservatory – One of my favorite places to escape the short, cold winter days is the Conservatory. Step out of the Arctic wind and into the warm and humid tropics inside the huge glass covered buildings. The facility is divided into several rooms based on plant habitat, such as a dry cactus room, another with orchids and citrus trees, and the central dome with an amazingly tall date palm. Stroll around to see bananas and oranges growing, listen to the peaceful fountain, and feel a bit refreshed out of the cold, dry air. The Conservatory is open Wednesday though Sunday 10am to 5pm. *Due to renovations the Conservatory may be open weekends depending on current construction projects through April 2019. *
DNR Outdoor Adventure Center – Just down the road from Belle Isle is the Outdoor Adventure Center operated by the Michigan Department of Natural Resources. The goal of the center is to bring the natural beauty and activities from across the state to downtown Detroit. Visitors will learn about the plants and animals native to our state along with all of the outdoor fun to be had. Interactive hands-on activities include simulated fishing and snowmobiling, duck hunting, garden planting, and archery. Kids will have fun exploring a waterfall, underground mine, and animal displays. The facility is open Wednesday through Sunday at 10am. Prices range from $3 to $5 with free on site parking.
Midtown Area and Beyond
The Midtown area has become a bustling hive of activity with several new shops and restaurants, but there has long been a core of museums here. Learn about local history, art, and science all within a few blocks.
Detroit Institute of Arts – With collections ranging from the Ancient Greeks to modern times, you can easily spend an entire day exploring the galleries of this world class art museum. One of the most iconic works are the floor to ceiling murals by artist Diego Rivera depicting Detroit's industrial core. There is a restaurant and cafe on site along with a nice gift shop. For an extra bit of culture, head across the street to explore the Detroit Public Library's art and architecture. The DIA is open Tuesday through Sunday. Wayne, Oakland, and Macomb county residents get in free. For other visitors tickets range from free to $14.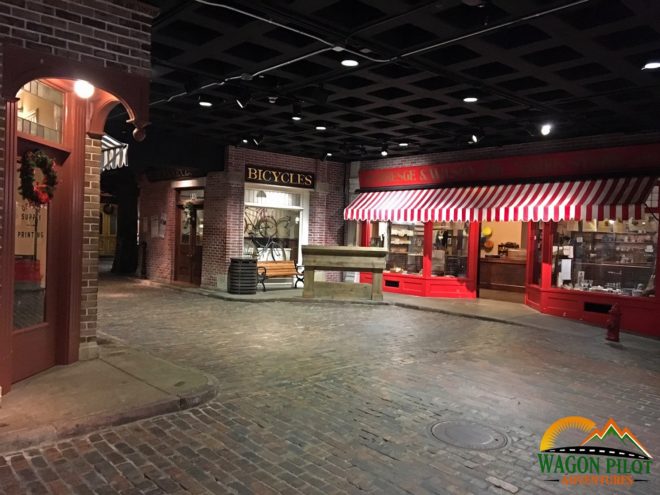 Detroit Historical Museum – The Historical Museum is filled with several galleries featuring displays ranging from local TV and radio icons of the 20th century to a walk though streetscape showing life in Detroit from the 1840s through early 1900s. Visitors will also find a section of a Cadillac assembly line, music gallery, and several featured exhibitions. The museum is Open Tuesday through Sunday and admission is free.
Michigan Science Center – The Science Center is a great way for kids to burn off some energy while also exercising their minds. Exhibits cover topics like engineering, health, and space. In addition to the hands-on activities, there is a planetarium and live stage shows. The Science Center is open Tuesday through Friday. General admission ranges from $11 to $14, plus there are some add-ons available, such as planetarium and theater shows.
The Charles H. Wright Museum of African American History – The museum explores African American culture and history through exhibits highlighting African history, slavery in America, Civil Rights struggles, and present day Detroit. The Wright Museum also features special exhibits throughout the year. The museum is open Tuesday through Sunday, plus Mondays during Black History Month (February) and MLK Day. Admission ranges from $5 to $8.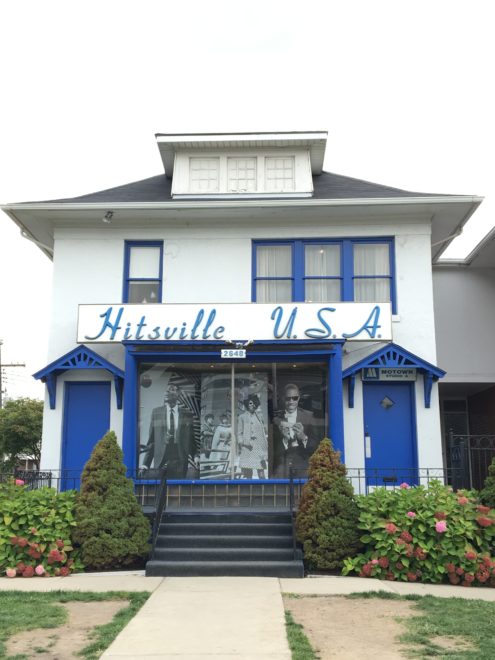 Motown Museum – The heart of Detroit's soulful music industry in the 1960s. Hitsville U.S.A., as it became known, was a row of houses along West Grand Blvd used by Motown Records. Today, the museum is comprised of two of the buildings which contain the original record studios. A major expansion is currently in the works with parking and more museum space. Ticket prices range around $10 to $15, free for kids 4 and under. The museum is open Tuesday through Saturday 10am to 6pm. Read more about the Motown Museum here.
Ford Piquette Avenue Plant – Just down the street from the Motown Museum is Henry Ford's first Model T production plant. Eventually, demand for the Model T was too great and a larger factory was built. Other manufacturers, such as Studebaker, also used this building. Today it has been refurbished and is open for guided walking tours. The museum is open Friday through Sunday all year, with the addition of Wednesdays and Thursdays in summer. Tickets range from $5 to $12 with children under 12 free. Read more about the Piquette Plant here and watch the video below for plenty of pictures.
The Henry Ford Museum – A little out of the downtown area you'll find the Henry Ford Museum of American Innovation. This massive museum features examples of machinery and transportation from the 19th and 20th centuries. Highlights include a giant locomotive engine, dozens of cars, and aircraft. A display on Civil Rights includes the restored Rosa Parks bus as well as the chair President Lincoln was sitting in when her was assassinated. There are plenty of hands on activities for kids of all ages, so that everyone in your party will find something of interest. The museum is open daily 9:30am to 5:00pm. Tickets range from $18 to $24, kids 4 and under are free. Annual pass options are a great value if you plan on visiting the museum and Greenfield Village more than once per year.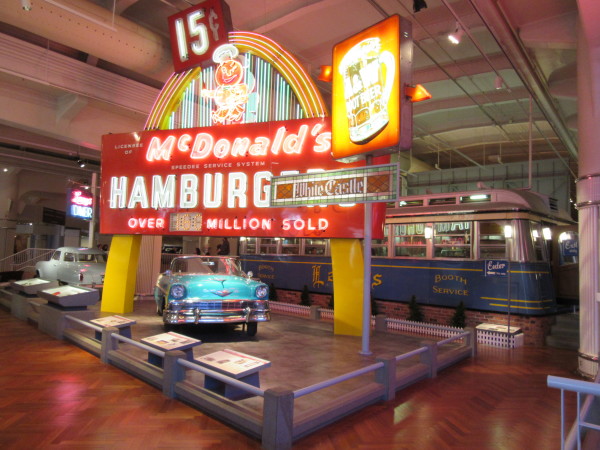 Don't let the freezing cold and short days keep you from enjoying the winter. Choose a few of these options and plan a day in Downtown Detroit. In between activities, there are dozens of amazing restaurants for lunch and dinner. Check the website for reviews. Stop back on our social media channels and let me know what you enjoyed, or didn't enjoy, on your adventures.