There are two things I need to eat while cruising across Indiana: a huge pork tenderloin sandwich and a slice of fresh baked pie. Restaurants and bakeries across the state feature a variety from the seasonal fruit pies to the ubiquitous Hoosier sugar cream pie. A long time fixture on the Indiana pie scene is Wick's Pies. Celebrating 75 years of baking in 2019, this family run operation ships their frozen pies and crusts across the Midwest.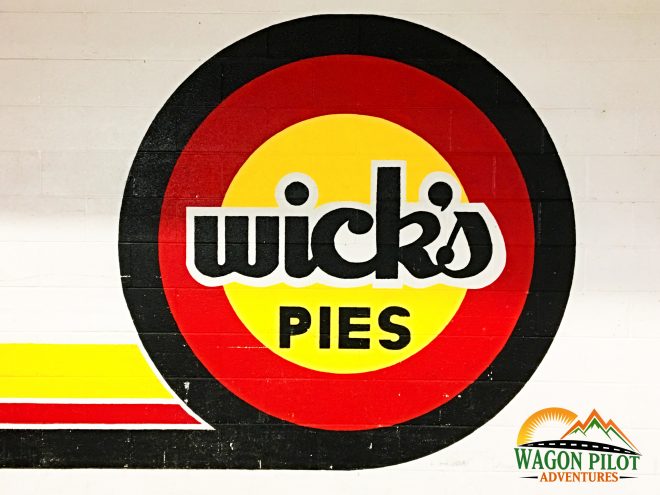 History of Wick's Pies
Duane 'Wick' Wickersham opened his first restaurant at a local factory 1944. It was successful enough that he sold it and opened the Rainbow Restaurant in downtown Winchester a year later. The pies that he and his wife Ruby baked quickly became popular and they started a delivery service. By 1961 the Wick's Pies factory opened and is still in operation. Today, the factory churns out several sizes of pie shells and seven varieties of pies, which are frozen and shipped to retail and commercial customers across several states.
An important aspect of Wick's Pies success is more than the number of pies they sell. The company is still a family run operation with second and third generation members involved in various capacities. Employee longevity is also impressive for a factory with many workers measuring their experience in decades. Rob Kelly, who took me on an individual tour of the factory is the grandson of Duane Wickersham and has spent the past thirty years working his way up from the factory floor to plant manager.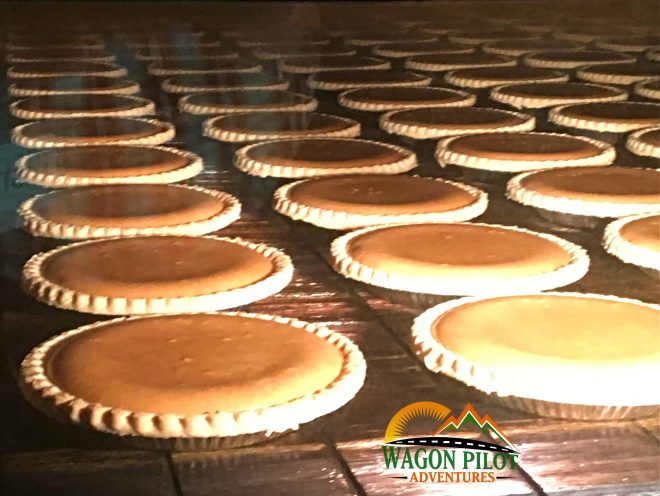 Wick's Pies Factory Production
Wick's Pies produces pie shells and tops ranging from 3 inches to 10 inches along with seven types of filled pies in their 15,000 square foot factory. The shells and pies are typically frozen for shipping and stored in massive freezers attached to the factory. Wick's uses a few basic, all natural ingredients to make their dough and pie fillings; which keeps the final product close to the original hand made creations.
What surprised me as I walked into the Wick's Pies factory floor was the number of people. With so much automation in factories today, it was refreshing to see teams of workers actively involved in production. Wick's has about 70 employees, with around 60 split between two shifts on the factory floor.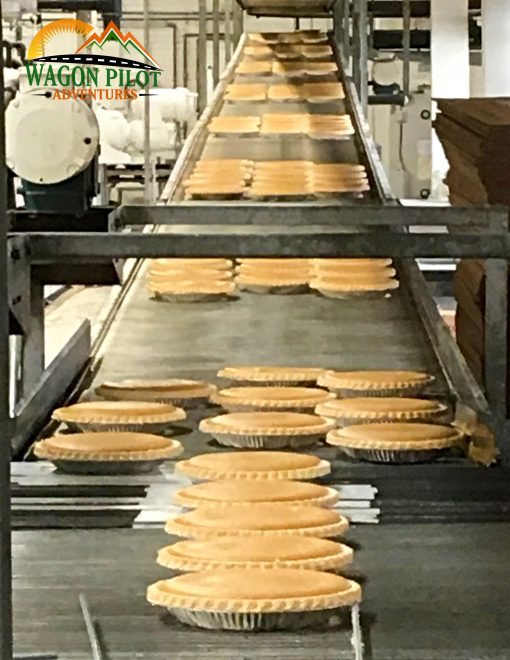 The process of making Wick's pies and shells begins with flour piped from silos into commercial mixers where workers add the rest of the ingredients. The mixers are an interesting design which mimics hand mixing instead of the usual paddles. From there, another worker wheels the finished dough over to one of the machines for portioning the dough.
The dough is stamped into pie shells on different machines depending on size and type, then goes to quality control and packaging team members. Finished shells are either wrapped and boxed for freezer storage or turned into complete pies.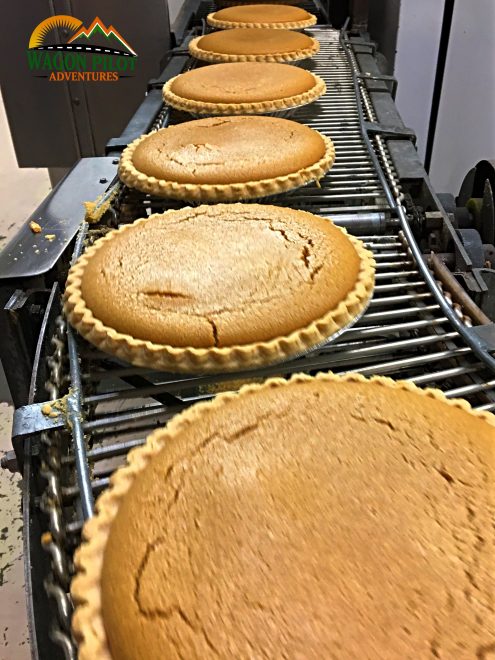 To make Wick's pies, shells are sent down the line to a massive conveyor oven, which has been operation here since 1966. Fourteen pies shells are lined up in each row and get a squirt of filling before making the half hour ride through the oven and onto the cooling conveyor line.
After cooling, the baked pies arrive at another team who inspects for quality and adds a lid and shrink wrap. Boxes of pies are then whisked away to the huge freezers to await shipping across the Indiana region. What happens to pies that aren't perfect? They are sent across the street to the cooler at Mrs. Wick's restaurant and sold at very affordable prices. I have to admit to purchasing three to take home and enjoy.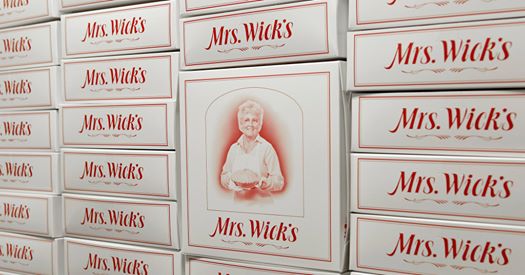 Mrs. Wick's Restaurant
After retiring in 1986, Duane Wickersham wasn't content to sit around. He opened a restaurant next to the factory and named it in honor of his wife Ruby. A typical family restaurant, Mrs. Wick's servers an array of breakfast, lunch, and dinner classics. Of course, t live up to the Wick's name they bake and astounding thirty-six varieties of pie! Naturally, Mrs. Wick's is part of the Indiana Foodways Alliance Pie Trail and well worth a stop. Don't forget to enjoy a slice and pick up a fresh or frozen pie from the cooler for home.
Wick's Pies Daily Production Statistics
Wick's Pies factory produces seven varieties of pies. Pies are not made every day and vary with demand. Wick's Pies can crank out 10,000 pies in a single day!
Pie Types – Pumpkin, pumpkin chess, coconut cream, peanut butter, Southern pecan, German chocolate, and of course their famous Hoosier sugar cream pies.
Wick's Pies primary production is pie shells ranging from 3 inch tartlets to 10 inch pies along with tops. In a typical day, Wick's employees make 75,000 shells.
Wick's goes through about 71,000 pounds of flour each week, producing 700 batches of dough.
A small local facility in Winchester produces fruit glazes for easy pie making at home.
Wick's Pies Information
Wick's Pies factory tours are by appointment only and require dressing accordingly to health and safety requirements. Photos and video are not allowed. For more information, click here to visit the official Wick's Pies website.
Mrs. Wick's Restaurant is open Monday through Friday 6am to 7pm and Saturdays from 6am to 2pm. Click here to visit the Mrs. Wick's website for menu and directions.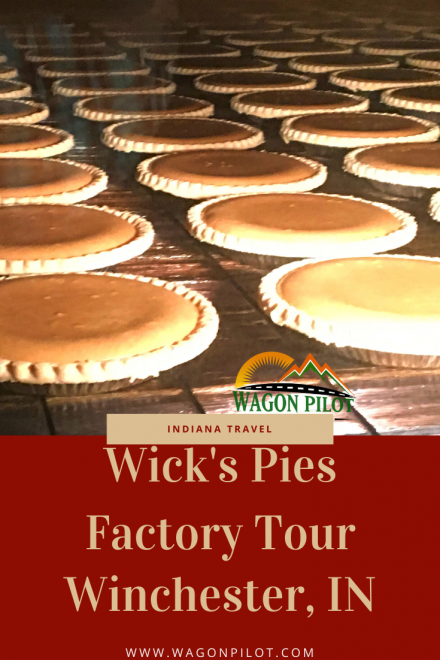 **Thanks go out to Scottie Harvey from the Randolph County CVB and Wick's Pies plant manager Rob Kelly for the private tour of the factory.**
What else is in Winchester? Read about my tour of the old Randolph Asylum and see what I caught on camera!