Watermelon, Whipped Feta, and Basil Bites. This here is the appetizers your taste buds have been telling you about. Simple, refreshing, and full of flavors. So good you might be tempted to hide them from your guests!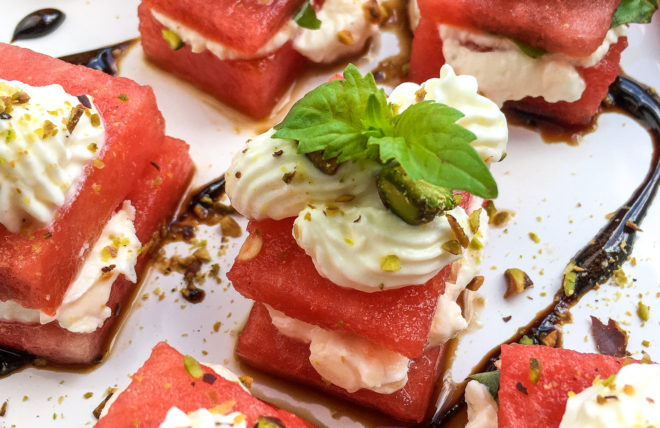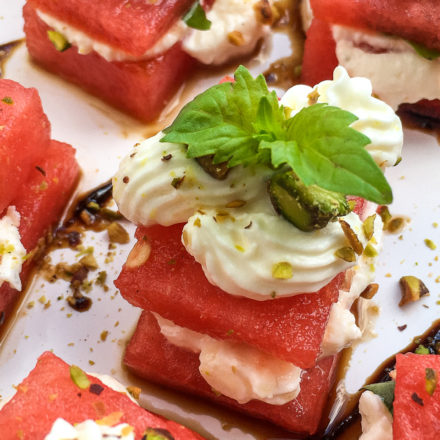 Watermelon, Whipped Feta, and Basil Bites
Watermelon, Whipped Feta, and Basil Bites recipe
Ingredients
8

ounces

Cream cheese, softened

8

ounces

Feta cheese, crumbled

3

Tablespoons

Half & half

1/3

Cup

Balsamic vinegar

1

Seedless watermelon, cut 24 1" squares approximately 1/3" thick

12

Fresh basil leaves, stems removed

1/3

Cup

Pistachios, chopped

Optional: Basil or mint leaves for garnish
Instructions
Place cream cheese, Feta, and half & half in a large mixing bowl and
beat with a hand mixer or immersion blender until mixture is light
and fluffy. Set aside.

Heat balsamic vinegar in a small saucepan over medium-high heat. Bring to
a gentle boil, stirring occasionally, and cook until the liquid is
reduced by one half and starts to cling to the back of a spoon.
Reduce heat to low and keep warm until ready to use.

Drizzle balsamic glaze onto a serving platter and carefully arrange half of
the watermelon squares on top.

Place another slice of watermelon on top of the basil and gently press down
to secure. Top each appetizer with some of the remaining whipped Feta
and chopped pistachios.

Serve immediately garnished with basil or mint leaves and a light
drizzle of the remaining balsamic glaze, if desired. Enjoy!