I finally had a chance to check out the Jolly Pumpkin brewpub in Midtown, Detroit this week. My previous attempts were thwarted by large weekend crowds. Tuesday afternoon presents a much better opportunity. I've heard about, and even seen on TV, their sour beer collection and wondered if it lived up to the hype. In a quickly transitioning neighborhood, if a new venue doesn't measure up it won't last too long amongst the competition. After all, Metro Detroit Brewing Company is already well established right across the street.
One item that drew me to the Jolly Pumpkin, besides my love of microbrews, was their specializing in sour beer. "What is sour beer?" you ask. They are typically Belgian varieties, such as gose, kolsch, and other wheats with a slightly citrus flavor. Think refreshing and grapefruit. Belgian wheats are one of my favorite types of beer and, I have to say, there was no disappointment at our table.
The selection is one of the best in-house beer varieties I've seen. Jolly Pumpkin had nearly around a dozen of their own beers on tap. I ordered two four sample flights and found each one to be full of flavor and unique. Jolly Pumpkin is a partnership with North Peak Brewing, so there were also another 8-10 varieties on tap. Their style is a bit more mainstream ales, so I left it to my friend to peruse that end. This is definitely a bar I need to return to more more research.
The food was typical for a brewpub. A selection of basic pizzas, burgers, and sandwiches. The prices were a bit on the high side, with sandwiches and burgers running $12-$14. We ordered a Fire & Smoke pizza which has smoked chicken, roasted red peppers, and a chipotle sauce. A small was plenty and a decent deal at $13. There are very few appetizers, basically chicken wings and truffle oil fries. All together, nothing to write home about and not nearly as good as some other brewpubs.
Aside from the excellent beer selection, one other thing stood out. Dining here is awkward. We walked in, stood at the hostess stand, but there's no hostess. Looking around there are some signs in different corners of the room advising you to place food orders here, place drink orders there, and sorry this other counter is closed. It's like a cafeteria in a sit down restaurant setting, plus a bar. Without a menu in hand, we stood behind the people sitting at the bar and tried to parse out the beer selection. After several minutes we wandered to the end of the bar to order drinks and were given a menu, then reevaluated our choices. After placing orders, you receive a numbered flag to take to your table and the waitstaff brings out your food. One more kicker, if you want plates and utensils they are on the other side of the room. This system seems so random and confusing. Hopefully it will improve with age.
Overall, I'd rank Jolly Pumpkin as one of the best in-house beer selections in the area. There were so many to choose from that I barely covered it with two samplers. Definitely a place to go if you're looking to try some new beers. If you're hungry, I highly recommend also checking out some of the other eating establishments within a few blocks for a real meal first. For more information on their beers and other locations, click here to visit the Jolly Pumpkin website.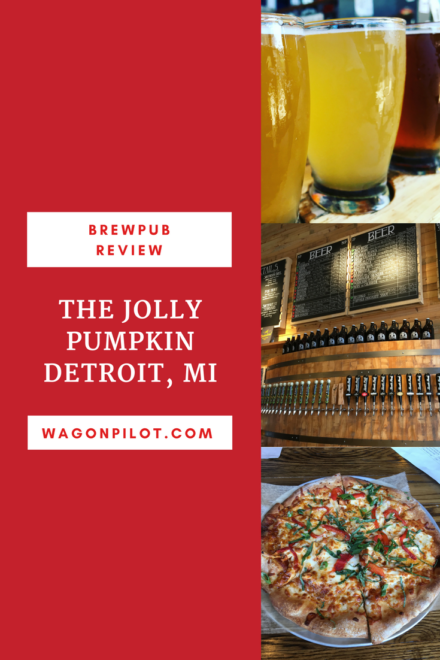 Save
Save