Cargo Shorts: Dad's Vacation Tool Belt
As dad I have become an avid fan of cargo shorts. They may not be highly fashionable, but they can certainly hold a lot of supplies. Just as I would load up my tool belt for working on a project at home, I strategically pack my cargo shorts pockets while traveling. During my many trips to Disney World I've discovered that, even without a child in tow, having those bulky pockets makes life a lot easier. For one, you can get away without needing a backpack and skip the bag check lines! Having a few less lines on vacation is always a huge bonus. It's also a lot more convenient to have everything within reach instead of having to stop and search through a backpack to find small items. And let's face it, nobody wants to be seen sporting a fanny pack nowadays.
No matter how old your kids are there is room enough for the supplies you need. Even diapers and a pack of wipes fit perfectly and are easy to get to at the changing table. For toddlers you can stash away some small toys to keep them busy in lines or on the bus. In addition to the benefit of not lugging around a backpack, you have a valid excuse for your kids to hold on to their own things instead of treating you as their personal pack animal.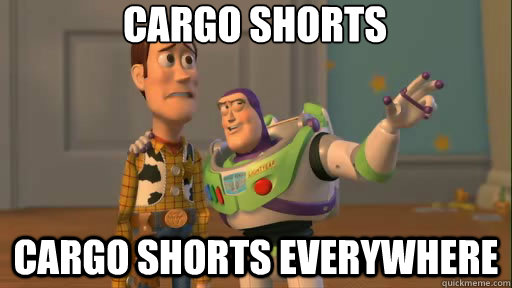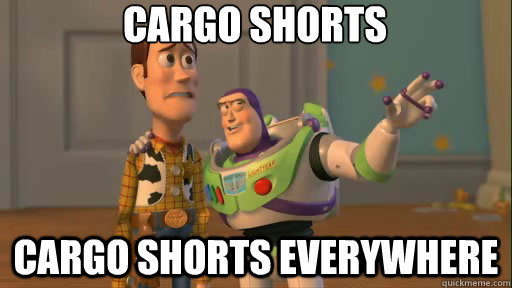 Here are just a few essentials that fit well in cargo shorts
• Sunscreen
• Compact cameras
• Disney autograph books and pens
• Snackage
• Rain ponchos
• Hand held fans
• Small toys to keep kids busy
• ID cards and cash
• Maps
• Phones and chargers or battery boosters
• Diapers and wipes
• Extra socks for Splash Mountain
• Ziploc bags for your other stuff
• Band aids or moleskin patches for blisters, medicine for headaches, etc.
• Baseball cap storage after you buy the giant Goofy hat
• Stuff your kids just bought and don't want to carry around five minutes later
• Hand sanitizer and/or wipes
• Plastic shopping bag for wet clothes, etc.
What methods have you found to work well for streamlining your days in the Parks? Are you a fan of backpacks, using lockers, etc.? Share your tips in the comment section.